Today I made lemonade. Not the fresh squeezed stuff but the powdery koolaid packet kind. It's the best!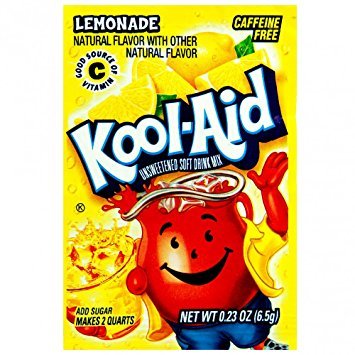 You may be asking yourself, "Why is this girl SO excited over lemonade?" Let me break it down for you. When I was a little girl I stayed with my grandma a lot. On hot summer days, she would always make a pitcher of ice cold powdery-fake-sugary lemonade GOODNESS. Sometimes we would slightly freeze it and make lemonade slushies.  Y'all go ahead and judge me. 
Drinking a nice big glass today was like going back in time. Only back then it didn't give me heartburn. My grandma is one of my best friends. I can always count on her for the best advice and a great glass of lemonade. It's funny how something so little and so unimportant can bring you back to your roots. So today, I am thankful first for my awesome grandma and second for the little packet of lemonade I had stowed away in the pantry. It made my gloomy rainy day that much better. 
On bad days I hope you are able to find a little sunshine in something so small. On good days I hope you remember all of the small things that contribute to these days.