I'm working my way through "Wagging the Moondoggie", currently reading part 10 of 14: http://centerforaninformedamerica.com/moondoggie-10/
Yesterday or the day before (not in the above series), I read that the very first spoken line of dialogue in "A Clockwork Orange" was "Men on the moon?", then the thug character laughed, and then "Men spinning in space?" before they beat the old drunk up. Of course, Stanley Kubrick did that movie, as well as Dr. Strangelove, 2001, and the moon missions.
I've known NASA were liars for a couple years now.
So it was really neat while reading that site to find this passage:
"Time-Life also fills us in on the details of the "probe and drogue" docking mechanism: "The probe, a 10-inch cylinder extending from the nose of the command module, must be inserted into a cone-shaped receptacle, the drogue of the LM … As the probe finds its mark, automatic spring latches lock the two together. The whole probe-and-drogue assembly will be removed, clearing the tunnel through which [the astronauts] will enter the LM. Inside the command module, [the command module pilot] flips a switch that frees the LM."
Pictured below are the command module's docking probe, the LEM's drogue (with the LEM allegedly in Earth orbit on the alleged Apollo 9 mission, in yet another spectacular shot from NASA's collection), and a close up of how the mechanism was supposed to work. Curiously left unexplained was how, with the probe-and-drogue assembly having been removed, the LEM was able to dock with the command module the second time, upon its return from the lunar surface."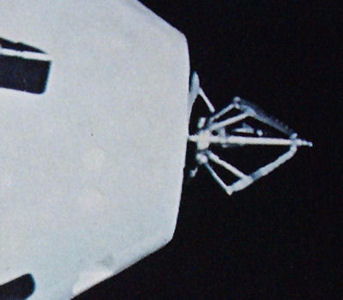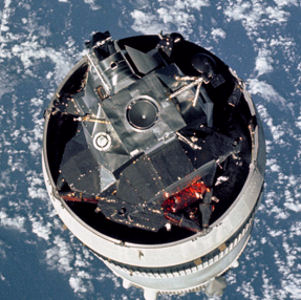 Image credits: NASA, and centerforaninformedamerican.com.
I find it interesting that the movie he did after the moon missions (A Clockwork Orange was 1971) includes "my drooges" and wonder if it might be an oblique reference to a part used in a docking maneuver that he might have taken part in fictionally creating?