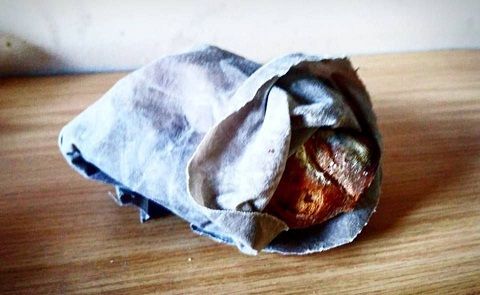 I made my own beeswax wrap since we use a lot of plastic to store foods. It didn't have the cling effect as you have with plastic cling foil, as I don't have access to all the ingredients to make it( impossible to find powdered pine gum rosin in South Africa....) . I found that it still works alright as a lid over bowls or when used with an elastic band.
Now I am testing it to wrap and store leftover bread. It wraps and keeps its shape quite nicely. I will be making some more in different sizes and shapes so more can use it on the farm!
These are really easy to make. I used an old cotton bedsheets that the dogs tore with their nails, it's thin but has a lot of thread. (Of course I kept the old bedsheet for a long time, because 'who knows, I may have future use for it! Much to @gian 's discontent as I tend to horde quite a few materials in this way...), then you need some coconut oil and beeswax that you melt and get into the fabric.
There are plenty of tutorials out there varying in ingredients and amounts. Since I always have coconut oil and beeswax in stock for making herbal salves, I went for a basic coconut and beeswax combo.