HIRE ME PLEASE
How to find a new job this pandemic?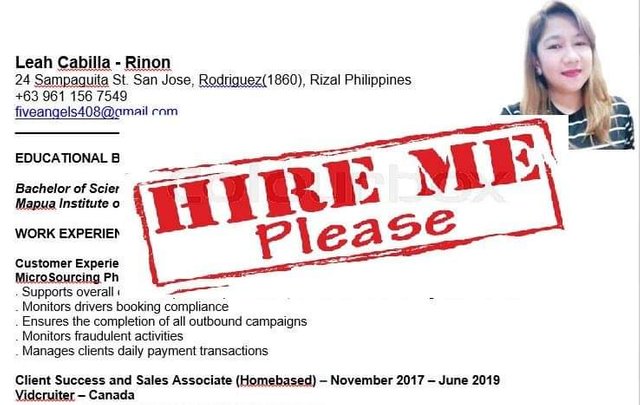 ---
I am one of the millions of people who are now unemployed because of the pandemic. Unfortunately, the company that I have been working stopped its operations because of the current situation that we are in. The circumstances may be very difficult for most of us because majority are also in search for a new job at the moment. May the best candidate win the role.
I have been looking for a job now for more than a month. I have tried a homebased sales job but sadly the account did not pushed through, after 10 days of training the client became unresponsive and the online tools were not setup. I took it as a learning experience as the efforts I have in training all went in drain.
I am now very careful in applying online and I see to it that the company is credible. Although, I badly need a job I still need to consider the security and stability of the company that I will be working to. We don't know when this pandemic will end and we will have to cope with the new normal that the government is implementing after the lockdown. We have to be flexible and adaptable to whatever circumstances we will be in.
I hope and pray I will find a job as soon as possible my bank account is depleting and I need to support my family. I have bills to pay and family to support.
I have written "I hope you will consider me for the role" and "Please hire me" many times now and I still keep my hopes up for a positive response from the companies that I have applied to. Knowing that I will be able to perform any tasks with my utmost capabilites and I will be able to deliver what is expected of me gives me hope that I will be hired soon. Keeping motivated and positive will be my strongest asset now!
I thank God that despite all the trials that is happening in my life I know God is with me and He will never leave me. This too shall pass! Everything will be alright and I will have a new job!
I hope and pray that we remain in faith despite trials. Let's stay positive and always smile! ☺️