Living in a big crowded city can sometimes become overwhelming and you might feel like you need a break from the busy rushed life that enslaves us all to the system. If you're one of these people I have some good news for you.

Image Source
Today I'm here to tell you about some other options out there which will release you from the modern enslavement most people find themselves in, especially in first world countries. Living in a first world country can be extremely stressful and can cause people to suffer from depression and social anxiety to name a few.
Traveling is something every person should experience regardless of age. Traveling is an activity that unites the world and also gives you a brand new fresh perspective on life. I used to be one of these people, working my 9-5 job doing the exact same thing everyday over and over. At some point I stopped and realized that I was extremely unhappy and I knew something had to change. I tried expressing my feelings to some people whom I thought would understand and apart from a small amount of people, most people told me that I am overthinking it all and that I just need to accept what it is because everybody needs to do it and this is what life is about. Needless to say I could not accept it and had to do something about it, so I sold all of my possessions and went traveling.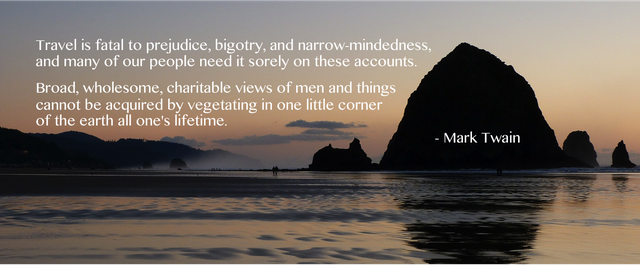 Image Source
I decided to come to Thailand to start a new life and things have never been the same since. I didn't have any real plans on what to do and where to go as I thought I would just let life happen, and it did! I was living in Bangkok for a while where I met some great people who helped me gain a new and broader perspective which made me realize a very important thing, knowing what you're capable of when you step outside of your comfort zone. It is amazing what a person can do when faced with new challenging situations.
I lived in Bangkok for a few months and I started to feel that it was time to move on to something new and fresh. I have always been fascinated by water such as rivers, lakes and of course the ocean being the most interesting yet mostly unexplored, so I decided to try diving. I did a bit of research on places to go for diving in Thailand and I came across the best diving school you could possibly find in Thailand, PIDS (Phangan International Diving School). I moved to Koh Phangan a few days after.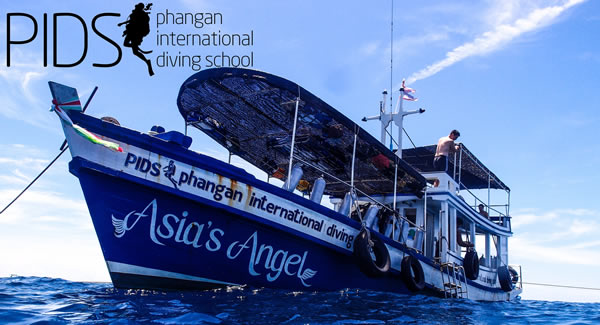 I have been living on this island for 3 months and today I'd like to share my experience of living here so far and what a normal day usually entails. Koh Phangan is one of three islands in the gulf of Thailand people love to visit. It is the home of the Full moon party but there is so much more to this island than just partying. Koh Phangan is an island that has something to offer for everyone, from massive parties to quiet and secluded beaches for those who want to break away from everything for a while and enjoy the beautiful calm ocean views and lush jungle. There are tons of bicycling and hiking routes all over the island. Adventure and adrenaline junkies can rent dirt bikes and go exploring or go on a guided off road tour with ATV's. There are also some other great activities like zip lining, elephant riding, there is something called 'The Challenge' which is an exciting water activity for the whole family and finally we have the amazing Slip N Fly which is a 40m water slide that shoots you into the air and landing in a pool. (Videos of all these activities soon to come.)
The Challenge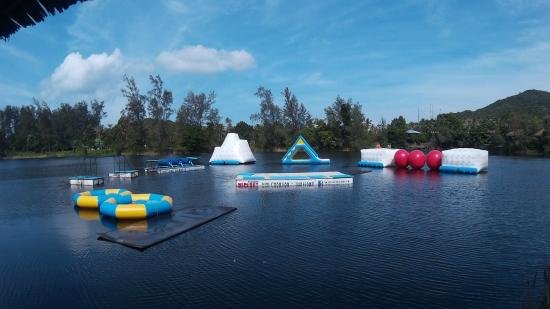 Slip N Fly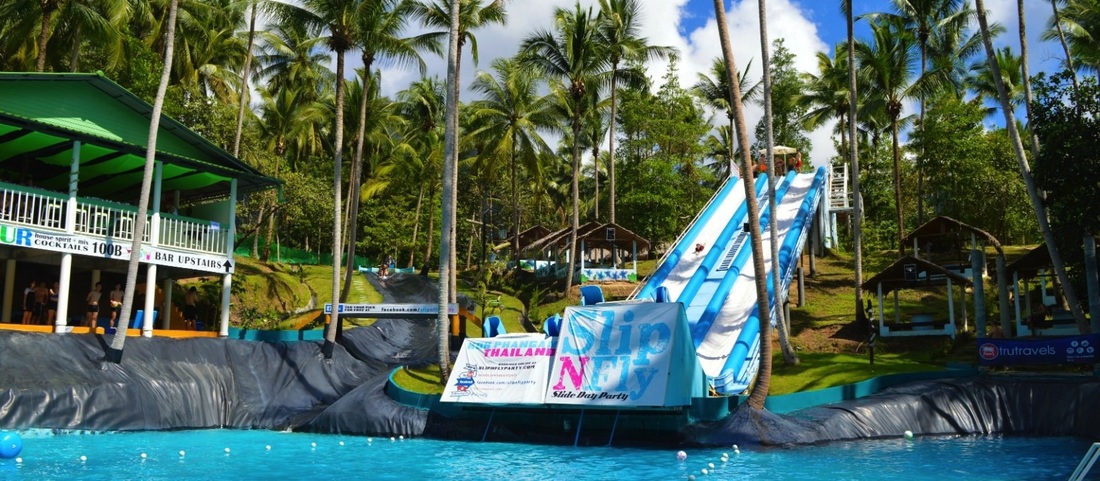 Koh Phangan is a dream come true for food lovers wanting to try new and exotic foods or learning to cook some traditional Thai dishes. There are food markets where you can buy fresh fruits and vegetables if you like cooking your own dishes at the house or resort you're staying at.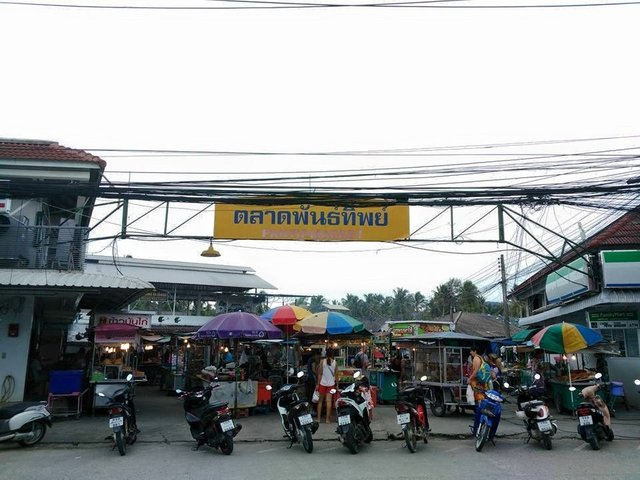 Pantip night market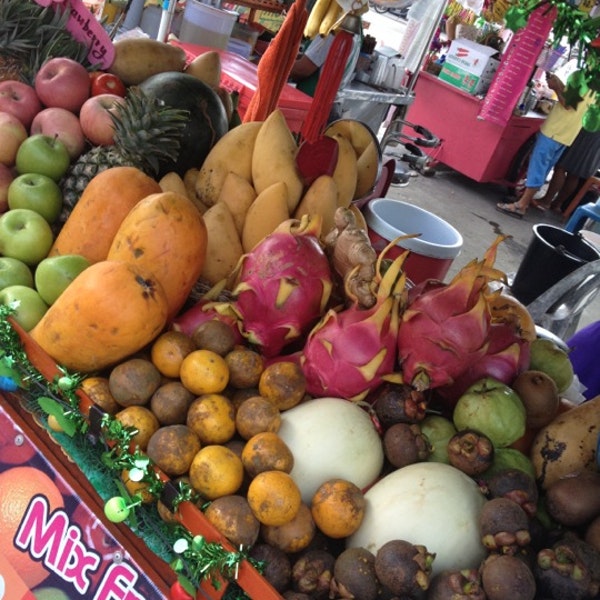 Thai fruit shake stand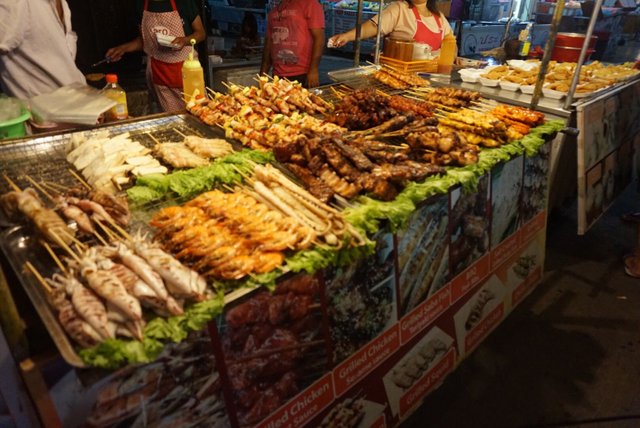 Assorted skewers (Pantip Market)
Pantip Night Market is in Thong Sala near the pier where the ferry drops off all the tourists visiting Koh Phangan, so on the way to your hotel, hostel or resort you will pass the market and you can ask your driver to stop to have a walk through and take a look at all the interesting stuff on offer. The market has a big area with tables where anyone can sit down and enjoy the food they bought or just relax your feet for a few minutes after a long day of walking.
There are so many hidden treasures on Koh Phangan that I have yet to discover and experience everything here. This is definitely an island for everybody to visit and some people who come to visit fall in love with it instantaneously and decide to stay a few months longer to experience all they possibly can.
Island Map