Bitshares projects are coming alive! Aliiiiiive!
I started updating my bookmarks today, and noticed that the links in my Bitshares folder needed a "spring cleaning" too. A lot of sites expire for various reasons, links change, companies get bought out or whatever. So, I dumped probably half of them, and added some new ones..
There are quite a few websites popping up now that help you to get a better handle on the Bitshares platform and some of the things that it can do to help your business grow. For example, check out richlist.btsabc.org which can help you to see some of the most popular crypto coins and projects on the Bitshares platform, for example:

Everybody in the crypto ecosystem will want to see an awesome Block Explorer such as cryptofresh.com of course, which can help you to track down Transactions, view Balances, view Worker Proposals and voting stats, view Holders of those specific assets and much more: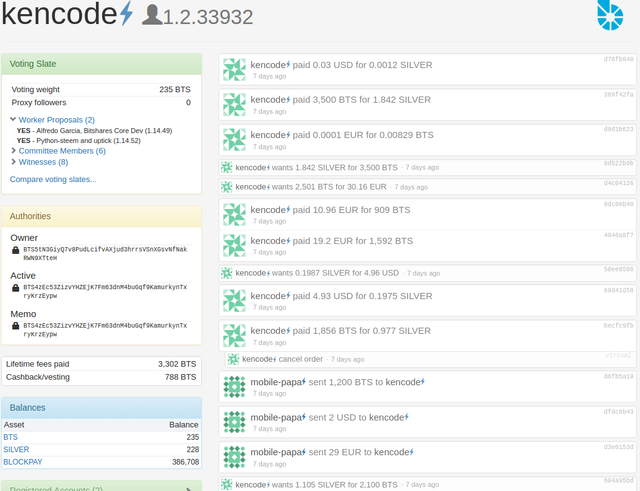 Initial Coin Offerings (aka 'ICO's") are very similar to crowdfunding, and if you want to launch a new business, one great way is to use the Bitshares platform. Just create your token, promote it (some examples here and here), and follow through on the promises that you make to your token Investors. The beauty of a blockchain is that it allows your Investors to see the "accounting" and watch all of your transactions. This may sound scary, but you owe this to the people you market to. ICO's are also a much cheaper alternative than traditional crowdfunding sites. Openledger.info maintains a nice list of ICO's, and a good chunk of them rely on the Bitshares platform, so check it out if you get a minute.
"Where's the beef?!" - Aaah, the creme de la creme seems to be the platform's Market Cap, which coincap.io does an awesome display of on their live charts. If you'll notice, there are 700+ different Cryptocurrencies and 90+ Assets (coinmarketcap.com) to choose from these days, but check this out:
Is Bitshares rockin' it, or what?! :)
If tokens are not legal in your country, I would like to mention one last thing for all you entrepreneurial types out there, or people that want to get paid for the value that you bring to the world. Bitshares also includes a decentralized governance system which means that you can write-up a nice "Worker Proposal", post it here on Steemit, and market yourself to the Bitshares community so that they can vote you in, or out. This brings quality people to the platform too because it means that those people (if they retain enough votes) will get paid DAILY at their preferred rate to do their job, directly from the Bitshares blockchain itself. Yeah, the blockchain is your new Boss, an automated smart-contract.
Pretty cool, huh?
Ok, bookmarks are updated, right? I didn't even touch on the Prediction Markets, Trading engine, low-volatility Market-Pegged Assets and a slew of other things that Bitshares offers. If you haven't tried it yet, check out the web wallet at Openledger.io when you get a chance too, and you'll see for yourself these features and a lot more!
Disclaimer: These are just my opinions of course and should not be taken as any kind of advice.
Please Upvote & Resteem : let's get crypto to the world! :)