Level easy or adrenaline? Canyoning – a great idea for your free time! (part 2)
Hi there my fellow Steemians!
Today, as promised, I would like to continue the topic of "c-a-n-y-o-n-i-n-g", but this time more from my perspective so I will share my experiences and tips.
As I have written previously, I have tried canyoning in French Pyrenees-Orientales, near Spanish-French border in August 2017. There are few spots to choose from, depending on your fitness level and how challenging you want your adventure to be. I would describe myself as a sporty person and because I enjoy challenges, I did Canyon du LLech (pronounced "Yeck"). It's level of difficulty is described as "adrenaline". Apart from that this canyon is said to be one of the most beautiful and one of the sportiest canyons in France. Yeah!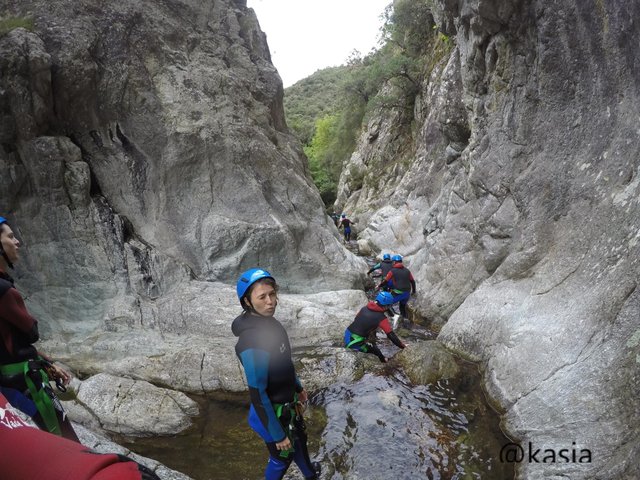 Preparations and some tips for those who, like me, are living in Spain;)
There are Spanish companies that organise that kind of activities mostly for Spaniards. Unfortunately, we called them all and even in the high season, it was difficult to find any that was able to host us. As I speak French I decided to find the French companies. Obviously, it was a good idea ;) because they were operating on a daily basis, twice a day!
It is very important to understand though that France is a quite unique and specific country. It is said that French people are not too good with languages. And although I love my French friends I must agree with this cliché. During the call I explained that I will be accompanied by a Spanish friend who doesn't speak French. I was reassured that the whole activity will be conducted in English. Nevertheless, once we arrived at the meeting point and were able to meet the other participants, we were welcomed by a very likable guide who, to our surprise (or not?;)), did not speak a word in a language other than French.
I wanted to write you the name of the company but I simply don't remember and I couldn't find it on the internet (I suspect they have changed the layout cause none of the pages look familiar). We paid around! (again I don't remember exactly, this is the price range) 50-60 euro per person for approximately 5 hour long activity. As I've mentioned our guide only spoke in French. Furthermore, each participant was promised a variety of photos taken by the organisers. Unfortunately, they forgot! to charge their go pro so no one of the participants had a souvenir. I wouldn't call this too professional…
Let's start!
After arriving at a starting point all the necessary equipment was distributed. The price included a wetsuit, helmet, harness with tails and gloves. A participant must have had a swimsuit and, most importantly, a pair of baskets. I decided to rent more suitable shoes, shoes from neoprene (used in many kinds of water activities), for an additional price – 5 e.
We descended for about 20 min until we reached a bottom of the Canyon. There were already 2 other groups in front of us! Little crowded I would say - we experienced a queue soon after starting the activity.
During the whole adventure I have experienced:
• JUMPS to the deep basins; from 4 to 9 m.
The jump from 9m was not obligatory and 2 people from my team restrained; personally, I found this jump the most exciting and challenging part of the adventure. I knew I will jump…but those seconds just before the jump, while standing at the edge of the rock. I was simply afraid that I will not do the jump technically correct, which will result in injury.
• Series of SLIDES (up to 12 m)
Fun.
• ABSEILING WITH ROPE
Apart from waterfalls that occur in jumps or slides, there are 3 waterfalls that are abseiling with rope (6, 12 and 15 m).
• SWIMMING ACROSS large and deep basins.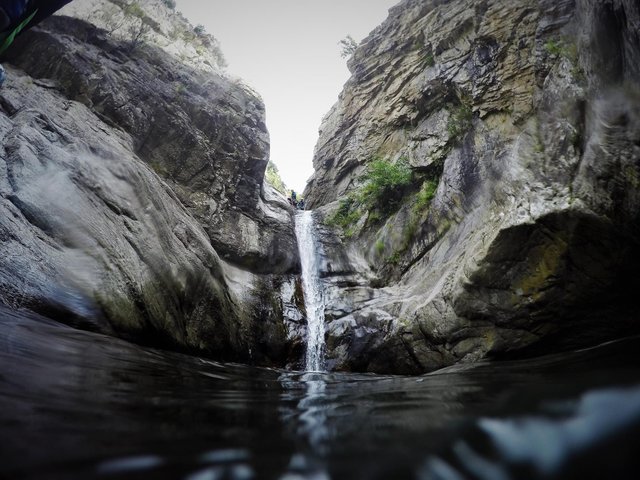 What do I think?
Canyoning is not only an activity for adrenaline junkies. As I have mentioned in my previous post, there are various types of Canyons so I have no doubts that you will find something appropriate for you. On the other hand, it is not only about sport. The opportunity to encounter nature in its purest is absolutely one of the kind experience! Personally, I definitely will do it again once the weather will allow me to. And I strongly encourage you to do the same! :)
Sending love!
Kasia