Dreaming Within A Dream || Hypnagogic Hallucinogenic Visions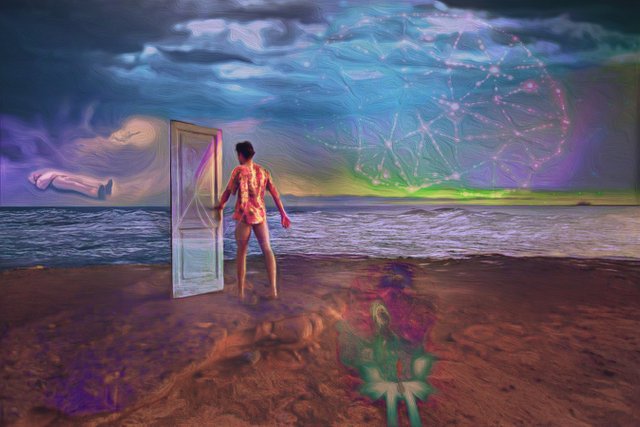 Magically, I had my first dream experience of dreaming within a dream...
Dream Sequence Atmosphere~
It begins in a room that doesn't seem familiar, and I get the feeling that all of this occurs in a rented room similar to that of a motel. I'm with my dad, two brothers, and a friend who is strangely hard for me to figure out. The friends' face is a little blurry, and his actions are that of a friend, but not too distinct.....therefore I can't identify him. I remember the Hawaiian shirt that he was wearing, and I remember him sitting in a chair within the room for a majority of the dream.
Sequence #1~
I'm in the motel room and my dad is not in the scene, but my brothers and the friend are present. The friend offers us all something all while it is casually vague. My brothers decline, but the friend and I partake. It was so vague that it is all that I remember about this moment. There are feelings of the night being fun within the room, accompanied with a slight party vibe while everyone is enjoying their time.
Sequence #2~
I don't remember going to bed, and so far...like any other dream this skips to another scene. I find my self completely naked, and it feels like my surroundings are similar to that of the church that I was raised up in. No one is there and I feel alone, but I feel that I can't stay there. I run outside which seems counter-intuitive. Shouldn't I rummage around in the church for some clothes?
I find my self running around outdoors and I encounter multiple parties of people. Some walking on the street, others in vehicles, and still others sharing company on front porches. Some seem to not notice me...but I pass by two guys walking as I overhear them saying how strange it is that they had to see a naked man. I keep running until I come up on a building that has amazing architecture with unique glass walls jetting up while still looking artistic. My feeling is that this is a tech-firm type of building. I walk through the front door and I see my dad and brothers across the room. I don't want them to see me in such a vulnerable state, so I quickly slip through an open entranceway without doors. I instantly find myself in the midst of an on-going football game. I see a field house that looks to be the locker room for the teams to meet at half-time. I sprint over and open the door to get in. There are passers-by that I see but I'm looking for some clothes. I find only a Hawaiian shirt hanging on a locker hook. I put it on, but still find myself pants-less.
Sequence #3~
I wake up, and find myself in the motel room. I look down and I've been sleeping in a chair and I have my clothes on. I look over and see that my family are still sleeping. I look over to the chair where the friend was and he is awake. I ask him...."What the hell was it that you gave me last night?". He seems drunk and groggy and doesn't quite respond in a manner that I could understand. I'm about to ask him again, but he says something that I could understand...."Good thing you woke up before your dad and brothers". I stand up....so I can get my act together and try to seem normal after such a trippy, but realistic dream. I realize that I don't have my phone, so I start to look around for it and figure that if I can find it then everything will seem normal. The friend also stands up, but he does not seem normal. He is walking and looks like he is seriously drunk. He resembles a drunk homeless man with rubber legs that look almost as if they want to bend and break. I'm grabbing his shoulders and trying to set him back in his chair. As he sits down.....I guess the movements awaken my family. At this point they are demonstrating that they feel that this is like any normal morning .
Comprehension~
I then wake up in my room...in real life, and realize that I just had a dream within a dream.