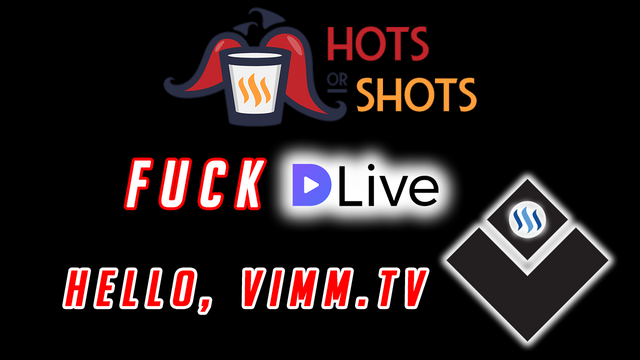 Hello My Fellow Steemians!


So we've had quite a stir in the last 48hrs with the announcement from DLive.
I won't in this post,
be discussing my feelings on what those cum filled sweat socks did to our community.
Everyone is entitled to their own opinions and we will leave it at that.
However....we have a new contender!
Welcome Vimm.tv!


Normally I would be releasing a new episode of Hots Or Shots today.
Yes, we have a new episode ready for you...episode 27...we will be releasing it here tomorrow.


Today however, we are filming the season finale of season 1.
For the first time ever we will be streeming this event!


At approx 3PM EST, those that tune in to my profile...
https://www.vimm.tv/@jonny-clearwater
will not only be able to see vimm.tv in use,
but you will also get to see the season finale of Hots Or Shots in it's raw and unedited form.


I hope you all get the chance to tune in and help welcome @vimm to the community!


STREEM ON STEEM!!