WHY GIVING UP IS NOT AN OPTION
The act of giving up always comes when they are series of failure done by an individual who has an idea of making a dream come to reality but as human we should know that we were not meant to give up because we've not been giving up since we are in the womb of our mother or let's say among the million of sperms that were struggling to fertilise the egg of our mother we were the ones that didn't give up,we didn't give up in the womb nor did we when we began to walk,talk,run and do other human activities.
From childhood it has not been in the life of human to give up if not, we might not have gotten to the level we are today.we know they might have been some obstacles on your way to becoming a great personality but still we didn't give up.There is a popular that quitters don't win and winners don't quit.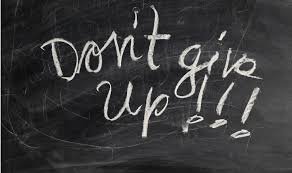 As humans, there are many ways in giving up but the result is a permanent failure,there are some ways of not giving up and the result might be temporary failure at first but success at last.some of the things we should put into practice so we won't have the idea of giving up:
CONSISTENCY:No matter what you do in this life if there isn't consistency it will gradually fail and there will be no tangible result afterwards.
DETERMINATION:Our dream is to become a great personality and loved by most, but some of still don't believe that they can,so it is important for one to determine greatness and never look down on oneself.
FOCUS; This is a very important part of one's journey to greatness and becoming arole model to people.if one loses focus in one's dream they will be no achievement on that dream the person is pursuing.
PLAN: There's a saying that goes thus He who fails to plan has plan to fail.Making plans is one of the things we youth of today mostly refuse to do we don't make plan and not making it will not make us know our errors and make rectification for it.
GOAL: Setting a goal will make one know what he has achieve to make one know he/She is gradually improving and the idea of not giving up will not cross the mind.
They are many others way of not giving up but the most important of it all is prayer.We should endeavor to.always pray to the Almighty to crown our efforts with success because who God has blessed no man can curse and also there is a saying grace is important but talent is additional.
There are many successful business personnels who have their failed stories but still didn't give up because they had focus,plan, determination, consistency and most of all prayer before getting to where they are today among them is John momoh,the CEO of channel television,he was the first man to take the step of having a private television station in Nigeria because he didn't give up.He was from a family of seven where they lived in a one room apartment and the story goes on.
Another example is our popular social media CEO,Mark Zuckerberg,He was a drop-out but that doesn't make him give up and lose focus on not chasing his dreams.Giving up is not for any individual at all because it could lead to failure for life.
Take for example of yourself at the age of 24 wanting to study a 4 year course in the university, if you think that will take a while and lot of time and you gave up not studying it . After four year and you are still alive you will lose two things:time and knowledge.Time you've wasted on not studying the course and not having the knowledge which could have benefitted you in many ways,no matter what you will be 28,but if you don't,you will be 28 with a beneficial knowledge and your time has been preciously used.
There isn't anyone in this world who has giving up and not regretted it because it will lead to regrets.I am not saying that the road to success is smooth but what I'm saying is knowing your failure should boost your morale to success because after knowing your failure you won't be able to make that kind of move again in your next trail.
Elon musk, CEO of Tesla said that his idea become profitable after his third failure.if he had giving up after his third trial there would have been no Tesla or Elon musk today or some else who have been in his position now.
We should know something for sure that if you give up today they are millions of people who want to be in the position you are but due to one thing or the other they aren't because they are also striving,Giving up will lead to regret, depression and a very close step to poverty.
Those who have giving up in the past tends to encourage those who are planning to give up not to because of the consequences of it .There are many consequences of giving up some of which include:
1)it leads to permanent failure.
2)it gives bad reputation.
3)it leads to lost of faith oneself
4)it leads to regret and resentment
5)it hides your hidden talent
These consequences are just some out of a few consequences that one will face when we give up.There is no one in this earth that has made it through giving up totally on their dream what can be done is taking a break and continue striving to make your ideas come to reality because Quitters don't win and winners don't quit.So don't give up and never give up no matter what comes your way.The result of not giving up is always SUCCESS.It might be a long journey but you will surely get there like others did..
You might be the next Elon musk,Mark Zuckerberg,Femi Otedola,Aliko Dangote and other successful business owner if you don't give up.