Hello friends I hope you are well, a few days ago, my daughter went to the beach and because she did not have sunscreen her skin burned and she was a bit sore, so I decided to investigate sunburn and how to alleviate it with natural remedies, if we have the proper care regarding sunscreen will avoid these annoying skin irritations, in case the sun affects our skin is important to calm, moisturize and nourish, which is better for this than natural products.
Remember that burning often damages our cells, which can have long-term effects such as skin cancer. It is also important to know that white skin is more susceptible to burning because the pigment that makes our skin darker is called melanin, and this at the same time serves to protect us from ultraviolet radiation, so the whiter is easier get irritated.
Sunburn is usually temporary and the pain is worse between 6 and 48 hours after exposure to the sun, and can go from the first degree that only affect the first layers of the skin and heal in a few days. If the exposure is more intense, damage can occur in the deeper layers of the skin, and reach the dermis. In this case they would be second degree burns that can be accompanied by blisters, pain, etc.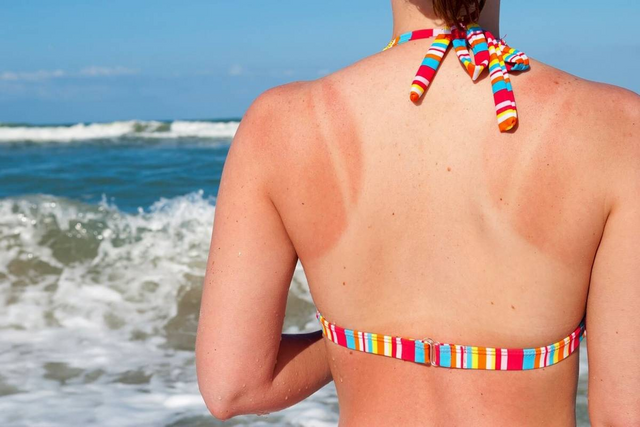 Source
It has happened to us that we go to the beach and forget the sunscreen, what is recommended is to wear appropriate clothes such as long-sleeved shirts, do not use cotton cloth, as the sun goes through them, that's why beachwear is from another type of fabric which is special so that the sun does not pierce it, you can also wear a hat and glasses to protect yourself from ultraviolet rays, I know what girls love a good tan but take your precautions and take care of your skin. It can also happen that you simply forget to take precautions and you burn what you can do is take a bath of cold water but do not put ice in the affected area as this can burn you too.
Not only on the beach we are exposed to the strong sun, just go shopping on a sunny day we are also exposed to burn, I share with you some recommendations for those days that you know you'll be exposed to the sun for a long time:
Avoid exposure to the sun between 11 in the morning and 5 in the afternoon.
If you have sunscreen, apply it 30 minutes before exposing yourself to the sun.
If you are in contact with water, you should apply the protector every 2 hours.
Choose a broad spectrum sunscreen, with the right factor according to your skin type.
Hydrate yourself; It is advisable to drink plenty of liquids, especially water and fruit juices mixed with mineral water.
Finally, it is very important that you take into account all these tips to calmly sunbathe and take care of your skin, do not forget that serious burns can cause irreversible damage.
These are some natural remedies that can help you if you were exposed to the sun without a protector:
Aloe vera is highly recommended for the treatment of sunburn, because it provides a relaxing relief and helps in the healing process, it can be applied directly on the affected skin to relieve itching and burning.

Coconut oil has anti-inflammatory and antibacterial properties that help us prevent possible infections, while calming the irritation and redness.

Fresh milk lactic acid in milk has soothing properties for sunburn, you should apply it in this way, dip a cloth or gauze in fresh whole milk and apply carefully on the affected area, let it act for 20 minutes and rinse with cold water. It is very important that you use whole milk, for its fat content.
Potato have starch-based compounds that can benefit and alleviate sunburn, you can cut a raw potato into slices and rub them in the sore area. Another option is to grate a cold and raw potato and apply it as a poultice, you can also mix it in the blender with a little water and apply it in the burned areas; Wait for it to dry before rinsing.

Oatmeal is a perfect cereal to reduce inflammation and other symptoms of skin burned by the sun or with blisters. In addition, it is perfect to deeply hydrate the dermis.

Drink plenty of water is essential to keep your body as hydrated as possible. Try to drink in these cases about 3 liters of water per day.

If you have a body lotion, put it in the fridge, apply it cold, it will refresh you and relieve your affected area.

The tomato is the vegetable with greater moisturizing properties that exists. It can be used for burn problems for different reasons, as long as it is superficial burns.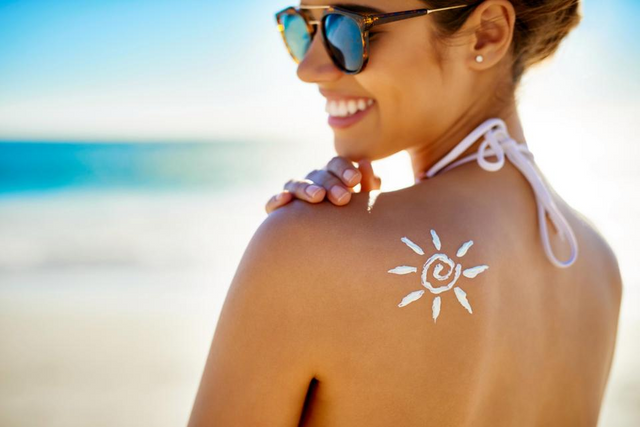 Source