Last year a chicken place opened near my restaurant.
That's not particularly unusual.
In fact this year at least three different places opened near me including a Chick-fil A, a Potbelly Sandwich Shop, and also a Chipotle.
Those three places have all been successful and are quite busy.
The chicken place wasn't successful.
It failed.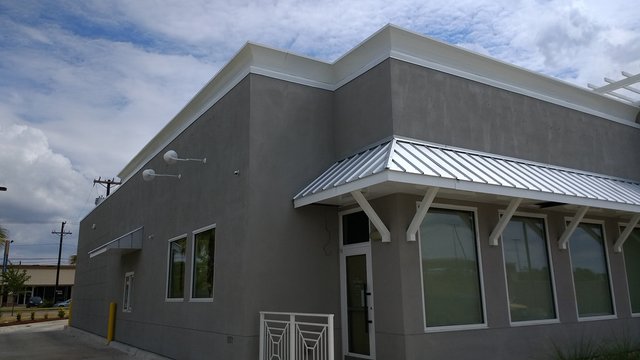 Welcome to Pollo Tropical.
Now it's just an abandoned building.
Even when it was open with the sign out front though it was mostly an abandoned building because nobody ever went there to eat.
So what happened?
Basically we learned that a new chicken place was coming out and everyone got really excited to try it.
No one is earning much money these days though.
For example I had lunch at Chick Fil A today and my total was $5.87.
That was about my limit for today.
Pollo Tropical comes out and wants to charge something like $10 for a plate at lunch.
Chicken and rice.
Most of us agreed that the chicken, despite being grilled and supposedly roasted in all kinds of flavorful juices, was actually really dry and flavorless.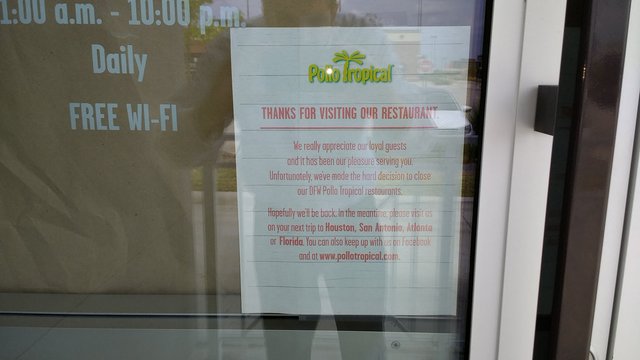 There are a lot of places to eat around here.
Most of them offer pretty good prices.
What you really want to look at is the price to performance ratio.
Sometimes that performance means quality and sometimes that performance means quantity when you go out to eat.
Unfortunately, Pollo Tropical in my opinion, had neither of these things.
Thank you to our loyal customers but unfortunately had to leave the DFW area.
Did they have some loyal customers around here?
I remember seeing their commercials and everyone in their commercials seemed to really enjoy their food and think it was the best chicken around.
I really like the chicken from La Madeleine.
The chicken from Boston Market is even pretty good.
Heck, I love to pick up a whole chicken from Central Market or even Sprouts.
I don't want one from Pollo Tropical though so I understand why they left.
It's possible that somebody on here loves their food and finds their prices reasonable.
For us though, it just didn't work out around here.