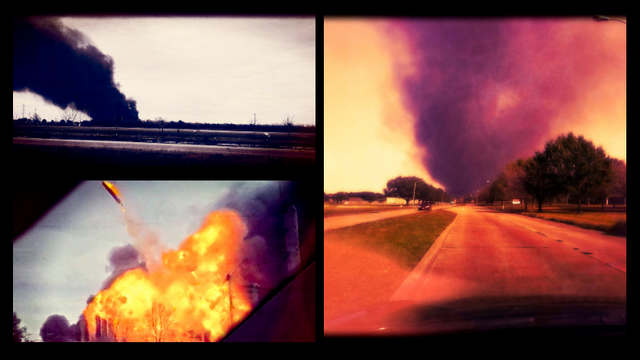 Wednesday morning 1:00 AM, the house shakes and rumbles, I thought it was an earthquake.
Turns out, it was an explosion at a chemical plant. The blast could be felt up to 30 miles away.
I drive past this plant every day when I go to work ... it's less than a mile from the school where I teach.
So anyhoo, the fires can't be put out because ... chemicals ... so the damn thing is still on fire.
There have been 4 explosions total and there is a mandatory evacuation in the town in which it occurred.
Plus, the chemical that has exploded into the air can cause nerve damage ............
But there's no need to worry because the corporation which owns the plant and the corporations which own the press say "there is nothing to worry about!" (sarcasm font)
So, I'm making plans to move to a deserted island ... or an underground bunker.
The Shane had patients in the area on Wednesday and took some pics. The mandatory evacuation didn't happen till after the 3rd explosion so he was driving around that area working because corporations need their money yo.
The Shane took the first 3 pics and the last 2 are from the internets. Then I did weird things to them in photoshop because reasons.