Red Flag Traffic Laws 1865 - it was stupid then. Cryptocurrency is seen stupidly now. Not much has changed.
Horses and wagons. The automobile was invented, and government treated it quite dumb, just like Bitcoin..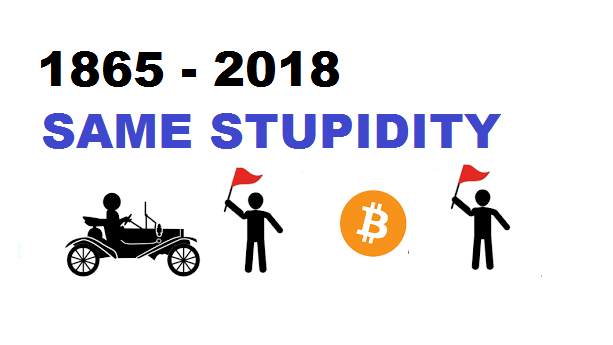 None of us are alive today, to remember what happened when horses and wagons were the primary mode of transportation.
...the automobile was invented. Governments reacted to the "danger"....
In 1865 "red flag traffic laws" were enacted in both the UK and similarly in the USA which required a policy requiring self-propelled vehicles to be led by a pedestrian waving a red flag or carrying a lantern to warn bystanders of the vehicle's approach
You can laugh at that today.
It is completely not funny.
That is the way government acts when it has to regulate something new, that can change the world, and they rush to make regulations to handle it.
Imagine that... you'd have to walk ahead of an automobile, waving a red flag, warning that it is coming....
That made sense to legislators at the time. They made a law that you had to abide by...
...and it was a REAL law, and there were penalties for going against it.
Now it isn't 1865 anymore, and we're not dealing with the invention of the automobile anymore...
But in 2018, legislators, bankers, and those that govern money today are acting equally as stupid as the way we thought in 1865. It's hard to believe that in the last 153 years... we've learned absolutely nothing.
It's true! 153 years of government, courts, legislators, congress, banking... we're right back to 1865 again.
WHY?
Bitcoin is a new way of conducting financial transactions. It's faster, cheaper, and allows the general everyday citizen to use it.
What do they want to do?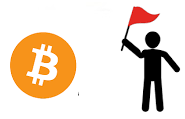 ...that's right. They want to WARN the public, that cryptocurrency is unsafe. It's used by druggies, terrorists and scammers. We need a red flag waving person everywhere it goes.... just like 1865
Read this wikipedia article:
https://en.wikipedia.org/wiki/Red_flag_traffic_laws
I'm serious. It happened then, and it is happening right now with cryptocurrency.
Regulators in charge of charting the future of their country are acting like monkeys trying to fit square objects into round holes. .... and when they don't get it right, they're just going to be aggressive about it.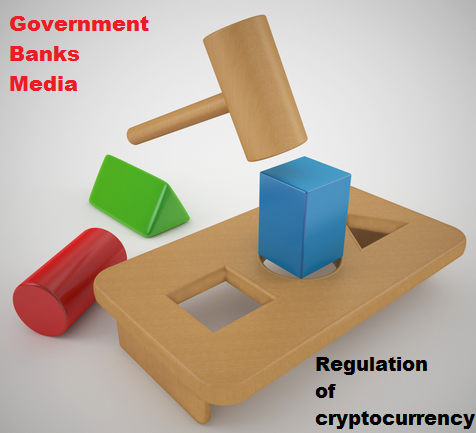 I understand why they are doing it. Peer pressure. The banking cartel... and the way it works... there is a lot of pressure there... STOP cryptocurrency. This eats our lunch for us. Just because it is faster, cheaper, better, doesn't mean this invention is any good.
...but we have a problem....
Just as stupid as it was, with the invention of the automobile to try and require people to walk ahead of the vehicle waving red flags...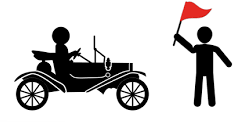 ...is as stupid as it is to approach the development of cryptocurrency and "trustless" blockchain technologies the same way.
You can't stop worldwide progress. It's going to happen anyway.
Now if you are one of those secret government regulators who read my blogs.. I want to tell you something...
IF you do not find a way to adopt and embrace cryptocurrency before other countries do, then what is going to happen is you're going to create innovation and wealth in other countries than your own. Not only are you going to affect the way your country can compete, you'll be doing a disservice to your citizens, your homeland business, and your overall wealth to your country.
.
.
...so get on the cryptocurrency train and allow innovation.. embrace it. It's not going to stop. Just like the automobile never stopped. Do all the red flagging you want. This is worldwide innovation at its finest. Think outside of the box and find a way to allow this innovation to flourish and stop trying to scare the public. It does not matter how hard you try... it's not working and won't work.
..just like all those lobbyists who made wagons and sold tamed horses couldn't stop the popularity of the automobile. You can't stop the popularity of cryptocurrency either.
.
.
So do the best you can for your government and your constituents and business... embrace cryptocurrency and make regulations that support the legitimate use of it.
..if you don't. Other countries will. You'll pay the penalty for that...
If you enjoyed this article and want more people to see it.
Please consider to re-steem it