6 Tips on Setting Up Your NEW YEAR'S GOALS. NOT Resolutions.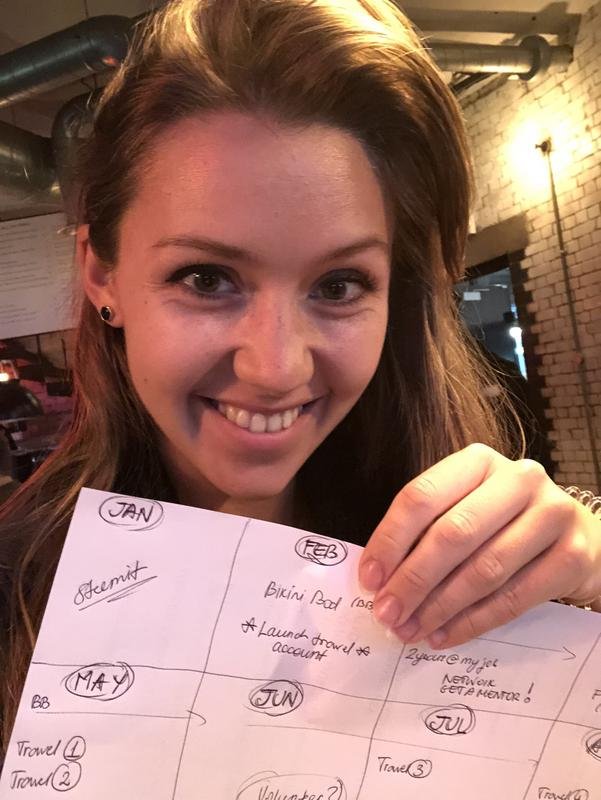 Me planning my 2018 Goals in a coffee shop today 
I realise that we are well into January with less than a week left but I wanted to talk about New Year's Goals, and NOT Resolutions in my next post. I may have stayed up till 3am to draft this up in bed last night so hey, don't judge ;-)

Why Goals and not Resolutions?
On one hand, I feel like resolutions are so cliché right now. But on the other, I haven't actually heard any of my friends or family use that term in a long time. Plus only about 8% of all New Year's Resolutions are actually kept. I also feel like 'resolution' as a term just doesn't do its justice.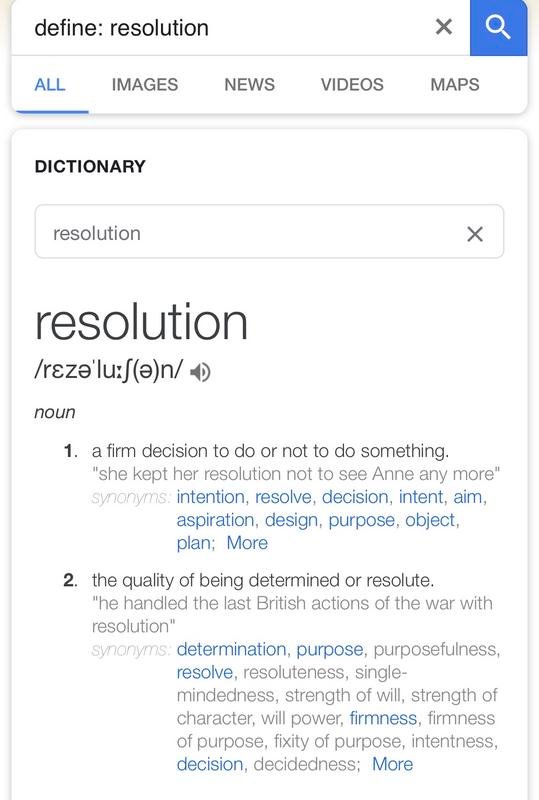 Google search result for 'define: resolution' 

'A firm decision to do or not do something' just doesn't do it. Decisions change all the time regardless of how firm they are. And 'purpose' just sounds too dramatic, I immediately think of 'What's my purpose in life?', or 'What am I doing here?' Lol  
So anyway, a 'Goal' makes a lot more sense. It's an objective, an aim, a target that you can either achieve or miss. For me hearing this puts me in a much different mindset and gets me thinking of how to get there or what needs to be done. 

My 2017 Goals 
Last year I sat on a beach with my sister @allasyummyfood and a friend (a few days before the 31st of January) and we all discussed our goals, and what we wanted to achieve next year. I then literally went and wrote them out in my Notes on my phone: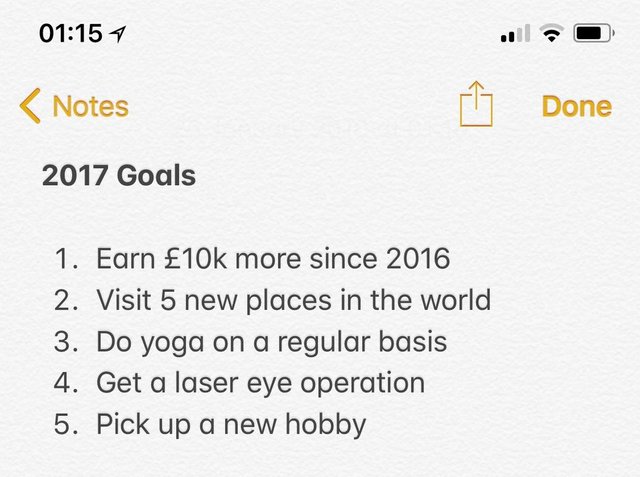 How did I do? 
Well, let's see. I didn't achieve all but I certainly achieved some of them, and for others I got half way through: 
Earn £10k more - I managed to get half of that by getting a promotion and Airbnbing our flat when we were away which is not bad. During this process, however, I realised that I was more excited about getting a 5 star review on Airbnb rather than getting that extra cash.
Visit 5 new places - ✅ Last year I went to: Chamonix (France) to ski, North Wales to zip wire inside a cave and surf, Marbella (Spain) to spend time with my dad, Greece to sail and celebrate my 27th birthday, and finally Bahamas to island hop and meet NYE on the beach! 
Do yoga on regular basis - 50/50. There was a period of time where I did yoga minimum once a week, sometimes even twice but I didn't keep it up as regularly as I would have liked to. The good thing is that after last year yoga has become part of my life and just another thing that I do now (on regular or irregular basis).
Get a laser eye operation - ✅ I originally planned to get it done in March but it all felt a bit too rushed at a time, I didn't have enough savings and I didn't want to give up a bunch of exercises for a month leading up to the summer. So I pushed it back and got my eyes done in October instead. 
Pick up a new hobby - NOPE. I continued my street dancing classes through January and February but then we moved offices so I stopped and didn't pick anything else up. I think one of the reasons why I didn't achieve this goal was because it was too vague. Have I actually picked something like 'learn to play a guitar' or 'dedicate more time to photography' - it might have been easier for me to get lessons and push myself to then actually do it.
But really, when I look at my last year's goals I can say that I've achieved 3 out of 5 which is not bad at all :-)   

2018 Goals 
There were a few learnings that I took from last year, like earning more money didn't motivate me as much as I thought it would, or that I had to stay flexible when things didn't work out as planned. Or that being too vague made me miss my entire goal all together. 
So I've made some adjustments and wrote out things I wanted to achieve this year + 5 more things that would be NICE to do but are not absolute musts.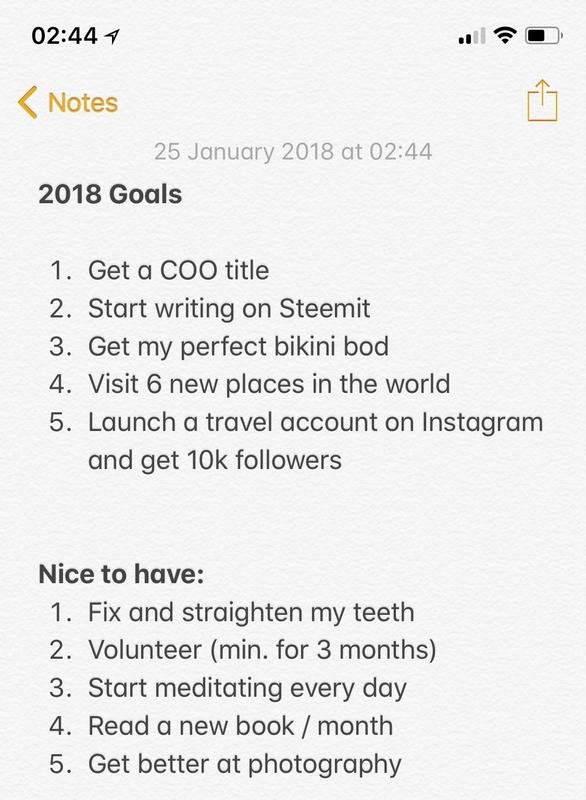 I won't go into too much detail on these yet but instead try and provide you with a few tips on HOW to set up your New Year's Goals (even if it's February already). 

My 6 TIPS 

1. Don't set too many goals at once 
Or you will feel overwhelmed / too stressed and will lose your focus. 5 works for me but of course if yours are tougher, more challenging and will take a longer time to achieve - then have less. 

2. You don't have to start nor achieve all goals at the SAME TIME  
Set yourself realistic deadlines but also don't feel like you need to start doing everything on the 2nd of January. For instance, I know that getting a COO (Chief Operating Officer - for those who weren't sure what this meant) title will be a long run so I just need to stay focused in my job. Or getting my perfect bikini bod won't happen overnight. Equally I will start working towards it at the beginning of February as January was dedicated to starting on Steemit.

3. Set realistic and achievable goals  
For instance, I know that this year I have already planned a few trips to Scotland, Ukraine, America and Italy. But that still leaves me with 2 more new places to visit which I have to think about and make time for.
 
4. Have a healthy balance  
I always try and have a mix of things that I want to achieve. This, of course, will entirely depend on you and what's important to you but do try to achieve something towards bettering your health rather than just materialistic things like getting a new car or a house. 

5. Make your goals visual or vocal  
I know I only had mine in my phone but at least I kept on re-visiting that note every month or so to make sure I stay on track. There are better ways of doing it - tell your friends, family members, colleagues. Or simply print them out and put them on your fridge door or a mirror. Having a daily visual reminder should keep you focussed!
  
6. Organise yourself 
This is probably the hardest part and as soon as the first few weeks of January kick in - it's suddenly very busy at work, your calendar is full and you literally have no time for anything else. But remember, taking small steps or spreading your goals across the calendar (see my example below) will help you organise yourself better. Plus there are amazing apps like Wunderlist and Trello that I use on daily basis to organise my life/work.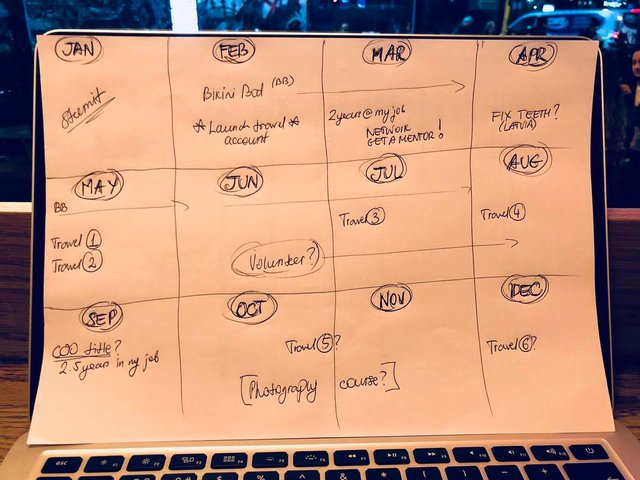 My rough plan for the year

I'm not saying that all of these will work for everyone but I think it's important to remember that a goal is not a sprint but a marathon and if you want to achieve it - you need to train for it for months, have people/support network around you, and of course, determination and motivation to do it in the first place. 

I've recently read a great article on personal goal setting so if you're interested to read more on this topic, here it is: https://blog.trello.com/personal-okrs-with-trello

If anyone has any more tips on what has worked or helped them - leave a comment! Or if this post has (at all) inspired you to go and set your goal up - let me know as it would make me super happy!
P.S. I'm off to a networking event now so I will answer to all your comments a bit later :-)
P.S.S. A HUGE thanks to @demotruk for giving me some Steem power so I can publish this post today!