Mykines - a visit to a lost world (reposting my own great entry)
Hello all Steamit-ers,
This was my first blog entry on Steemit. I am a libertarian photographer currently based in Denmark. Hope you like my first entry here and decide to subscribe to my feed. I will be posting more of the travel/photo entries in the near future for sure.
This time I am delighted to share with you photographs from my last year's visit to Faroe Islands, from one of the smallest inhabited islands there - Mykines.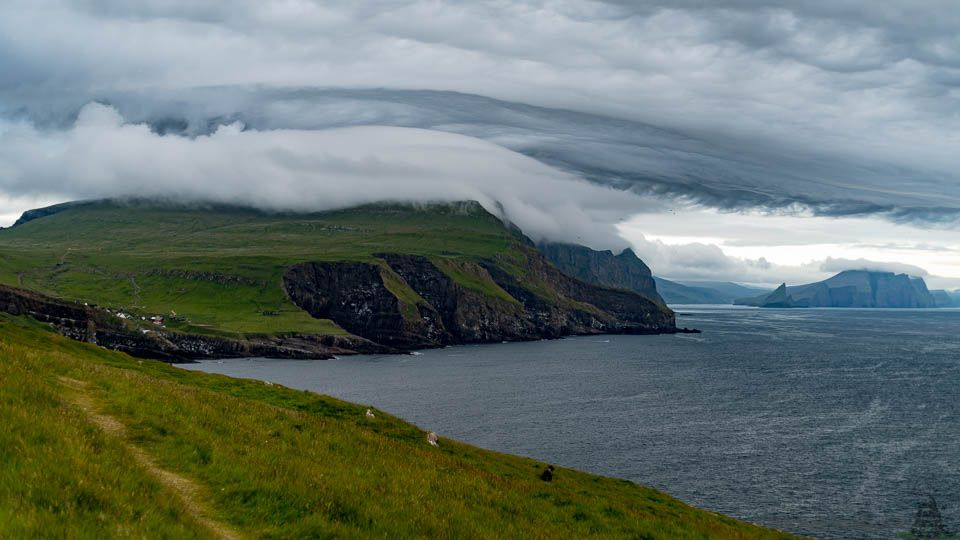 Getting there
To get on the island, you have to take ferry from the Sørvágur or a helicopter service (Mon, Wed, Fri, and Sun - the ferry comes more often though). If you don't plan ahead, it might be difficult for you to reach the island. What is more, you are heavily dependent on the weather conditions as ferry stop at Mykines is not protected from violent ocean waves by a deep bay - as is the case with most other locations at Faroes. For example, I was stuck there the next day when a light storm came with moderate wind and rain.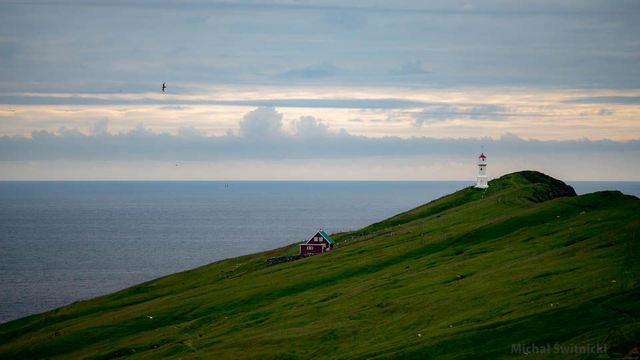 Once there
Once you reach the island and settle yourself in a hostel or a tent, head towards the best part of the island - Mykineshólmur islet. This area offers great hiking destination with beautiful landscapes and wildlife to adore. It is here where I took the first photograph shown in the post.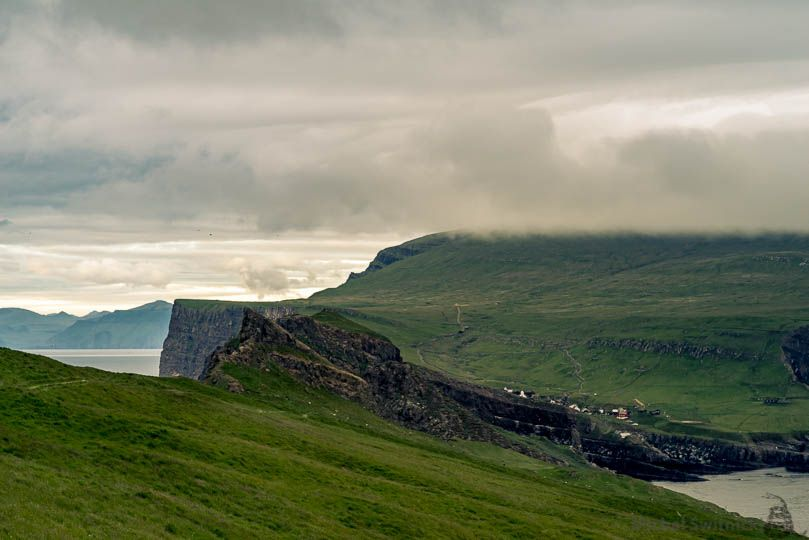 Mykines settlement on the right.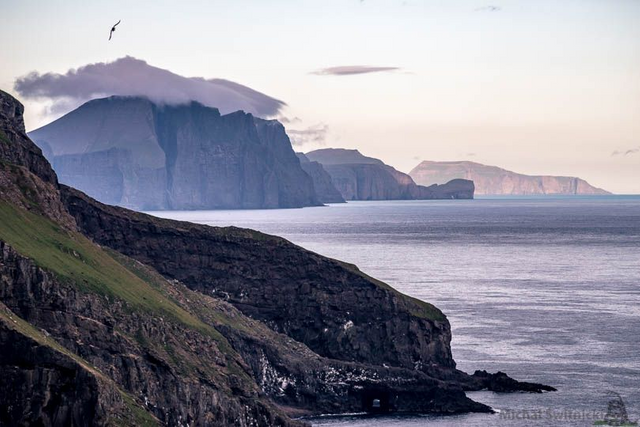 At the end of Mykineshólmur there is a lighthouse and a lone house (also seen in the second photo):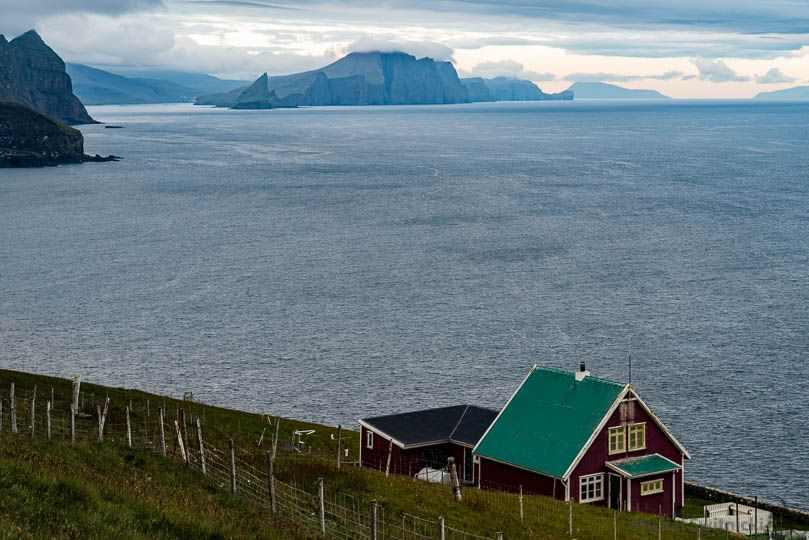 It is here where you can see magnificent view over the Mykines mainland with Vagar island in the background: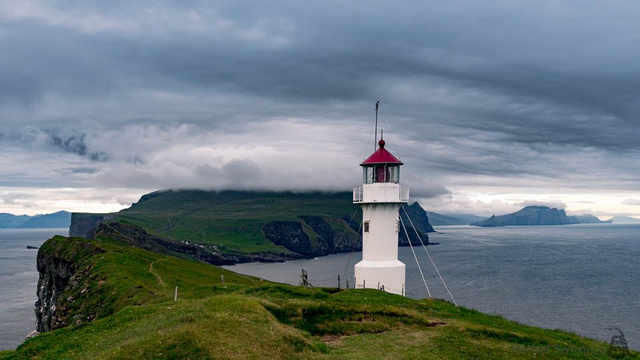 As you can see, all the presented photos were taken during the time of sunset. In photography, sunset and sunrise times are sought after and hours after/before are called golden hours. The light during these times is warm and typically softer and can enhance your scenes greatly. All my hike took place during this period as sunset takes hours at Faroes, with astronomical night begining around 1am. You have enough light to photograph until 11pm.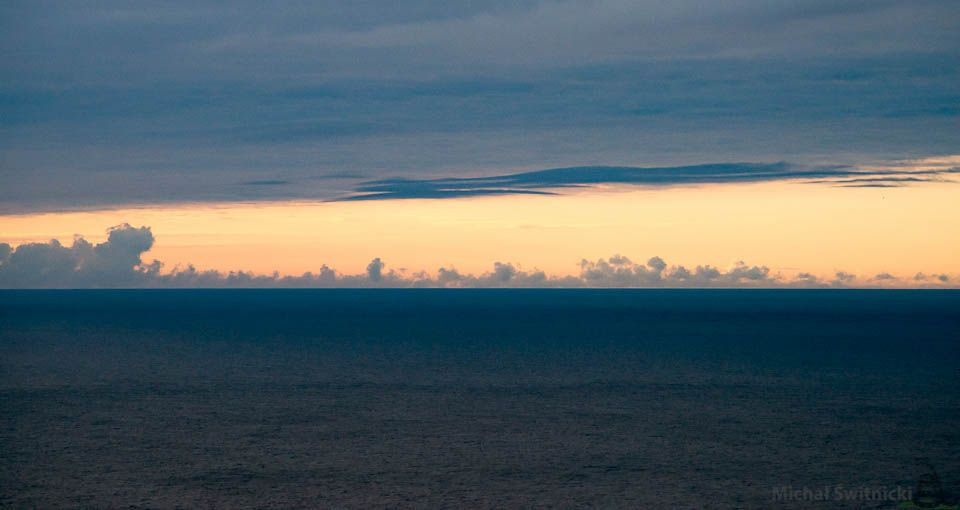 During this time, I also took this spectacular panorama of the Vagar island and Sørvágsfjørður. Seeing this you might begin to question whether this site is on Earth - to me, this beauty is otherwise unimaginable:

Puffins
Another big thing at Mykines is the wildlife, and most notably - a big puffins colony. While setting my tent, I talked to an elderly conservation biologist who happened to camp nearby as well. I learned that puffin population has declined significantly over the last 10 years (by 50% or so), mainly due to overfishing that results from the non-privatization of fisheries in areas where these birds nest. Governments control ocean resources and operate a fishing quota system in which big fishing corporations can obviously operate best, for instance by bribing the bureaucrats. The prime example of the tragedy of the commons.
This year, however, puffins had the little ones - the first time in many years. While being careful not to disturb them unnecessarily, I managed to snap several shots of these beautiful creatures: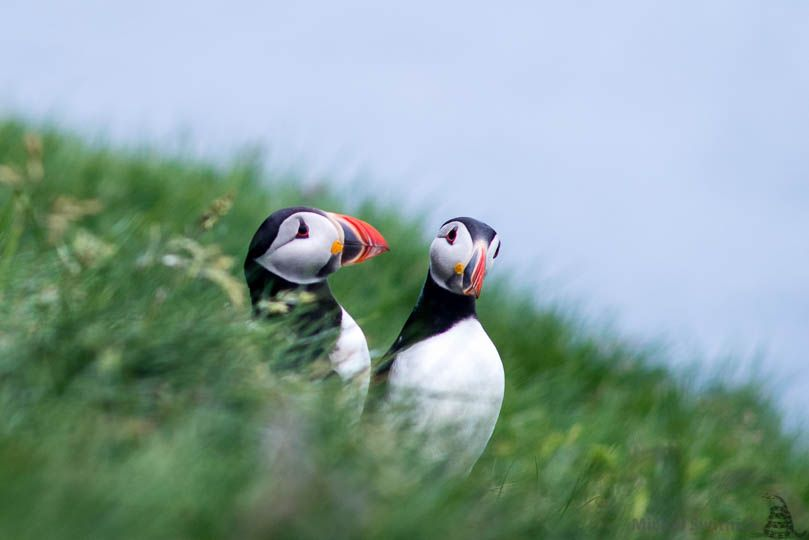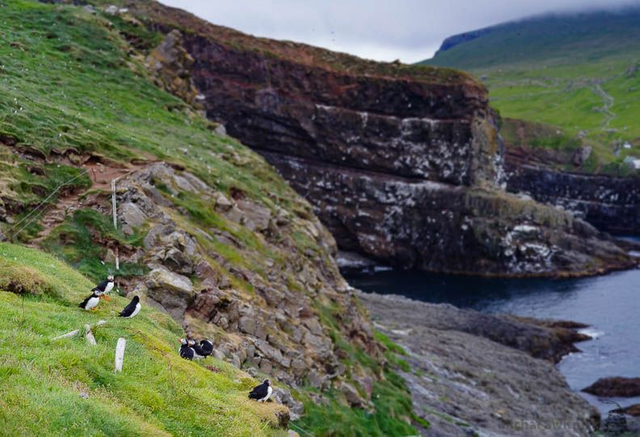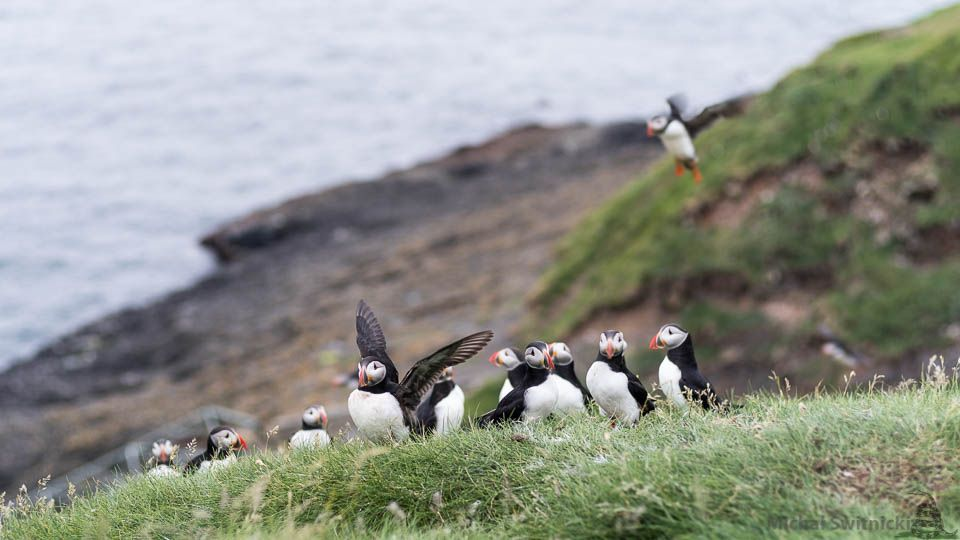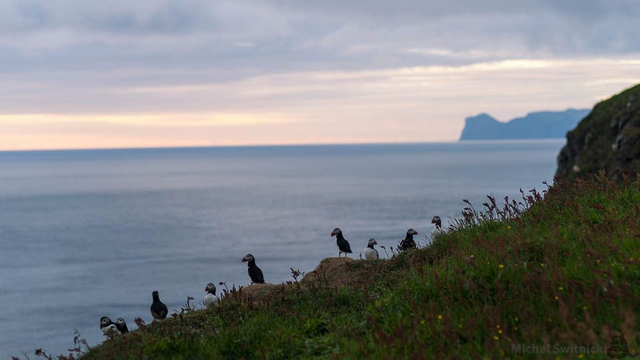 Romantic puffins enjoying the sunset at the cliff.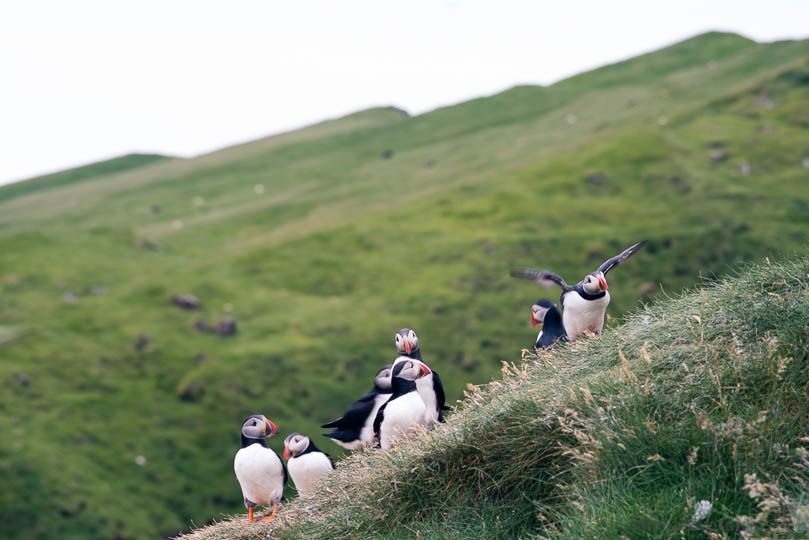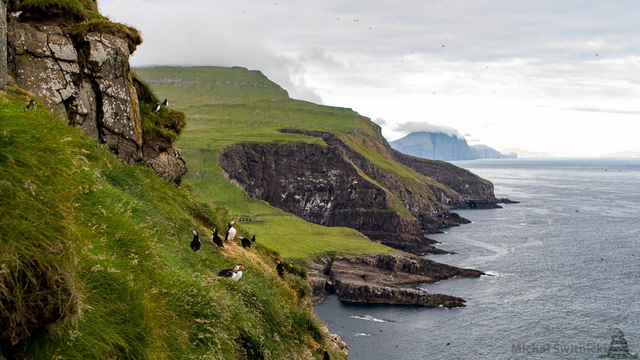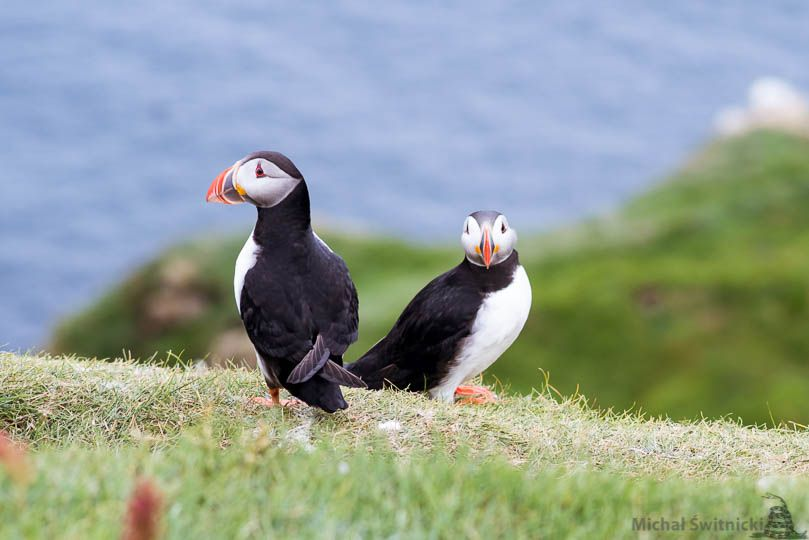 After a 3-hour hike to Mykineshólmur, I safely returned to my little camp on the back of the Mykines settlement to enjoy a little cold and windy night :)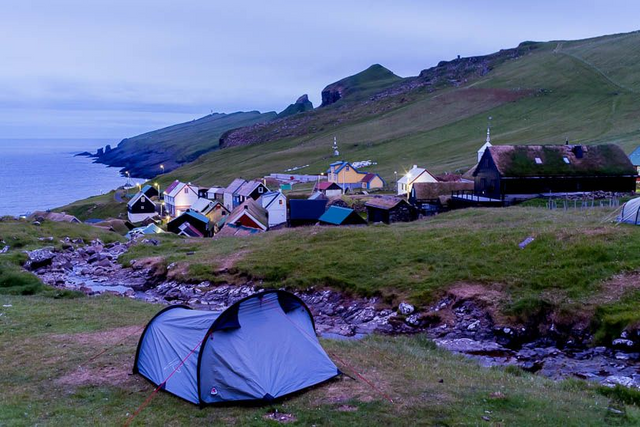 On the horizon in the center, Mykineshólmur with the lighthouse and a lone house. Photo taken at midnight, exactly.
Finishing remarks
Perhaps small and largely uninhabited (a human population of 10 and 1000 sheep), Mykines is definitely one of the most beautiful islands among the 18 of the Faroes. Not everyone can go there, but I am pleased to share with you my experience.