I needed change from scrambled eggs so today was Shakshuka time😁
I love the addition of cumin and fresh herbs and I can't imagine this dish without halloumi cheese. My family prefer feta cheese in this recipe because they don't like the texture of haloumi. Both versions are delicious!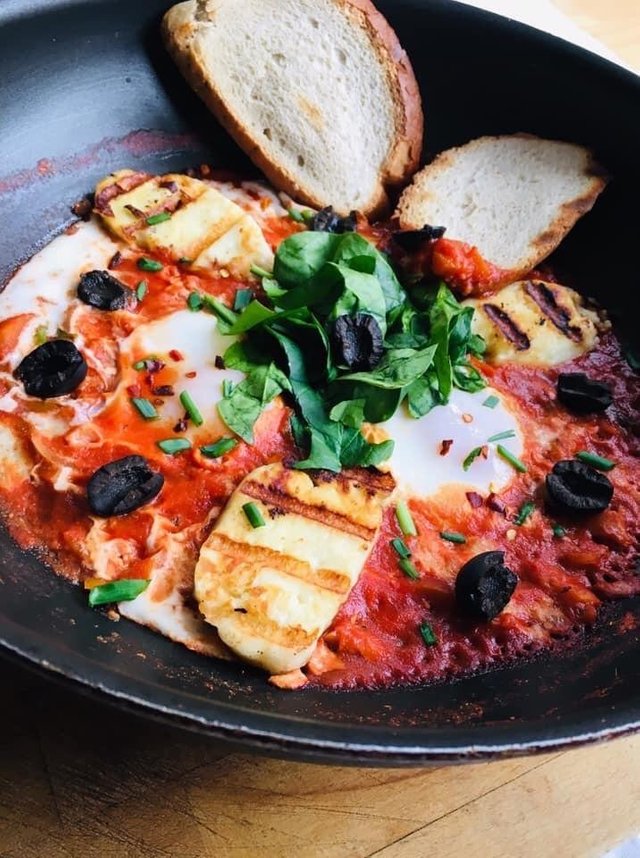 Ingredients for 2 portions
4 medium eggs
60g halloumi cheese ,sliced and grilled or pan seared (optional)
200ml passata or chopped ripe tomatoes
120 chopped onion
200g red pepper, chopped
2 garlic cloves,minced
1tsp paprika
3/4 tsp cumin
1/4 tsp chilli powder
1 tblsp fresh coriander, chopped
1 tblsp fresh parsley, chopped
Water for frying or spray oil
Step 1.In medium pan heat little bit of water and fry onion until almost soft.
Step 2.Add vegetables, sprinkle with salt and add more water if the mixture sticks to the pan.Cover and cook for about 3 min.
Step 3.Add passata, spices, garlic and bring to a boil.
Step 4.Taste the sauce and add more seasoning if you need to.
Using large spoon, Make 4 divots in the sauce and carefully break in the eggs. Season them lightly, turn the heat down as low as possible, cover and cook for about 8 minutes until they're just set. Sprinkle with coriander and serve with bread and cheese.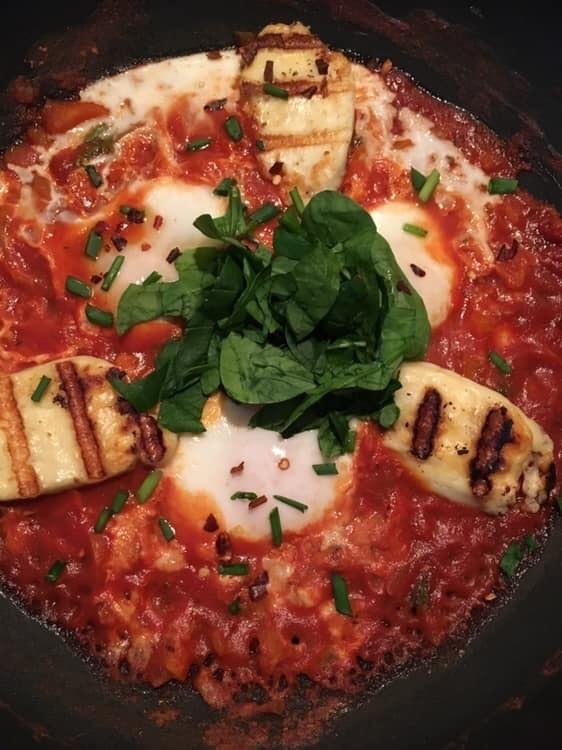 Sometimes I need a little sugar or sweetener in my tomato mixture if it taste to sour.
You can use any spices in this recipe, it doesn't have to be cumin. I also tried this with smoked paprika and it was 👌
Macros per 1 portion (including bread)
Calories 335
Carbs 28,5g
Fat 14,5g
Protein 23,5g
Fiber 5,5g
.........Polish translation.........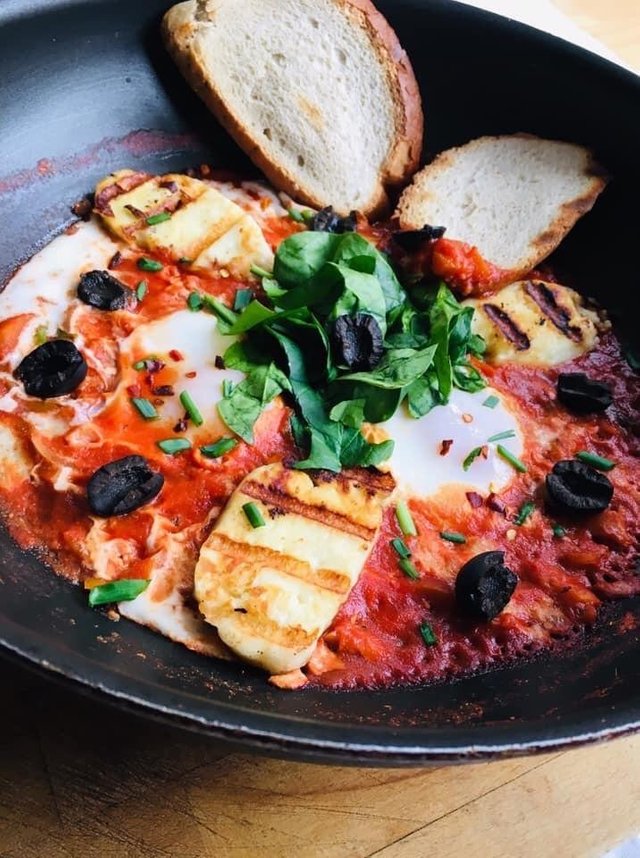 Dzisiaj potrzebowalam czegos innego niz ta moja codzienna mizerna jajecznica, więc zamiast tego zrobilam szakszuke👌👌
Uwielbiam w tym dodatek kminku i świeżych ziół i nie wyobrażam sobie tego dania bez sera halloumi. Moja rodzina woli ser feta w tym przepisie, ponieważ nie lubią haloumi. Obie wersje są pyszne!
Składniki na 2 porcje
4 średnie jajka
60 g sera halloumi, pokrojonego w plastry i grillowanego lub smażonego na patelni (opcjonalnie)
200 ml passaty lub posiekanych dojrzałych pomidorów
120 posiekanej cebuli
200g posiekanej czerwonej papryki
2 ząbki czosnku, posiekane
1 łyżeczka papryki
3/4 łyżeczki kminku rzymski
1/4 łyżeczki chili w proszku
1 łyżka posiekanej świeżej kolendry
1 łyżka posiekanej natki pietruszki
Olej w sprayu do smazenia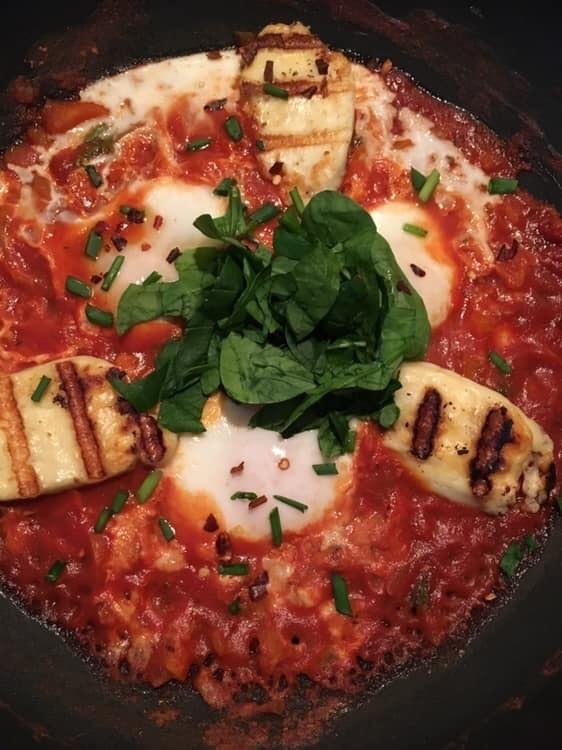 Krok 1.Na średniej patelni rozgrzej trochę wody i usmaż cebulę, aż będzie prawie miękka.
Krok 2.Dodaj warzywa, posyp solą. Jezeli mikstura przykleja się do patelni to dodaj wiecej wody. Przykryj i gotuj przez około 3 min.
Krok 3.Dodaj passatę, przyprawy, czosnek i zagotuj.
Krok 4.Spróbuj sosu i dodaj więcej przypraw, jeśli zajdzie taka potrzeba.
Za pomocą dużej łyżki zrob 4 "dolki" w sosie i ostrożnie wbij jajka. Dopraw je lekko, zmniejsz ogień do minimum, przykryj i gotuj przez około 8 minut, aż będą gotowe. Posyp kolendrą i podawaj z chlebem i serem.
Czasami potrzebuję trochę cukru lub słodzika w mieszance pomidorów, jeśli smakuje kwaśno.
W tym przepisie możesz użyć dowolnych przypraw, nie musi to być kminek. Próbowałam też z wędzoną papryką i było pyszne👌
Makra na 1 porcję (w tym chleb)
Kalorie 335
Węglowodany 28,5g
Tłuszcz 14,5 g
Białko 23,5 g
Błonnik 5,5g