My youngest son and I were talking the other morning about perspective.
It followed a conversation that took place the previous evening between my wife and our daughter-in-law (married to my younger son). My wife was expressing concern for our oldest grandson, the one who just had surgery to restore his telescoping small intestine to its proper place. In the meantime, he's been in the middle of teething, with a couple of them already in at the bottom and the some more starting to push through on top.
He and his parents (older son, other daughter-in-law) had been over to the house, and my wife, being the grandmother that she is, thought she was expressing something that everyone in the room shared.
Unfortunately, the daughter-in-law who lives with us took the opportunity to ask why my wife wasn't equal in her concern for her daughter, our oldest grandchild, who is a little over two now and is also filling in the remaining baby teeth. Then, of course, the daughter-in-law had just had surgery, too.
Apparently, according to the daughter-in-law, it was always about the first grandson and very rarely about anyone else. (This isn't the first time she's expressed a similar perception, just the first time I've heard it in person).
I've been paraphrasing here, but that's more or less the gist of it. Even my son, who is quick (and rightfully so—he's married to her) to take his wife's side on many occasion, had to question the always part. My wife was taken aback by it all—as far as she was concerned, she'd done nothing wrong—and tried to say she didn't mean anything by it.
Well, basically, my daughter-in-law thought she was being rebuked or called out (not sure exactly by who), decided she should be quiet, and then after a few minutes of looking at her phone, said she needed to go to the bathroom, got up, and left. That was the last we saw of her for the evening.
So, with just my son and I there the following morning, I started talking about the previous night. He'd apparently gotten the cold shoulder treatment, too, and was somewhat lamenting the fact that he had decided to bring his family to live with us. I guess, because of the somewhat frequent clashes his mother and his wife find themselves in.
Which, to my mind, is really sad, because for the most part, my wife is a very good grandmother, mother and mother-in-law. If she has an issue, it's usually around how she might phrase something, still being in mother mode (with everyone) and trying too hard.
And as far as the daughter-in-law is concerned, she can be very considerate and compassionate, helpful, etc. Then, something rubs her wrong, or she's having a bad day, or maybe she's in her own pain from her surgery but really isn't acknowledging it when people do ask (and we have), and the next thing we know she's heading upstairs in a huff, sometimes with a bewildered husband tagging along behind.
For the most part, I've chalked it up to her youth. Maybe I shouldn't, since she's 25 and has two children. However, I'm hoping that within the next five to ten years, it will dawn on her that my wife is not the enemy, in competition for my son's affection, trying to tell her she doesn't know anything, or whatever the heck else it might be that's causing her to get offended.
That's not to say there's never a reason to get upset when it comes to my wife. She can push boundaries and buttons, sometimes unintentionally, or unknowingly. She's trying to help, whether or not help is needed or asked for. I can't say I totally understand it, but it's kind of like my daughter-in-law has in her head that she just has to be at odds with her mother-in-law because that's the way things are.
It doesn't help that they are opposites in a lot of ways. But I don't think either one should feel bad, on the verge of tears, because one of them is concerned for the welfare of someone else and chooses to express it.
Something my son said while we were talking struck me. I didn't say much about it then, but I've been thinking about it some since. He said that one of the perspectives people in the household could have (without naming names, of course) was that because we had our granddaughter and youngest grandson living with us, it was easy to take them for granted, that they would always be there, or words to that effect.
The idea was, since his children are always there, it's not like my wife and I have to go 100% with them every day. But because the other grandson doesn't live there, it's 100% with him for the hours he's there.
We got interrupted and so I wasn't able to pursue the thought, and haven't chosen to try yet.
As it is, I'm not sure where to go with it. Perception is a hard thing to overcome, especially when one side can't really see it. Sure, the older grandson gets some attention when he's here because, yes, we don't see him during the week, but as it is, because of our work schedules, my wife and I generally will see the ones living with us in the morning, and maybe get back in time to see them before they go to bed at night.
My wife has tried to spend some time with the granddaughter, but she's in a mommy/daddy phase right now, which for me is fine. My wife tries to hold the youngest grandson as much as she can, but he spends a lot of time eating and sleeping, so timing can be tough depending on the day. So, I'm not sure what more could be done than what's being done, other than trying to force things, which wouldn't go over very well, either.
It feels very much like a Catch-22 situation.
However, in the event that I am missing something, and that there is some chance that the perception being expressed about showing favoritism or whatever we should call this has any merit whatsoever, I figured I'd just keep trying to get my granddaughter's attention, and talking with the youngest grandson (he can't really get way yet since he's going on three months and is just happy when someone pays him some attention).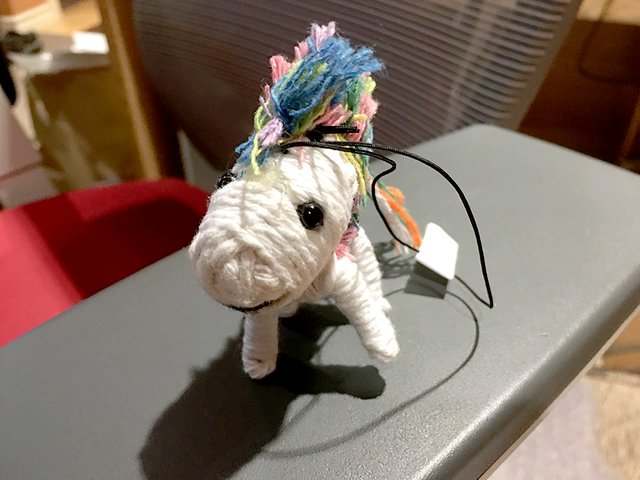 So, I guess as a way to begin bridging a gap, real or otherwise, I'm going to give her a little string toy that came as part of a box of prizes from my work. It came in what's called a 2" capsule, but part of the capsule was gone (it must have shipped that way), so I can't put it in any machine as is. Rather than throwing it away, since it's in perfectly fine condition, I figure she can get some use out of it, even if it just finds a place to hang in her bedroom.
A small token of a Grandpa's affection, who's trying to be there as much as he can, though time is limited.
I'm not sure if I should give it a name, or let her do it. I've also been thinking about giving it a backstory, something she might remember. I also think it needs to be played with gently, but I'm not sure how to convey that. I think soft is the word used to convey fragile or gently with her so maybe I'll try that.
Now, I know what this particular string animal is supposed to be, but it's kind of tough to tell, I think. I'm wondering if you can figure it out, and then maybe suggest a name and some kind of story to go with it. It'll be fun to see what you all can come with.
Image courtesy of Glen Anthony Albrethsen.