I woke up snug as a bug in a quilt. Little kids had transferred themselves from their bed to mine at some point in the wee hours. Morning light was well established where it rested on the floor next to the window. I rolled out of bed and decided to make pumpkin French toast, because that seemed like a good thing for a stay-at-home-mom to make on Sunday, September 30th. And I also happen to really like French toast.
Thirty minutes later the tot was scarfing it down like I hadn't made a special breakfast in six months…because I hadn't. She was sitting in her chair, inconveniently pushed about six inches too far from the table, dribbling maple syrup down herself to the rug and shouting angrily, "I want one piece, OKAY?" She was yelling not at me, but at the French toast. It had offended her by not easily getting on her fork. It's hard to be two. I smiled. I love Sunday mornings—there's always something serene clinging to them.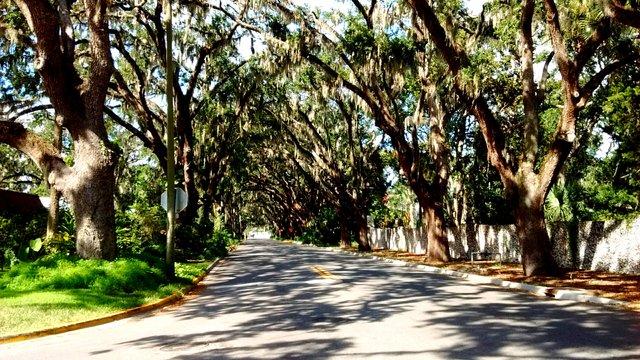 We headed downtown, because for cheap people a #sublimesunday equates to free things for locals. Free, sublime things, like history museums with weird fortune teller stations and other bobbles lining the hallways, and trolleys that will meander through brick lined streets spouting out tidbits of history. "We won't be gone long," I assured Big Dog as he slurped maple syrup off the tot's face on the way out the door.
Before we could earn our right to waste fifty cents on a weird fortune telling machine or a smashed penny, we had to wander the winding halls of the museum. First up, the exhibits on The Florida Crackers. They were a group of wanders that wound their way through an uninhabited Florida two hundred and fifty years ago. They coveted seclusion, and would appear and disappear in the palmetto brush, only the sound of their cracked whips identifying them. I see their genes in the descendants still lingering here. The true locals here have a certain brusqueness to them, and a twang to their voices, and a loner sort of waywardness. Often their skin is that reddish color of many, many sunburns turned to a leathery shade and texture. Sharp characteristics stick out, like ice blue eyes. I see one now in my mind's eye wading out around the oyster beds to toss a cast net, a still, intenseness to him as he looks up.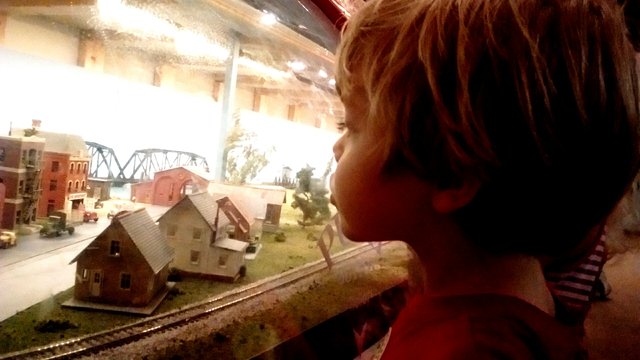 We breezed through the ship wreck exhibit and the Civil War—nobody pays Florida any mind in reference to the Civil War. We stopped at the room full of a model trainset that outlined Henry Flagler's expansion of the railroad all the way from North Florida to the Florida Keys. He made those iconic degrading railway bridges that connect one island to the next all the way throughout the Florida Keys. I've seen them, and I was enamored. In model train form, I am less enamored. I'm not enamored at all; I was bored out of my mind. I started counting my split ends while I was held captive in the room by the children.
I escaped. The children smashed a penny at the expense of fifty-one of them. We hopped a trolley and let it swoop us off through the streets. Heat on a stomach full of French toast makes you nauseated. Nausea makes you grouchy, but no matter, because the lazy movement of the trolley and the friendly ring of the bell lulls. Sleepiness sets in. I could feel the Florida Crackers and Henry Flagler's era flip-flopping around me. The crack of a whip; a rustle through the orange groves. The ache of carriage wheels against brick; the figure of a staunch man dressed in a black suit. The heavy heat of the last day of September, the deep blue of the sky above stretching endlessly, the same basic personalities no matter how the genes are watered down—it isn't so hard to feel the past still with us.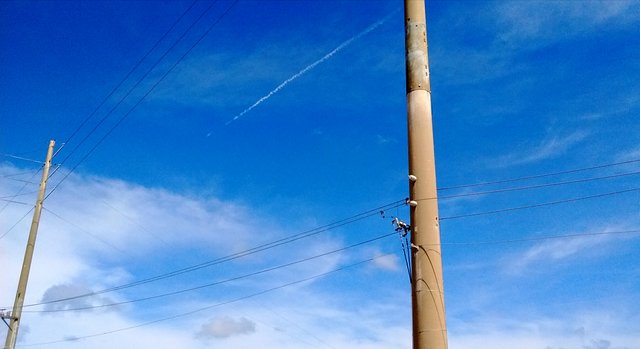 The trolley bell rang, and we were back in the times of streets congested with automobiles and foreign tourists arguing about which attraction to visit. And now I'm back home, snug as a bug in my quilt.