BE CAREFUL WHAT YOU ASK FOR!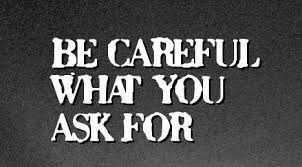 Image Source
Helen fell for Chris but he was down for Sharon she thought. She wanted him, but he wanted another. She gave him her all, but he preferred another's small. Her heart was his, but his was another's. Helen did not mind the many pieces her love for him tore her heart, all she wanted was love and affection she was never gon' get from Chris maybe.
She fixed one more date with him hoping things would turn around rightly. Chris gave her a "Yes" which later made way for a "No". Helen was hurt! Helen prayed Chris would never find love! Helen swore never to see Chris!
But she was wrong! Chris didn't just turn Helen's date down, his mother fell seriously ill that evening and needed care. His oversped car crashed - on to an electric pole - as he tried to meet up with Mom and his date,he bowed to death. In his breast pocket was a short note which read," I really do love you Helen,be mine! "
Helen is still hurt! Chris never found love! Helen would never see Chris!