As I was getting a little older and observing more of this segregation going on all around me I began to notice some rather peculiar inconsistencies.
Most of the "help" around houses and in the garden was racially classified as Black, this included mine labor, farm labor, domestic servants, nannies and the like. In other parts of the country the labor farce came from the other racial classifications of Coloured, Asian or Indian. So although apartheid policies dictated segregation and separate development in predefined "homelands" and "townships", it could not escape the fact that blue collar work needed to be done and "mixing" was fine under those circumstances.
Pass laws limited how non-European persons could travel and where they could live but these things were suspended in cases of work needing to be done.
These inconsistencies were brought about by necessity. Persons classified as Black, Coloured, Asian or Indian therefore still ended up working and rubbing shoulders with people designated White living in exclusively White areas.
This mixing could consequently not be limited simply to work.
These employees, if they were provided with a meal we presented it, for the most part, in an enamel tin cup and enamel tin plate. This way it was easy to distinguish which were the "whites only" cutlery and utensils and which were for others.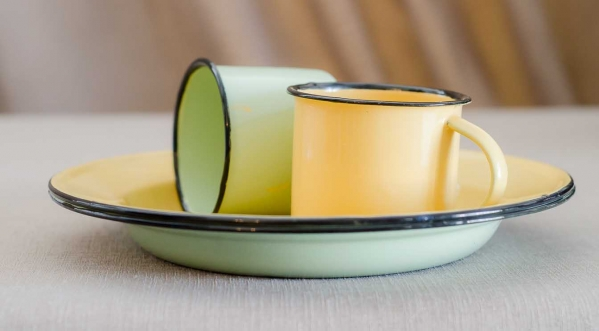 img source
That never made much sense to me when I saw this at friends houses because the cutlery and utensils were washed in the same basin by the same black hands that had in many cases prepared the meal but that were not allowed to eat off the same plate or drink out of the same cup.
This was not the only inconsistency... but in many cases the non-European person that was not allowed to ride the same bus, sit on the same park bench, or go to the same beach as your European or White children was in many instances the nanny or domestic servant that raised, cared for, cooked and cleaned up after those children.
At the time it didn't seem that too many people took the time to think about how inconsistent this was.
It was simply the way things were done, in the more conservative parts of the country, and had probably been going on for a couple of generations, to the point where the more conservative households didn't give it any further thought.
What truly interested about these practices is that they were probably inherited all the way back from the British empires class system and how it discriminated against those considered to be of lower rank during colonial times.