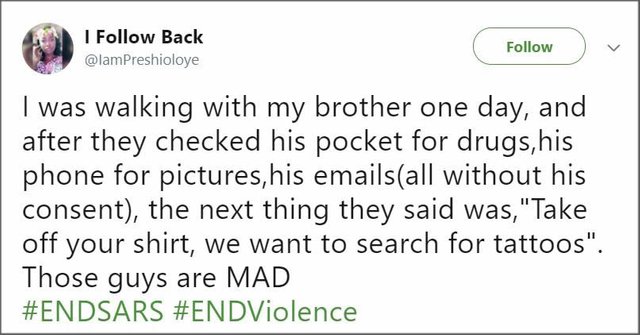 Everyone, please get in here. 
Can we talk about the police brutality being experienced by innocent citizens every day in different parts of the country?
 Ok, let me share a first-hand experience with you. 
See, I have never loved going to the market . There is no way I can build up the energy to haggle an item that was originally priced at 5000naira to 1000naira. What this means is I get cheated ALL THE TIME, so , to save money and avoid being exploited, I send money home and I allow my mum or my elder sister do all that work for me(You know I love you guys). 
They buy in bulk and send it through buses plying the Akure-Lagos route and I have mastered the art of catching the buses just around my house before the get to the park. I follow them up with calls and wait on the expressway for them to easily transfer the goods. 
It was during one of such waits that I experienced one of the most shocking episodes of my life. 
A bus going to theLagos Island was getting loaded with passengers. The bus wasn't filled yet so passengers were making their way in. A young man possibly in his early 20's alighted from a bike and made his way into the waiting bus. 
 All along, there were about 4 policemen seated inside an unmarked bus.
 As the guy was trying to settle down in his seat, one of the policemen approached the bus and asked the young man to get down. I am sure the guy wanted to ask questions but no one really asks questions when a gun is being paraded. He was partly dragged out from the bus as the other policemen approached and started probing him.  "Why you do your hair like this?"  
"Why you get tattoo?" 
"Which kain work you dey do?" 
"Make I see your bag, you be yahoo boy" 
"Give me your phone. Wetin dey your wallet sef"
They were like a pride of lionsprancing around fresh meat. 
The poor guy was almost in tears pleading that he had to get to his destination as soon as he possibly could. They didn't find anything in his bag and so they asked him to unlock his phone for them to gain access.
I had heard and read of such happenings but seeing that had me shook. I thought to myself that could be my brother or a friend. Who would have thought having a trendy haircut or a tattooed skin could land one in such trouble? 
I secretly started filming all that was happening. I must have gotten carried away because I suddenly heard a voice beside me commanding me to give him my phone. I was shaken and taken aback because my skinny self was being quizzed by four hefty men who were burning a hole in my skin with their blood shot eyes. 
Yawa don gas! I thought. 
Why you wan look my phone oga? I said, in a voice that didn't quite sound like mine. 
The one with the most menacing look, glared down at me while casually massging the gun by his side.
He said "You dey video us abi,We don catch you today" "Wetin be your work." " Wetin you dey do for here".   "If you no give us your phone now, You go follow us reach station."
I must have been on my Harriet Tubman as I decided to match their loud voices and not allow then intimidate me. "Oga, I be Lawyer o, I sabi my right. No carry this your gun shakara me. You no fit kill me for here, this na my area. I no commit any crime and I no fit follow you reach station."
One of them sensed I was going to be more trouble than they assumed, so he said "Allow this woman dey carry her wahala go". 
They eyed me almost at the same time like it was rehearsed as they hoped into the unmarked bus and sped away. I am sure they were on the lookout for another victim.
 As for the young man, he was able to escape amidst the uproar.
 I couldn't shake off the encounter especially in the light of recent happenings of innocent citizens getting locked up and stripped off their hard earned money. 
In a country where we are our own power generating plant, where we have learnt to build boreholes for us to get a portable water; A country where we have learnt to build tall gates and employ local vigilantes and security men, is it too much to ask that we should be allowed to drive out in cars we paid for in full , board buses or walk freely without having our hearts in our chests whenever a policeman approaches.
The oppression the common man faces in this country is crazily disturbing. Who do we tell our own to? How do we hold the ones we have elected in high places accountable? The ones that ought to protect us are the major aggressors, which way Naija?