A depressed girl
Maybe there really is hope...actually there is hope.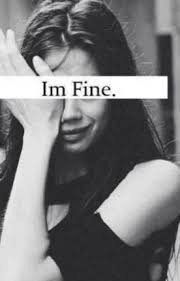 source
At 10.o'clock yesterday night I was crying out my soul. I was in the middle of watching a movie and I just couldn't focus, I just kept crying. Do you know what it means to cry with every fibre of your being? Folks, I was just tired of everything, of depression, of the whole cycle, of guy issues, career stuffs, family, expectations, everything and for a while my mind was looking for an easy way to bleed out.
Then I did what I usually do when I get to that junction of giving up. I turned to God and cried that I needed help, I cried to him that I was tired, that life was not worth living this way. I cried till I could cry no more.
At a point I got tired of crying and I just wanted to sleep so I started counting numbers, 1-100 then I continued with multiplication table. I just really needed to faze out.
Eventually I slept. I woke up this morning and felt the urge to look at my bible and then I stumbled on Rom 12. It was all so beautiful in the message version, it made my spirit feel alive. The long and short of that chapter was in being children of God we now have the power to live based on him and lean on him and not on ourselves. We don't live like the world but we live of God and the Holy Spirit directs us. I felt glad. You know its painful when the devil has been taking you for granted for so long when you had all the powers to defeat him with you.
This is all exciting but I also had doubts because I had gotten to this stage several times before. The stage where I feel excited and I am ready to be fine but something comes in and sucks me down again.
So in my mind there is hope,a real hope but I am not so sure..but I will take today joyfully and with no pressure.
Right now, I am eating noodles and drinking iced coke with a movie that looks surreal. I am supposed to be in court right now but I will rather be alive and well than be insane and dead.
So I see hope today and when you have seen pain for so much, you cling to hope for all you got.
Till next time...