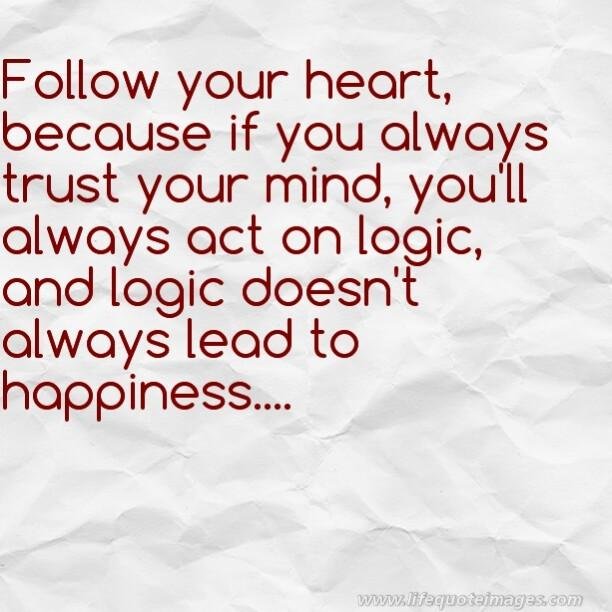 Follow your heart means always listen inner voice only. Your heart knows you better than anyone else. In our life there are many advisors from home to internet but follow only what your heart is telling to your mind. Our heart is directly connected to brain without any third party medium hence the conversation between brain and heart could be more fruitful. I am not saying that don't listen others advice, i would like to say that advisors can say about their success story whatever they had planned to grab the valuable position, remember they have done whatever their heart allowed to do and it doesn't mean that an advice of successful man will be suitable for us and we should head towards his way.
If your heart says that you should start this job or this business means your heart had planned all things and had sent plan to brain so that brain can produce it in office or market. If you plan like this way then the chances of failure is very less.
Who can meassure that what i can do? answer is me only me. Sometimes lots of people start their business after looking others success or income ignoring his heart voices and 90% got failed always. Is not it friends?
Time to time we should talk to our heart peacefully about any future planning and i can give you assurance that your heart will give you a right decision for you without any fee.
The way to accomplish a task could vary people to people then think if someone just starts following the advice of others in his way then what will happen? he will fail definitely because he has a different talent to accomplish that job in other way and the way planned by heart then heart sends it to brain to complete rest logical job. Evey person has a god gifted talent and when he recognizes that talent and uses in field he become success. The talent could be in sport, education, business, blog etc.
Don't think only from heart or only from mind instead think from both and don't copy same to same of others way you may fail in future.
Thanks in advance for all!!
@face2face
image source
---
---