Every morning when I wake up I check the crypto prices.
Steem is always the first I check and I compare it with BTC. It was down around 9%. O no!
I then checked the US dollar value of STEEM and realized it had not changed at all.
I know what that means....because it can only mean one thing. Bitcoin has gone up!
I was right. Bitcoin hit a new all time high of around $3200. WoW!
Most alt coins are in the red for this reason. (because they are compared to bitcoin).
I don't worry about these red days. They are fine. The only red days I dislike are the ones where Bitcoin goes down and all the alts aswell. Not the case now.
With a little bit of luck, the alts will follow the giant. Interesting times ahead.
Bitcoin cash
---
Bitcoin Cash is trading for less than 10% of Bitcoins value. Still too high for me to buy in and take a small gamble. I'm sticking to my plan of buying some between $30-50.
---
---
---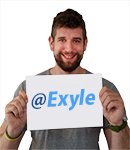 Follow Me @exyle
---

Bitcoin SwC Poker, download and use affiliate code: Blazin8888