Vlog #54: Back to buying Steem
Since yesterday I'm a buyer of STEEM again. Bought around 200-300 STEEM with Fiat money and will continue to do so for as long as this downtrend lasts. (<1$).
It took some adjusting in my mindset to make this decision. STEEM came down from around $2.20 to $0.90 pretty fast, resulting in about a $100.000 loss in value for me. I never had that much money before, nor lost it, lol. It's interesting I can tell you that.
It can put a person in a depressive state of mind. But I'm not someone that wants to dwell in negativity for too long. Therefore I forced myself to change my mindset and see this as an opportunity to reach my goal of 100K Steempower.
The moment I bought more Steem yesterday I felt better. Because now I have a goal again. If this downtrend lasts for a long time I'll be able to buy more Steem at a nice buy in average. And if it's only a temporary dip I have enough SP all ready to be happy with that.
If you read my blogs I don't have to tell you that I'm a big believer in the success of the Steem blockchain. But when big downtrends happen emotions do get involved.
It's in these times extra important to screw your head on tight and stay rational.
---
---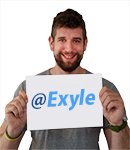 Follow Me @exyle
---

Bitcoin SwC Poker, download and use affiliate code: Blazin8888