When you consider that the Steem blockchain has the potential to grow to the size of Reddit or Facebook and when you then start to think about how much cheaper the blockchain is to maintain compared to these other platforms it's so awesome.
The Steem blockchain is run by witnesses (real people....I met some of them on Steemfest 1). The witnesses are chosen by the community. The witnesses run a node (or server) to keep the blockchain alive.
They also verify the code of new hard forks (big changes to the steem blockchain) and they have to reach consensus before these changes are passed.
The beauty is that these witnesses (top 19) are being paid out of the reward pool (10%) to run these nodes. (I believe they can make ends meet and even make a profit doing this. It's one of the things I would like to ask them on SF2.)
So now we have a running blockchain almost for free.
To tap into this blockchain we need Frontends. Sites like steemit.com, busy.org, beta.chainbb.com, Esteem all tap into the Steem blockchain and pull out the same data and present it in different ways.
That's why when Steemit.com is down you can still use another front end to tap into the blockchain. All these front ends can be monetized and hopefully make enough so the creators earn a nice profit too.
Users get to use these frontends for free to make awesome content and have the chance to be paid for providing this content.
All sounds pretty good so far.
But it gets better.
The Steem blockchain has no CEO, it has no board of directors that want bonuses and big salaries and it has no employees. The Steem blockchain has no owner. A steem blockchain does not have paperwork or lawyers. It has no revenue model. It has no adds. I'm talking purely about the blockchain. It also has no huge server parks to store all your data. Operational costs are incredibly low.
And every day new Steem tokens are created by this same blockchain and given to the witnesses, content providers and curators. It just maintains itself.
And everyone that has Steem tokens benefits from the blockchain become better and stronger.
For me, it's a mindblowing concept.
I'll talk about it more in my vlog: starts from @ 2:13.
---
---
---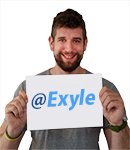 Follow Me @exyle