Vlog 217: Soon we will have a million accounts on the Steem blockchain + other cool stats.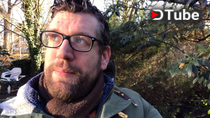 ---
The Steem blockchain continues to grow and at a faster and faster pace.
More people are joining and there is ever increasing development on new and existing projects on the Steem blockchain.
This process will only increase in the future in my opinion.
One of the reasons this is all possible is because the Steem blockchain can already scale and handle more transactions then any other blockchain at the moment.
This is resulting in some cool stats:
Some amazing numbers on this blockchain
---
750.000+ accounts in total created on the Steem blockchain since it's creation.
40k new accounts created every week. And at this speed a million accounts is not far of.
60k+ active accounts every day on the Steem blockchain and growing.
48% of all the transactions of all the blockchains (Ethereum, Bitcoin ect.) combined are happening on the Steem blockchain.
The Steem blockchain is handling 1.6 million transaction per day on average. With only 0.14% load on the network. (Ethereum is second with 800.000 transactions on average with 100% load) source.
I talk about it more in my vlog.
---

---
I am a witness with our developer group @blockbrothers for the Steem blockchain. If you want to support us I would appreciate your vote here.
We build Steemify a notification app for your Steemit account for iOS.
Get it Here:

---

---
▶️ DTube
▶️ IPFS