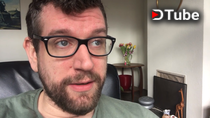 ---
My investment plan is still same.
I'm not buying any crypto until it's under my baseline that I set a week ago.
The only thing I bought is STEEM with some SBD.
SBD price
---
I read some interesting comment about the SBD.
One person said that the reason it's gone up is because they are used a lot in voting bots.
Now I always believed that voting bots would have a bad ROI.
But I did some calculation this morning on a post and I might have been wrong.
One person that is currently trending spend around 200 SBD on bots. (because this blockchain is so open you can see everything).
His pending payout is 200 SBD + 45 SP.
That's not a bad deal.
Of course for this to work STEEM price will need to be stable or go higher in the next 7 days.
If STEEM goes down the person will lose out but still will have visibility for the post.
Of course wether this is a reason for the high SBD price is speculation.
But if it is, I think it puts an extra positive side effect on bots for now.
I talk about it more in my vlog.
---

---
I am a witness with our developer group @blockbrothers for the Steem blockchain. If you want to support us I would appreciate your vote here.
We build Steemify a notification app for your Steemit account for iOS.
Get it Here:

---

---
▶️ DTube
▶️ IPFS