In the early days when this blockchain was just Steemit.com (before busy, dtube, dlive) I once read a post by @dragosroua about journaling.
I liked the idea so I bought a Moleskine that same day.
Nothing ever happened regarding journaling but I did take the empty book with me to Steemfest 1 to make notes.
This is November 2016.
I joined the blockchain in July 2016.
---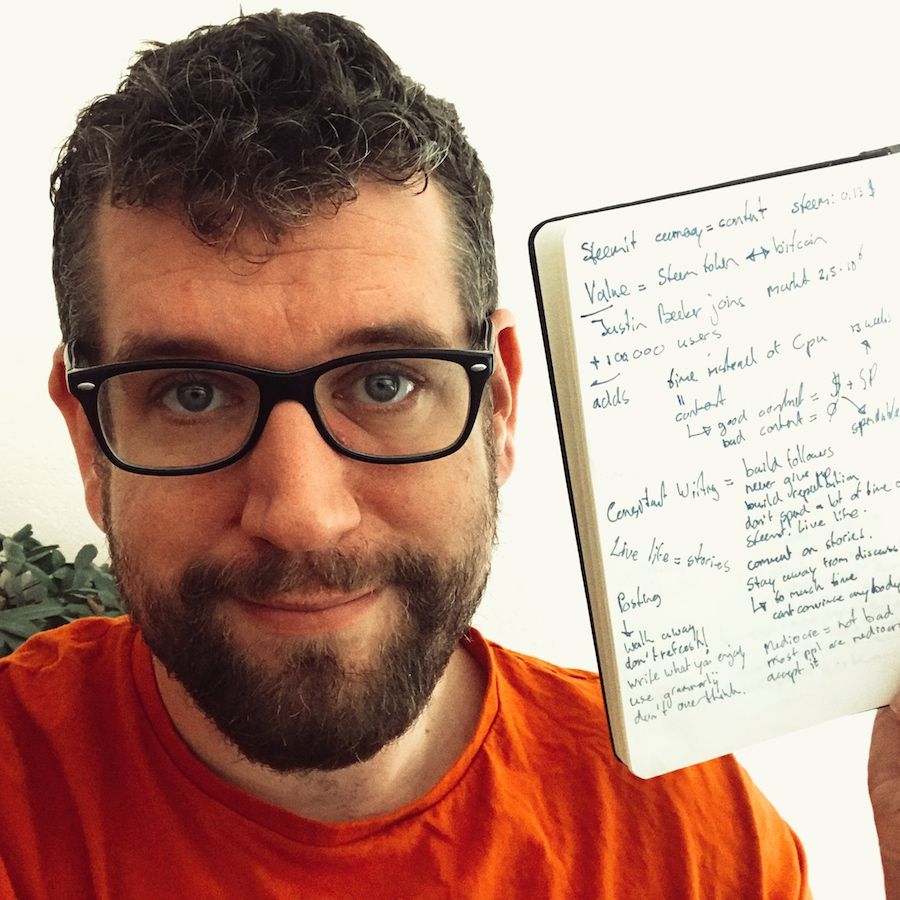 ---
The book is filled with names of people that are still here today but also people that have left the platform long ago.
Some of them were really big names back then. One of them the makeup girl that made a $30.000 post but is now gone.
My favourite name in the book is @ezzy.
Since Steemfest 1 we became very good friends and he's the only one that I know that can relate to the rollercoaster ride of emotions when it comes to STEEM and investing and believing that this blockchain could work out someday.
But I'm sure there are more Steemians that can relate to this feeling.
I was very grateful to be able to discuss my ideas with @ezzy back then to keep my sanity because the sentiment back then was so negative.
It literary felt at some point that I was throwing my little spare money into a toilet.
A toilet I believed in though :)
You think we have problems today? You have no idea how dark this place was at one point.
One of the biggest reasons I started to believe in this blockchain so much was Steemfest 1 and if you ever get a change to go to any of these events I highly recommend it.
Although I doubt it will ever be as cozy as it was that very first time.
200 nutcases all part of some crazy ride joining up in Amsterdam for a weekend.
Good times.
I was a minnow back than with only 10k SP (I could give away 1 cent), and on my way back on the train I took my Moleskine and wrote down some plan for myself.
It's fun to share.
---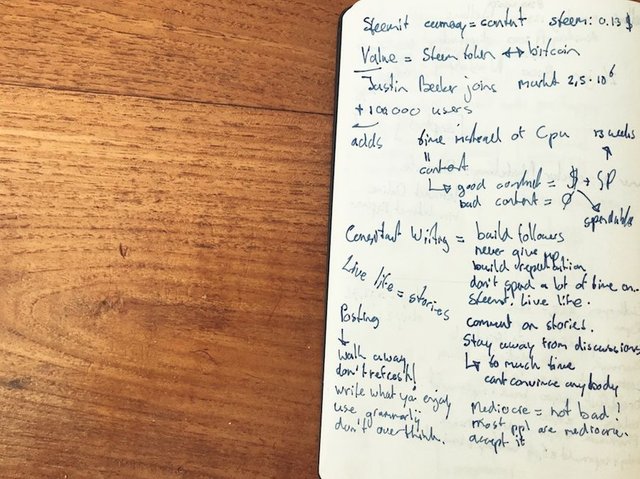 ---
A couple of things I like on this page.
Steem price: $0.13. Yeah....that's never going to happen again.

I sort of realised back then that with bigger names joining more users would come. I doubt these bigger names will ever join steemit.com but they have joined dtube and dlive.

Constant writing. Build Followers, Never give up, Build Reputation, Live life = Stories, Stay away from discussions.

And probably my favourite: Mediocre = not bad! Most people are mediocre accept it. Including myself.
And there you have it. A little Steem history from my perspective.
I hope it was fun.
All I can say is that the blockchain that I knew and the blockchain people see today are not even in the same universe.
This thing has grown so much and will I believe this will continue in the upcoming years.
---

---
I am a witness with our developer group @blockbrothers for the Steem blockchain. If you want to support us I would appreciate your vote here.
We build Steemify a notification app for your Steemit account for iOS.
Get it Here:

---