The moon calendar I make every year.
I am selling on paper media, but I am delivering data free.
私が毎年作るムーンカレンダー。
紙媒体で販売してしていますが、データは無料で配信しています。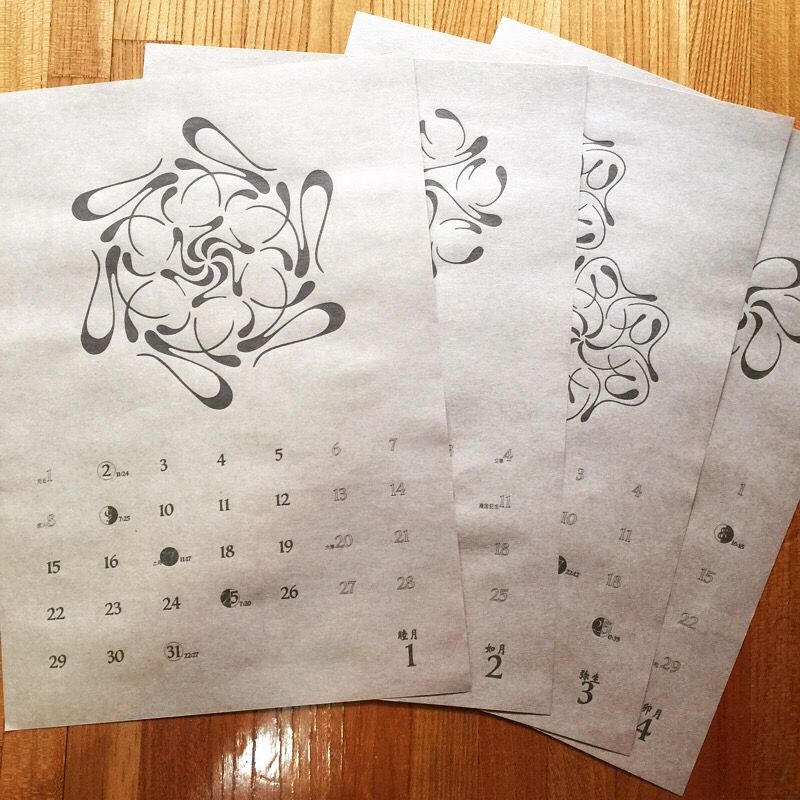 Design is...
Mandala made by combining HIRAGANA representing the number of the month.
January = 1 = ichi ="いち"
Arranged as many as the number of months.
*full moon is white circle
*the new moon is a black circle
*first quarter and lower quarter is half circle
*Monday start weekend schedule is easy to write
*Saturdays - and - Sundays public holidays are white letters
*the number in the lower right shows that time
*the number in the lower left public holidays and twenty-for season
デザインは月の数字を表すひらがなを組み合わせて作った曼荼羅
1月なら「いち」
月の数と同じ数を並べました
*満月が白い丸
*新月が黒い丸
*上弦と下弦が半円
*週末のスケジュールが書きやすい月曜スタート
*土日、祝日は白抜きの文字
*右下の数字はその時刻
*左下の数字は祝日と二十四節気
Download URL
http://firestorage.jp/photo/3da1ac80b15bb3168fb00a4adf33249143ffb9c1
You can download it until December 21.
It will be downloaded one by one.
It takes time and effort, but please use it.
ダウンロードできるのは12月21日までです。
一枚ずつのダウンロードになります。
手間がかかりますがどうぞご利用ください。
thank you for viewing