Selling on Peerhub (My First Impression)
With the craziness of the Holidays behind me I finally got around to doing something I had been meaning to accomplish since getting home from SteemFest…listing an item for sale on Peerhub. I sat next to @steemrollin at the closing dinner in Amsterdam and he told me about this online marketplace (like eBay or Craigslist) that allows you to accept Steem as payment for your items.
I collaborate with a local Twin Cities artist a few times per year to make very limited print-run, handmade poetry chapbooks. As a test, I decided to list one of these chapbooks to see how the marketplace worked.
My first impression was that Peerhub has a simple and uncluttered design and was easy to use. Without knowing anything about listing an item my ad was done in less than five minutes with the following steps:
Step One
Click the orange "Post New Item" button. Yes, that's @ned himself strikin' a pose in a Steemit hat.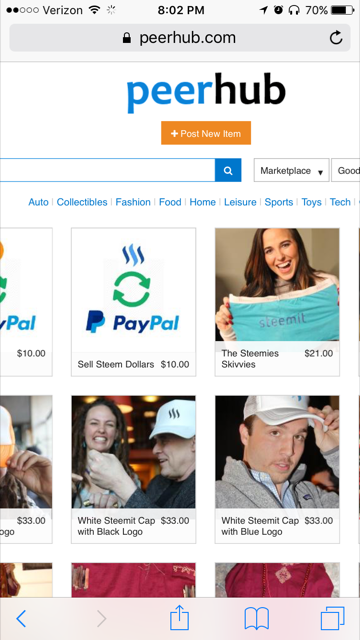 Step Two
Fill in empty fields (Title, Category, Payment Type, Shipping, Price, Condition, and Description) and add a photo. Click "Post". You're done!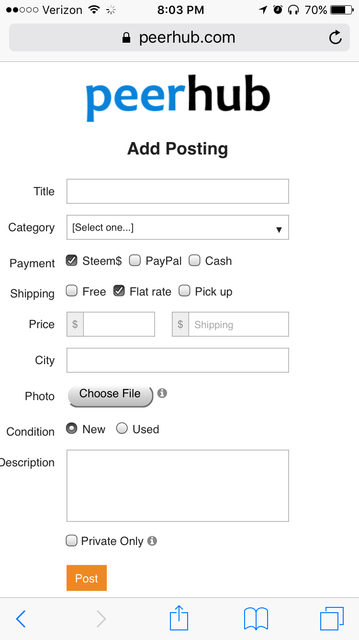 Step Three
Step three isn't really even a step, it's your finished ad. Below is the ad for my chapbook.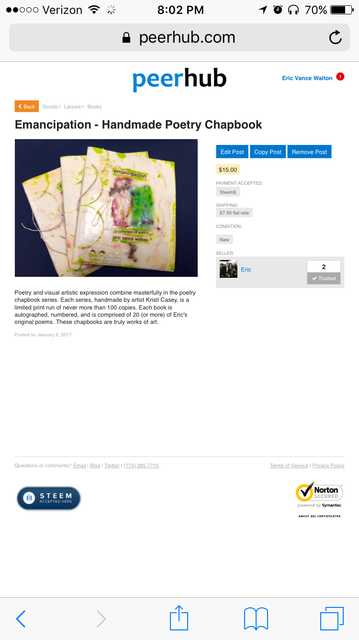 The Verdict
The process of listing an item on Peerhub is dead simple. The really great thing about the online marketplace is you can accept Steem, PayPal, or cash as payment. I chose Steem as my only payment option, of course.
I woke up nine or so hours after I listed the chapbook and had a message in my inbox that the item had sold! As happy I was about the sale I was even more thrilled that the buyer paid me in Steem! It felt wonderful, it made me feel like a pioneer. This, my friends, is a glimpse of a future when you'll be able to purchase anything with Steem.
In the next few weeks I'll be listing autographed copies of my chapbooks and my novel for sale. I'll also be looking for items to purchase on Peerhub.
Explore Peerhub yourself by Clicking Here. Let's get more Steem into circulation because when this happens we all win!
---
I am an American novelist, poet, traveler, and Steemit enthusiast. I've been practicing meditation for twenty-four years and teaching meditation for two years. To follow my unfolding story please visit click on the link to my website below to sign up for my author newsletter.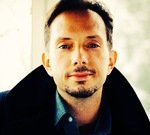 Eric Vance Walton - Media
www.ericvancewalton.net
Steemit
Twitter
Facebook