Why You Should Buy Everything USED!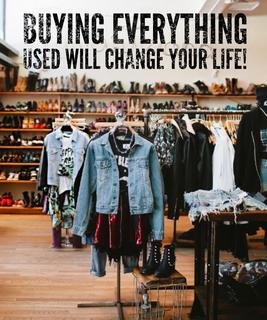 Over the course of the last 12 years I have saved hundreds of thousands of dollars buying almost everything used. However, I wasn't always a fan of second hand goods. Until the age of 21 I bought everything brand new. I had never even entered a thrift store before. See, I thought that buying things used was only for poor people. I didn't want to be caught dead in a thrift store. Buying used clothing? That's disgusting. What if people found out? What would they think of me?
     I was ignorant. Completely misinformed. But that all changed when I went into the thrift store for the first time. My friends and I were looking for fabric for a craft project they suggested going to a nearby thrift store. I reluctantly went in. 
     I was surprised. It wasn't that bad. It was actually pretty fun. I browsed the racks unsure of what exactly I was looking for. That's one of the things you will get used to the more you go. You don't enter the thrift store wanting to buy a specific item because you won't find it that time. You go with an open mind, perusing the rows and aisles, hoping you will find something special.
     Sure some of the clothing was outdated. Other pieces were just plain weird. But what shocked me were the massive amounts of brand name and even brand new clothing for a couple dollars a piece. I picked up several pieces for myself that day. I walked out with a sweater, 4 tops and a couple pairs of pants for $15. J. Crew, Banana Republic, and other brands I wouldn't ever be able to afford at the actual store on a college student's budget. I was hooked. So hooked in fact that I made it a huge part of my life.
     I quickly started learning brands of clothing and their value and reselling them online for a profit. Tens of thousands of sales later, it became my full time income and has been ever since. I buy almost all of my clothing used. I even bought my wedding dress used! I purchased my wedding dress used, wore it for my wedding. Had it dry cleaned and sold it for a profit!
My wedding dress and attached necklace even made me a profit.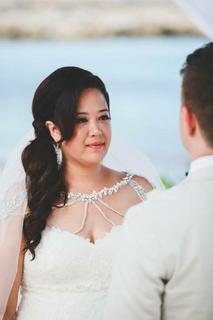 I buy all my furniture used. I got my couches, coffee table and side tables off of craigslist for an amazing deal. A couple had to move suddenly and had to sell all their almost brand new furniture. I was able to negotiate them down to $700 cash. I would have paid almost $3500 for my furniture from Macy's. 
My living room furniture, one of my proudest finds!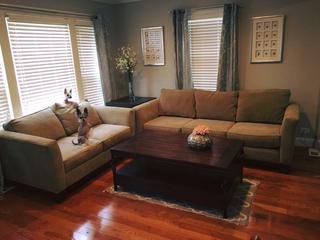 What would you do with the money you save buying things for a fraction of retail price?
Invest in Steem Power perhaps?
Go on more vacations?
Save more money?
Pay down your debts?
Buy a house?
     Learning to buy everything used puts you into a different mindset. You will feel victorious buying something for pennies on the dollar. You will feel free from the societal pressures of keeping up with the Joneses. You will see that there are more important things in life than material possessions You will brag about the coffee table that you scored for 10 bucks. 
So the next time you pass that thrift store, go inside! You never know what you will find!
Please stay tuned for my future blog posts about my experiences as a reseller and thrifting addict. I will be sharing tips and tricks so you can learn everything about saving money buying used and having fun while doing it! My blog will also focus on gardening, low carb cooking and DIY projects and being a city homesteader and crypto noob.
Do you love thrifting, antiquing or going to flea markets? I'd love to read about your best find! Let me know in the comments below! Always looking for new people to follow with my interests as well so drop me a line so I can check you out!