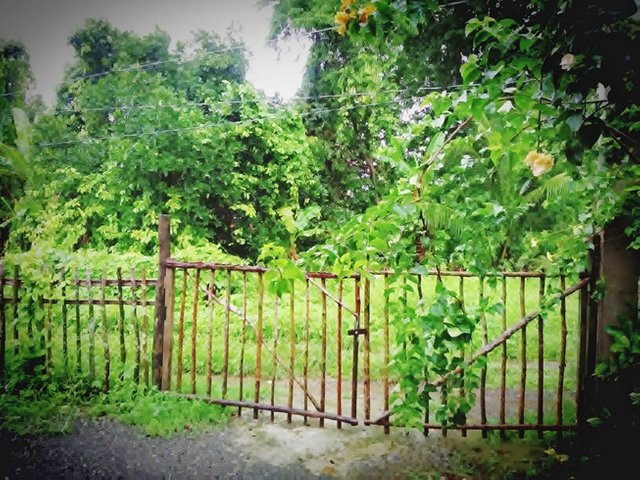 We don't have the allure of winter and rainy days can be too much sometimes. It's muddy out here probably because some bloody politician needed the money more than the school kids who have to walk in discomfort every day. Sure, some people like rainy days especially if they are living in the comfort of their beautiful lives. For it's the time they can stay indoors and cuddle with their loved ones. As for me, it's the time I sit in front of my jungle silently, sip my coffee slowly and hear the rain pouring wildly. Though I miss cycling to the beach to have that much-needed physical activity of the day, I'll just breathe in this moment and accept that I'm here. For now.
At this point, I have achieved maximum comfort. No more worrying about where to sleep or what to eat. No more annoying neighbors, noisy dogs, and rooster alarm clocks. I'm close to the beach and I have my silence. And I don't have to worry about money, at least for now. You should say that I should stop ranting now. But the thing is, I will just never be there. I will never be satisfied, life requires me to keep on ranting, to keep on desiring things, to keep on moving. To keep on changing. To keep on wanting more out of it. Life does not stop when you have achieved everything you need or whatever your heart desires.
I don't want to stagnate in the all-too-comfortable and the illusion of security. I am here to be there. Almost there yet never there. You see, life is all about change. Life is getting comfortable and then getting out it. Life sometimes makes you want to go back and forth. And no, I don't want predefined patterns. I want to weave my own basket and then move on to the next. Whatever you say, you will still hear me rant day by day. I will keep on making my life more interesting. To have more adventures and to fight through all the high drama. There is no single or right way to live my life. There's more to it than sitting here in comfort. Who knows when that mysterious hand in the mud will start pulling me down back into the eternal darkness of nonexistence? There are no guarantees. The only certainty I know is that there's too much uncertainty in that muddy road. Anytime, I can fall.
Curiosity is the cure. Taking into consideration what it's like to be there. Things will never be enough for us free humans. Wanting more does not mean I want more material things and clutter in life. It is just trying to make my life more fulfilling and meaningful by getting new experiences. By constantly changing and not giving in to the stranglehold of beliefs. People are changing. Things are changing. Your mind is changing. And that is alright.
When it's rainy, I miss sunny days. Sunny days are quite unbearable though. Now I try to remember what it's like to be there in order to appreciate being here. I see my life branching out into different directions and me being confused than ever. Confused about wanting everything at the same time. I want happiness, love, comfort, freedom, and excitement. It's fine if I can't have it all. I'll have it one at a time. If you have everything then can you imagine how boring life can be? You stop. Even the most successful and famous individuals die. It sucks. The tragedy is that people have stopped looking for something else to live for, and no it does not have to be a purpose. There's no pressure in all that. Just something in there. Something somewhere in there that will create more meaning in life. When I am here, I want to be there. Constantly evolving, changing. Living.