We present the English translation of the post by @bariski titled Gravidanza - Estate in montagna, originally in Italian
---
Pregnancy - Summer in the mountains
Here I go again, my Steemian friends,

to talk to you about the central part of my pregnancy, when the bump started showing and the baby began making himself truly noticeable, not with small perceptions as in the first months but with very real kicks which would often make me wince in surprise, especially if I was talking to someone and received a kick completely out of the blue.
I don't have fond memories of my baby bump, even though I hear many mothers who would love to have more children just because they miss it. Myself, I couldn't wait for it to go back to the way it was!
The more I saw it grow, the more I feared I'd never see my stomach flat again, that it would never be fixed: it was an agony that I carried within me and that made me feel at fault compared with other mums who did nothing but showcase their bellies!
I remember that I became progressively shorter of breath and that weariness was now a constant feature of my days: Summer had began and I suffered the heat tremendously.
I felt more and more often a weight at the pit of my stomach, which forced me to sleep only in certain positions and many other times prevented me from sleeping at all. I left my bed and lied for hours on the sofa, reading and hoping that either sleep or fatigue would take over at last, but in vain.
Summer was coming and I'd be staying home from work in July: I had to think about the holidays and especially about how to fight the Florence stifling heat with a pregnant belly.
Everyone kept telling me that walking was a good thing, both for me and for the baby, because it helped ease the swelling in my ankles and lessened the perception of my belly's weight. I categorically refused to wear girdles or swaddling clothes, which I could not stand because of the heat.
Being immersed in a pool or in the sea also helped quite a lot, but the heat was tiresome and that's why at some point my husband took the chance to suggest that we spend a few days somewhere cool, as he did every year.
And that's how, for the first time, I finally agreed to spend our holidays in the mountains.
For obvious reasons, I've always been a seaside kind of girl and always kept a safe distance away from mountain excursions because I don't particularly like walking: in Sicily, we're born tired.
I was quite perplexed at giving this new experience a try in my current state, since I felt that walking was tiresome in regular circumstances. How could I face such long treks on uneven paths, with the added risk of tripping?
Despite all these worries, we still elected to spend a week in the Fassa Valley (Val di Fassa).
We'd be joining a pair of friends with two young children of their own, who'd spent years praising those places and trying to convince me they were worth a visit. I was fully aware that, once there, I'd be charmed by the beauty of those mountains and scenery, but I could never have guessed how suggestive it would be to actually walk among those majestic peaks, breathing clean air.
We took long walks, some of them quite challenging, like the first one to the Rifugio Pertini at an altitude of 2300 meters a.s.l.. I can still remember the surprised look on other women's faces while we were queuing for the bathroom, once up there:
Bravo! You got up here with that bump! How did you manage?
It had actually been too challenging as a first trek, in my state, especially on the way back when I was facing the prospect of having to walk all the road that I'd already covered on the way over. But the satisfaction I felt was unprecedented: no one thought I'd make it, not even me!
Another excursion that I still have fond memories of is the one we made to the Pordoi Pass (Passo Pordoi). We took the cableway to the top and the view from up there left me breathless! I could even see the Marmolada Glacier (Ghiacciaio della Marmolada) from far away!
We visited the Malga Aloch, a mountain settlement dedicated to Summer pasture, where the children loved the close proximity to the animals and us adults enjoyed the great local foods which malgas are famous for!
We went to the Rifugio Fuciade in the San Pellegrino Pass (Passo San Pellegrino), easy to reach with a pleasant walk through a path that's not too rough. Close by there's a small lake, hidden among the vegetation, that you can walk all the way around, crossing small bridges over the streams that feed into it, or admire from benches strategically placed around it.
We've also visited many beautiful and picturesque towns which I had previously only heard about: Moena, Canazei, Cortina d'Ampezzo. All of them turned out to be very well kept, with care and good taste, and are the delight of the tourist who choose them for their holidays, year after year.
The wooden houses with sloping roofs and balconies decorated with flowers are a wonderful example of what makes these places unique and characteristic.
Our holiday ended with a tour of Bözen (Bolzano), which I specifically asked for since it was very close to where we were staying.
I'll leave you with some pictures of the places I've been talking about, in the hopes of making you curious enough to follow in my footsteps!
Hugs,
B.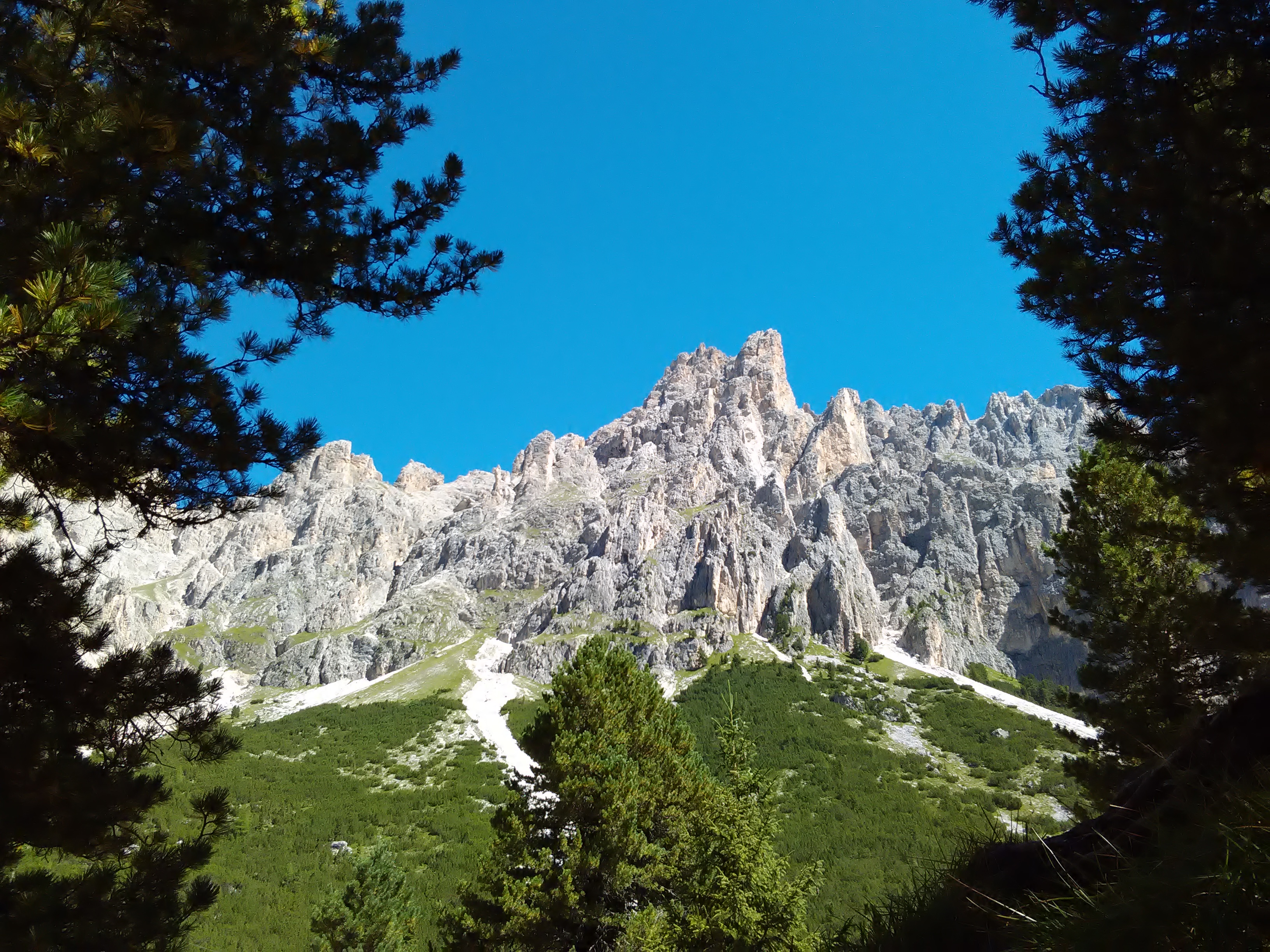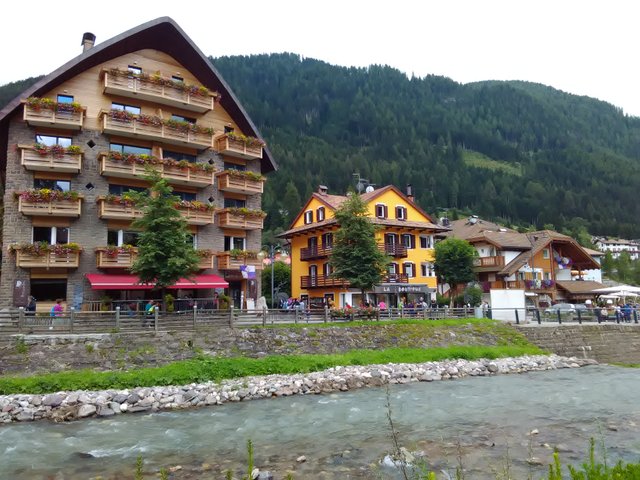 Moena

Moena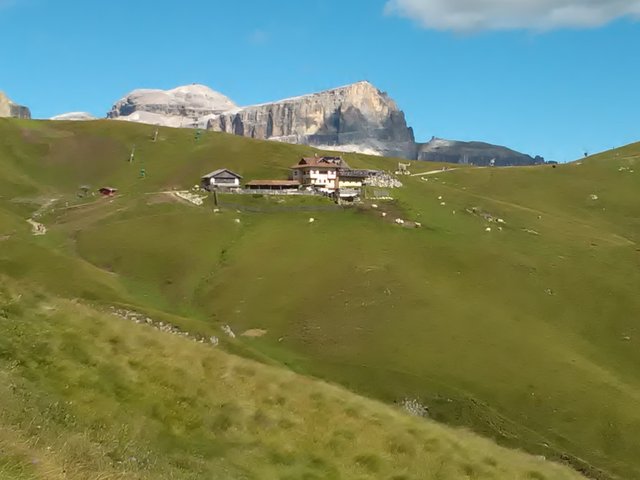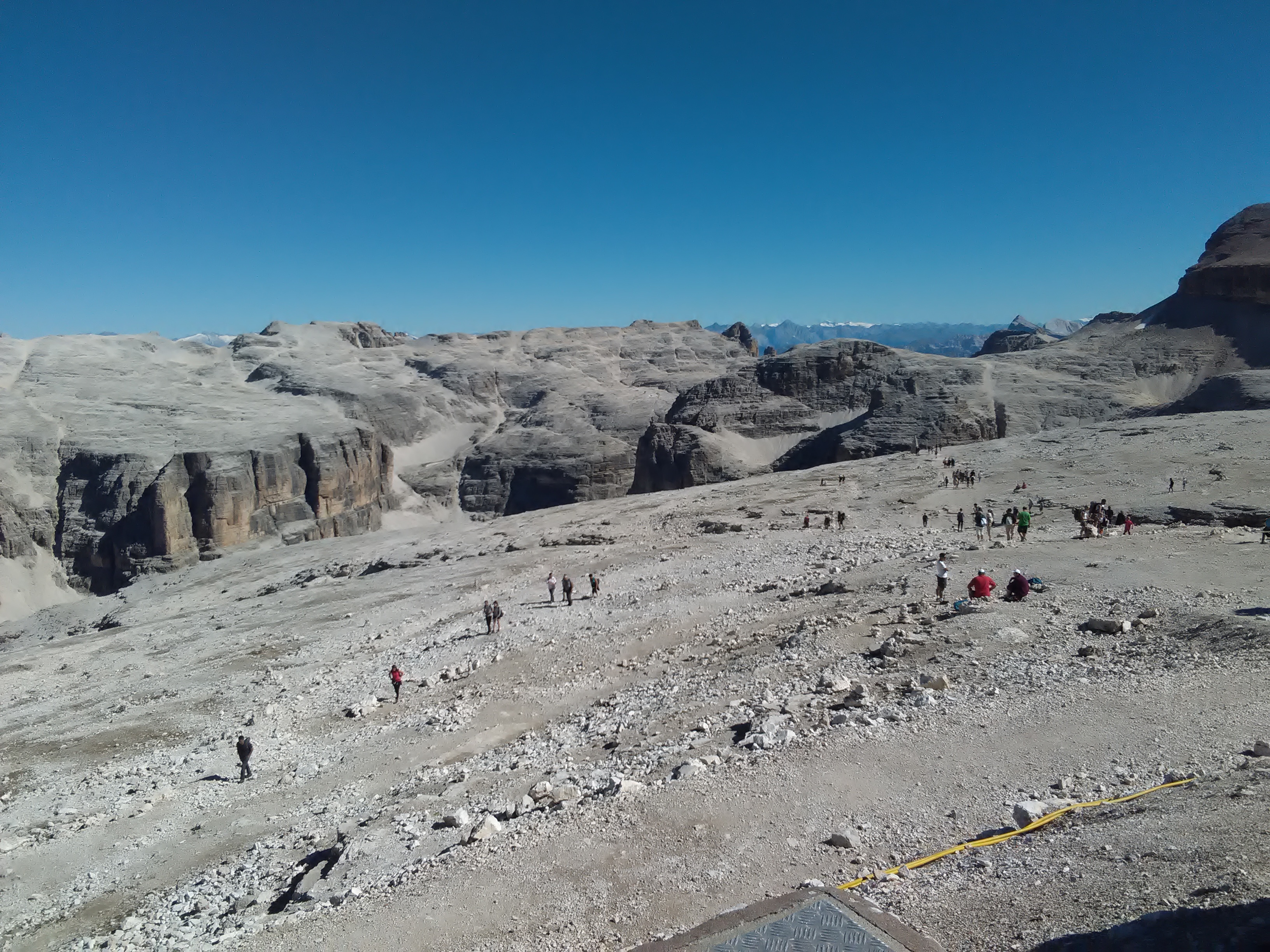 Pordoi Pass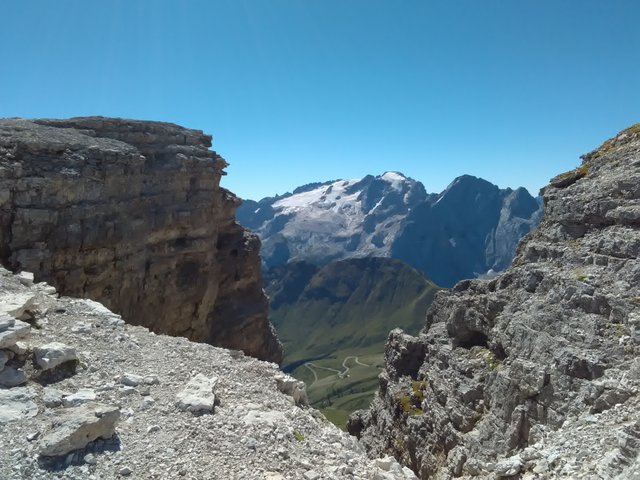 Pordoi Pass - in the background, the Marmolada Glacier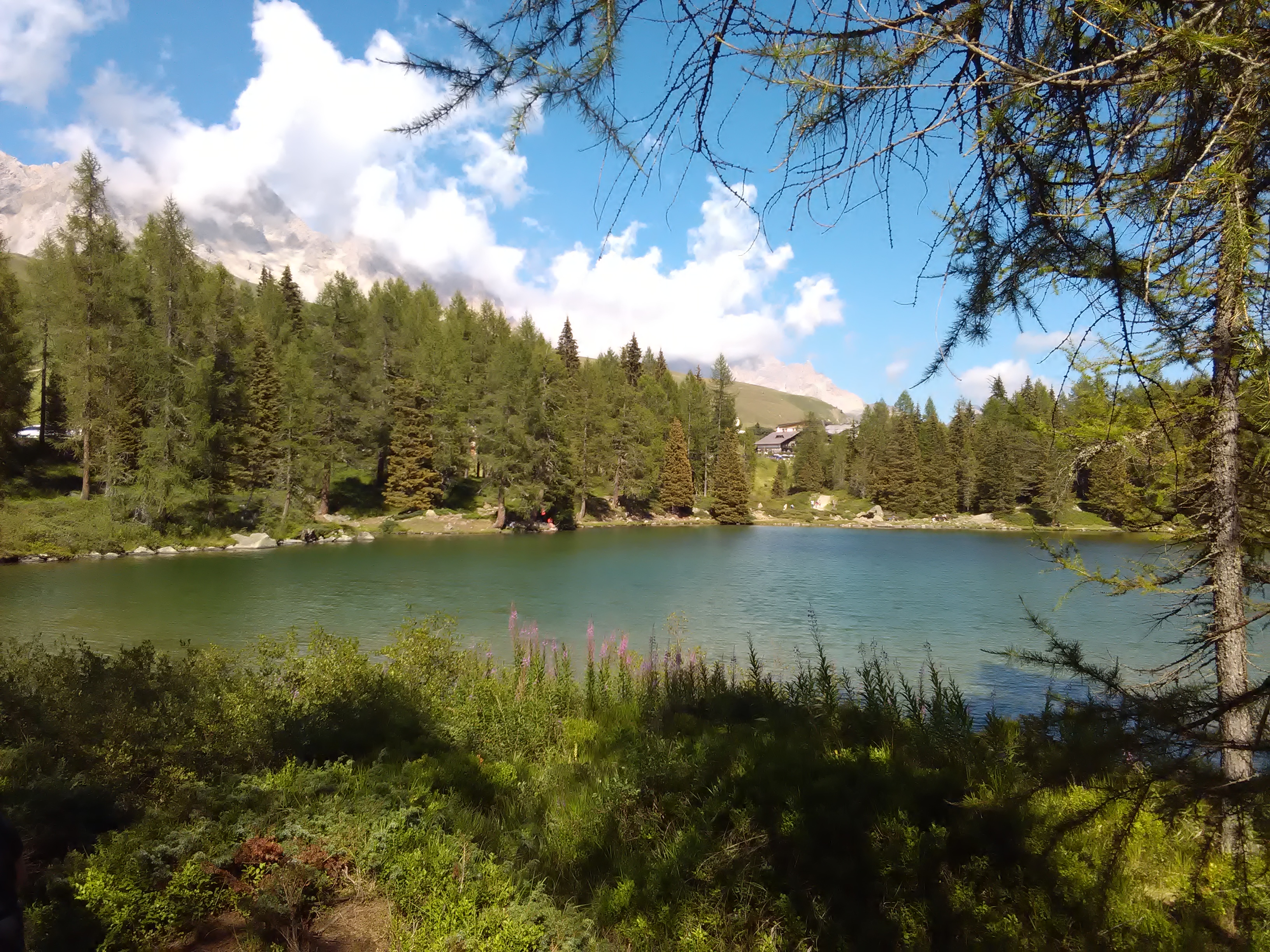 The San Pellegrino lake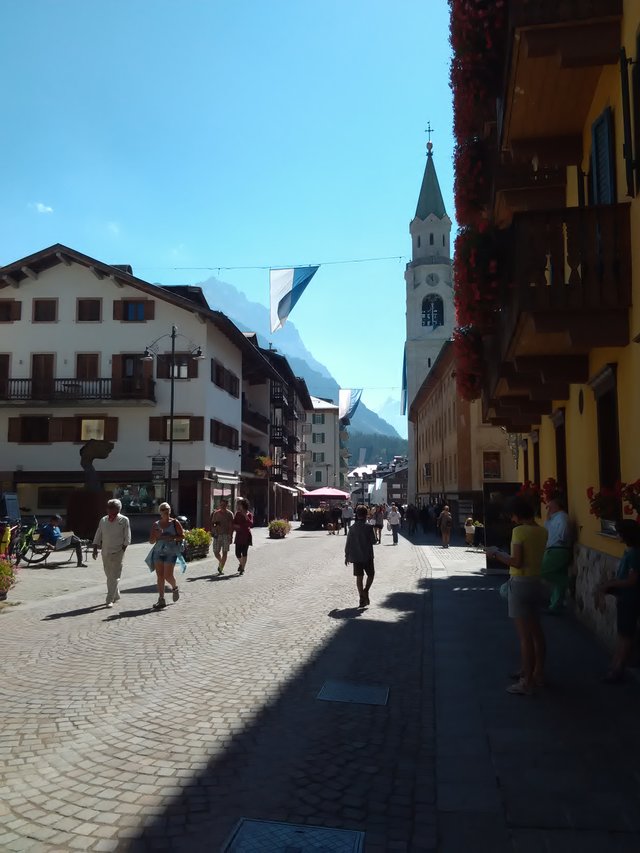 Cortina d'Ampezzo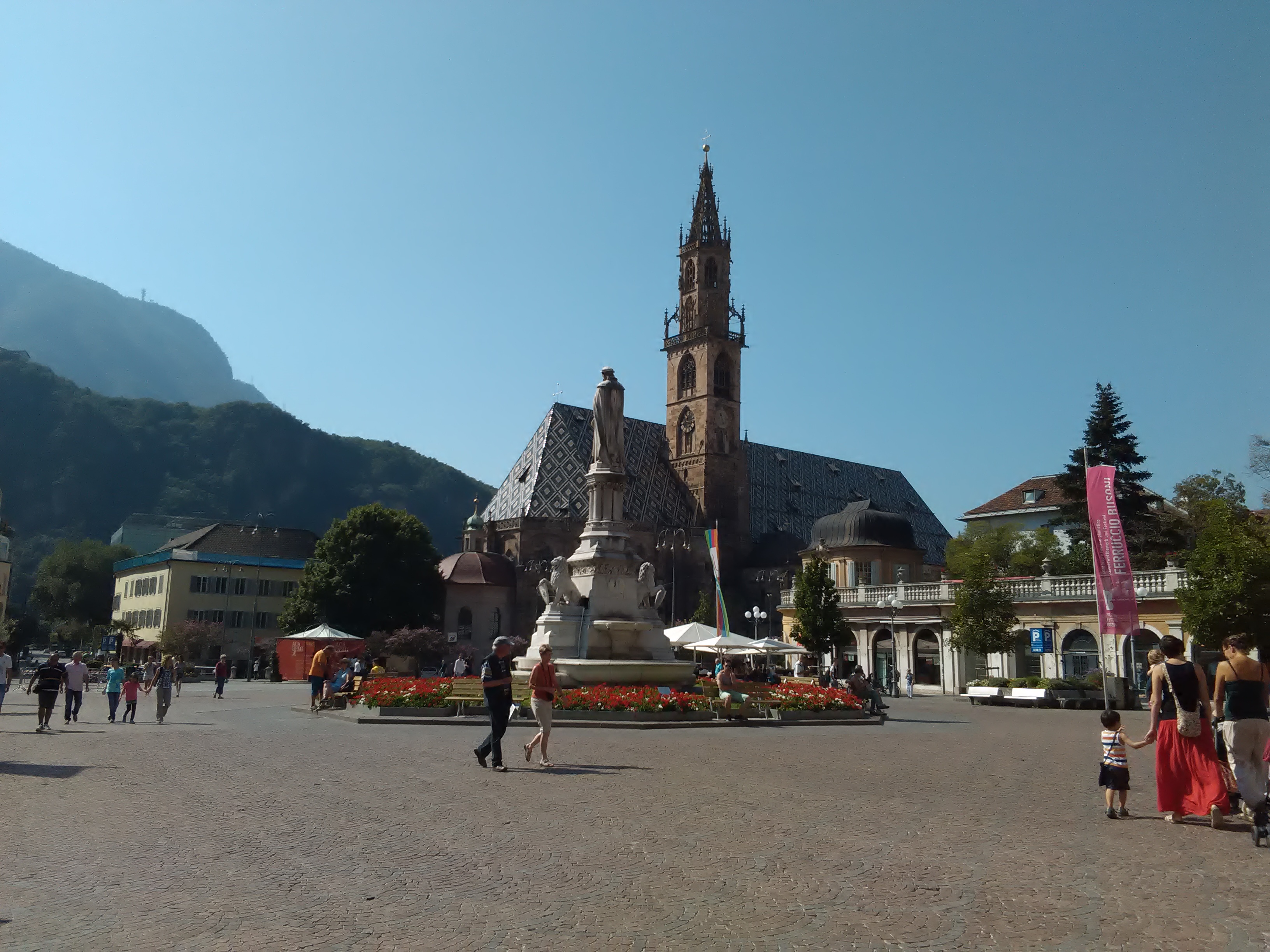 Bolzano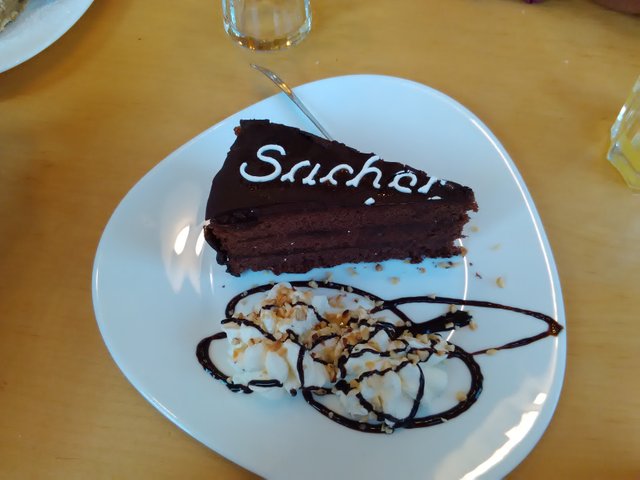 My favorite dessert
All images on this post belong to the author - all rights reserved
---

CC0 Creative Commons
Thanks to @mrazurafor the logoITASTEM.
CLICK HERE AND VOTE FOR DAVINCI.WITNESS
If you want us to translate your posts join our DaVinci server where you can contact the davinci.polyglot team.
Se vuoi farci tradurre i tuoi post entra nel server DaVinci dove potrai contattare il team davinci.polyglot.