(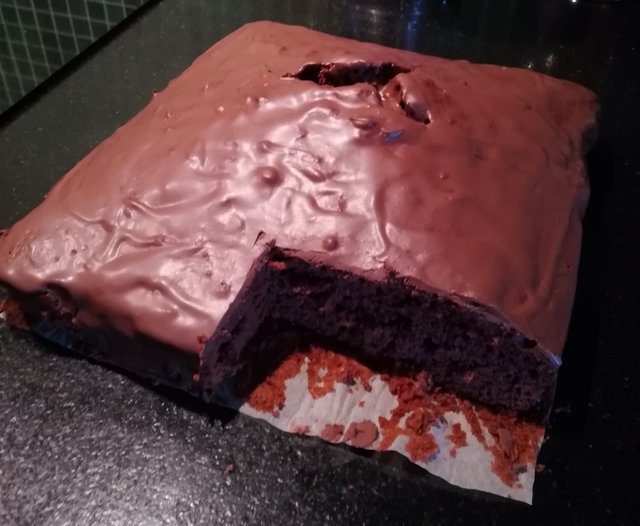 )
Chocolate cake with chocolate glaze looks, smells, tastes.
This is a bit of my experiment because the cake is bought from the bag in the store. So far, I've always wondered if it's actually so easy to bake, almost ready, and my assumptions were true. Pour the contents of the bag into a bowl, add 3 eggs, 200 grams of 100 ml of melange. water. The mixer mixes for about 5 minutes and the baking tray in the oven for about 40 minutes. Prościzna :)
Topping, no philosophy put the sachet into hot water for about 5 minutes and then pour it on the cake.And everything is simple, but the time is very similar to how we would prepare the cake from scratch.
Pride can be eaten to its fullness, but now the question is what is the difference between such a cook and a cake prepared in a traditional way? In my opinion, none for people who do not have any problems with the belly, but for people who are covered by the diet is unfortunately already.
The product unfortunately has a lot of different enrichment etc., which in people with a delicate, sick tummy can cause bloating, reflux, etc.
That's why I think the experiment is successful
because 5 out of 5 people without health problems who tried the cakes even assumed that it is safe to say bought.
I greet everyone who does not admit how the cake was made when you receive the congratulations "oh what a delicious cake."
I apologize if I got someone, but I prefer to know what I eat and how it is made :)