Sometimes Things Just Burn Out 6.11.2022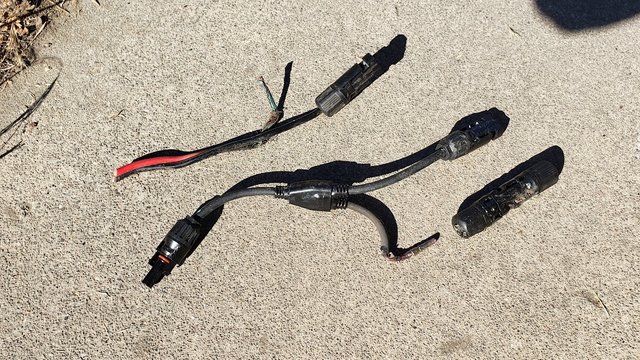 This was a bad Y adapter. It goes to one of my solar arrays. I usually get so many watts at certain times of the day, but I notice that I was getting some wattage, but at a low amount. Something was wrong.
I did check each solar panel on that array, and it seemed to be at the right voltage each. I checked it out with a voltmeter/multitester that I bought when I was young going to a community college studying electricity.
I wasn't very good at that class, barely making it, but it does help for what I am doing right now.
Cause right now I am using solar energy, with DC voltage and converting that into AC wattage by way of a couple of grid tie inverters for my 2 arrays of solar panels, and plugging it into the wall to save some money on electricity.
There was a salesman come to my house and he wanted to know if I ever thought about getting into solar. I told him that I have solar. I asked if he wanted to look at it.
He seemed to know my name, so I am guessing he got it from one of those lists of people that own their own house. Well, you can't sell solar to people that don't own the house that they live in. They need to sell solar to people that do own their own homes.
Well anyway he seemed pretty impressed that I did it all by myself.
This is what he seen.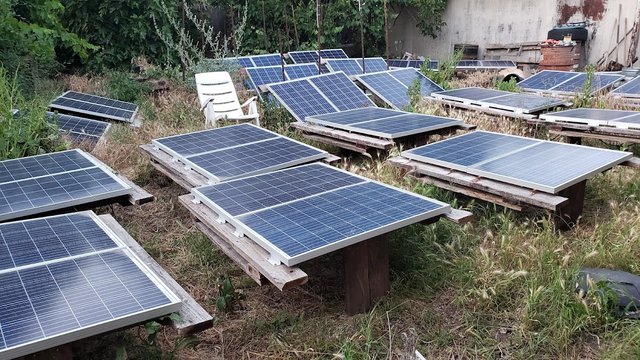 He was impressed. I told him I used wood from my old deck that was falling apart to make my own solar stands. I also told him I wired the solar panels in parallel.
I told him I bought these solar panels from Amazon with free shipping. I do sometimes buy solar panels from Ebay with free shipping too.
I did tell him at the time that I was not getting the same amount of wattage that I usually get and that I would have to check things out.
Well, I am glad I did check things out and I did find something that caused my wattage from solar to go down.
Sometimes the parts are not as good as they could be, so these parts got burnt out, but now I know and I might go and buy some more of these parts just in case something like this happens again.
Let's end with a scripture, as it is written, A time to kill, and a time to heal; a time to break down, and a time to build up; Ecclesiastes 3:3.
If you enjoyed this blog, please upvote and follow.
Thank you, David.
Images are mine, taken with my Samsung Galaxy Note 9.