I Found A Payphone That Actually Works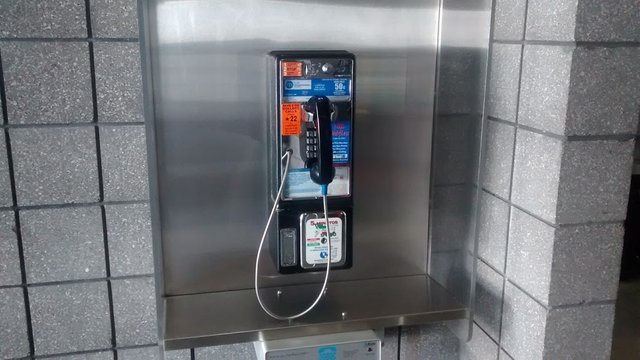 On October 5, 2018, I was on a trip with my mom and auntie with my cousin driving. We stopped at a rest stop. I can't remember if we were on the California side or the Nevada side, but I seen this payphone.
I even picked up the receiver to see if it had a dial tone or not. It did have a dial tone. Wow. I have seen some broken down payphones and even wrote about them for my Steemit blog, but this payphone really works.
I remember in the old days that Pacific Bell owned most of the payphones where I live. Heck, when I used to work at McDonald's back in the late 70's we had a payphone in the basement where we had tables and chairs to eat on our breaks.
That phone in the McDonald's that I worked at was a Pacific Telephone/Pacific Bell payphone.
It was about last part of 1979 that I worked for Pacific Telephone, then they changed their name to Pacific Bell at the time of the split between AT&T and the ma bell companies.
Yes, at one time I worked for the telephone company that kept on changing their name as time went on. So I started working for Pacific Telephone, then when they broke up with AT&T we were called Pacific Bell.
Then later on we were called, Pacific Telesis. Then we got bought out by SBC and we were called by that name. SBC got really powerful as a telephone company.
Then when AT&T was losing money, SBC bought AT&T. Well since they bought AT&T they had the rights to that famous name. So SBC changed their name to AT&T, since they now had the rights to that name.
Wow, what a story. I started out with Pacific Telephone that was tied to AT&T and I stayed with this same company that kept on changing their name and I end up retiring from AT&T after 31 years of service, that is really SBC with a name change.
Funny how the split up went full circle.
All these memories come to me as I look on a payphone that really works. Interesting how that happens.
If you enjoyed this blog, please upvote and follow.
Thank you, David.
Image is mine, taken with my Moto G.