A Guy Came To My House And Wanted To Buy My 89 Nissan Sentra 6.5.2022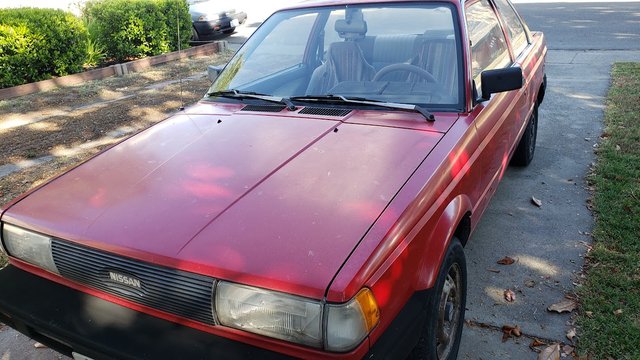 Yes the door bell rang and I thought someone was going to try to sell me something, but it seems he wanted to buy something from me.
He pointed at my 89 Nissan Sentra and asked me if I wanted to sell it to him. I told him that it wasn't for sale. I looked at the car that he drove up with and said, you have a nice looking car, why do you want this one?
He told me that it was his sister's car and that he wanted to buy my car. He told me that long ago he did have a Nissan Sentra and that he wished that he didn't sell it as it was pretty reliable to him.
The thing is, is that my 89 Nissan Sentra is pretty old now, 33 years old as I write. Parts will not be easy to find with a car this old.
Sometime ago my speedometer and odometer stopped working, it needed a speedometer cable, I did find some on the internet, but they were out of stock at every website that I checked and they were not planning on re-stocking them.
It turned out that my mechanic found a place in Arizona that did have the part, that it had being sitting on the shelf for decades at a very high price. I told the mechanic that I couldn't find anything on the internet that has the part in stock.
So I told him to call back Arizona and buy the part at the higher price, well, at least it was an original Nissan product.
So I told the guy that wanted to buy my car, that I was going to keep it until I die, God willing, that is.
He asked me for suggestions in buying a car. I asked him if he ever used Craigslist, car and truck section? He told me that he didn't use it at all.
I told him if he wanted a reliable car to buy Honda or Toyota, and that he could even make a search on Craigslist on the maximum he would be willing to pay.
We had a nice conversation, we shook hands and I hoped that he would find a reliable car.
Let's end with a scripture, as it is written, Without counsel purposes are disappointed: but in the multitude of counsellers they are established. Proverbs 15:22.
If you enjoyed this blog, please upvote and follow.
Thank you, David.
Image is mine, taken with my Samsung Galaxy Note 9.