Ideas are very common, so it's not the idea that means anything, it's the execution and what you do with it (No idea is original)
Are you SHY executing your idea because you think someone else had already done that, and you're a copy cat?
NO!! you shouldn't be. The reality is, no idea is unique. It is out there somewhere in the ether, being mulled around, consider, and often acted upon. But you are original, and your approach may be unique. And the team you can build may be unique.
Creativity doesn't in other words happen in a vacuum, creative ideas are always inspired, nurtured, cajoled, and spurred forward by other ideas. Which means that creative people are always drawing on the work of others, consciously or unconsciously.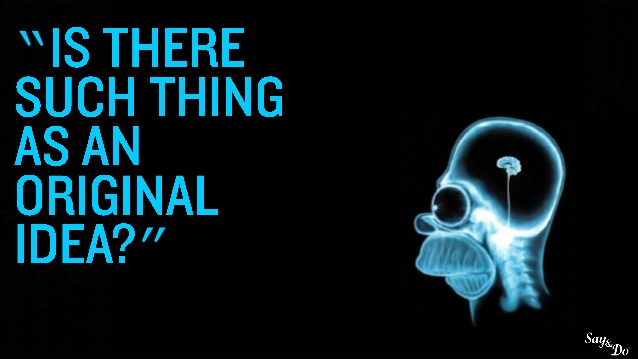 No idea's original, it is impossible. The truth is we gather a lot of old ideas and put them into a sort of mental kaleidoscope. We hand them a turn and they make new and curious combinations.
But they are the same old pieces of colored glass that have been in use through all the ages.
There are over 7 billion people on this planet. Of that 7 billion, there is some small (but significant) percentage who experience similar situations to you on a daily basis.. They notice the same problems, see the same trends, and will consider possible solutions.
I will say there is no such thing like original idea, rather there are only ideas that are adopted, extended, or improved to meet one's particular need or circumstances. But how you develop it, the various ways in which you express it, it's what really matters.
Anyone is capable of adapting ideas, anyone can find something he or she loves and extend it, or discover an insight that changes his outlook and apply it differently.
Ideas are very common, so it's not the idea that means anything, it's the execution and what you do with it. The truth is that no idea is original, and no one ever stole another's idea, they just executed better.
If we do the math, we have like 7 billion people on planet earth. Let's postulate that, say even one-fifieth of these people are somewhat smart in your field of specialization. But (i'll bet you the proportions a lot higher, but let's go with that just to be conservative)
Now can you tell me with a straight face that someone among those 14 million people hasn't already thought of your concept and pursued it a bit.
what the successful ones have in common is superb business execution- rarely patent protectable business concepts. Mind you, oracle wasn't the first relation database, facebook wasn't the first social media. Disney wasn't the first amusement-park company, nor by any means, was i tunes the first source of mp3 music. Yet all ended up entering and dominating their respective markets through flawless business execution.
No idea is original, there is nothing new under the sun, it's never what you do, but how its done..(Nas)