Accidents do happen! But what a mess it can be. Or, why we treated ourselves to a delicious dinner.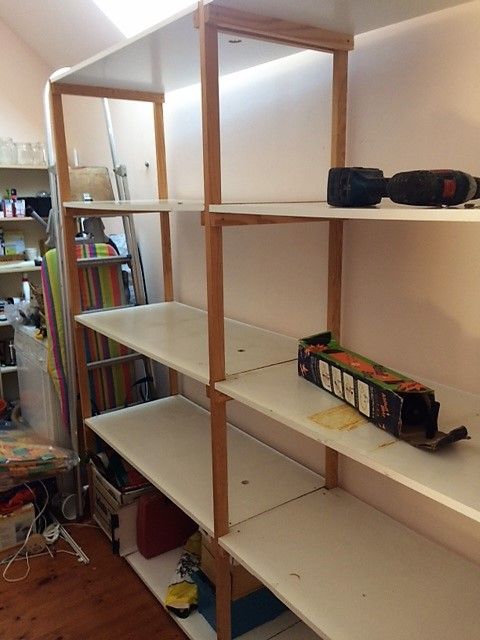 Yesterday I wrote about our visit to the restaurant on the lake. I told you we thought we deserved it because of what happened that day.
No one was hurt and we can laugh about it afterward, but it was not so nice when we discovered it.
I woke up in the middle of the night because I heard a strange sound. As if someone fell with a box of apples or something in his arms. I thought maybe Sjoerd, my husband had fallen after or before a visit to the bathroom, but he was lying next to me, I was so relieved. He also woke up and we heard the noise again.
I left the bed and checked the house. Nothing to see. We have not heard the noise anymore, so we went back to sleep and slept until 8 o'clock that morning.
I went to prepare breakfast and I needed a bunch of breakfast cereals. We have a huge storage room on the first floor and I went to that room and opened the door. The door would not open. There was something that completely blocked the door.
We could make a little crack and saw that some of the camping gear had been dropped and an electric stove, we could not see much and I could hardly put my arm through the opening and feel what was lying there.
We could not open the door any further and we knew it was hopeless.
Fortunately, we have a Dutch friend here who works as a contractor and I send him an app. He wrote back: "I am with you within half an hour". He came, tried the door and came to the same conclusion as we did. The door was completely blocked.
There was nothing to do but to remove the door. But the door hinges were on the inside, so we could not remove the door (I had already checked that). So Machiel took a drill and a saw and went to work.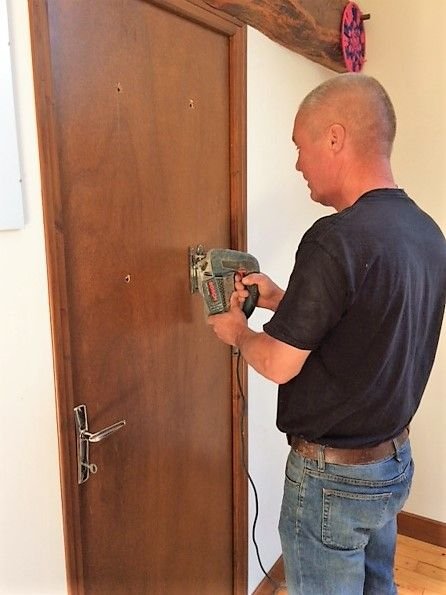 !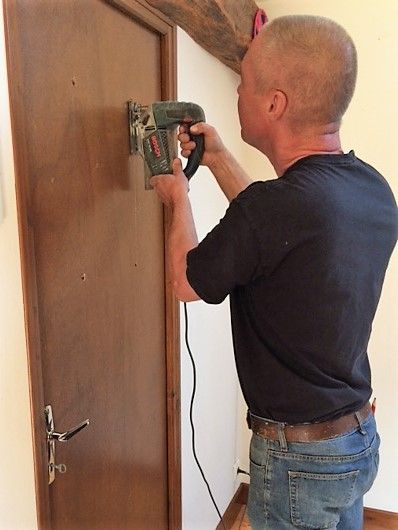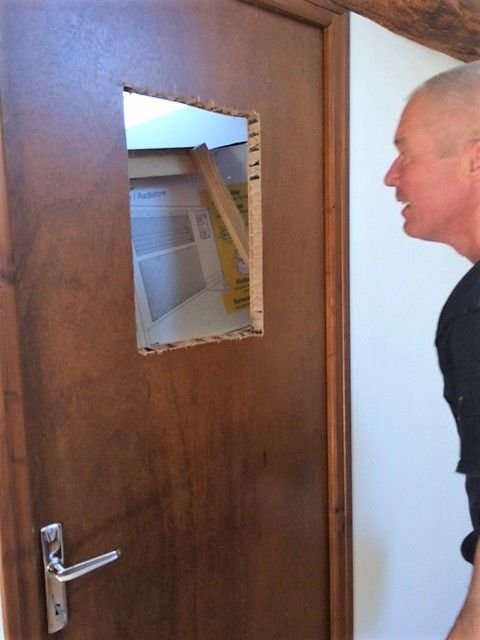 To our dismay, the racks that covered the entire right-hand side of the storage space turned out to have fallen. The racks were fixed to the wall, but the bolts had just been pulled out.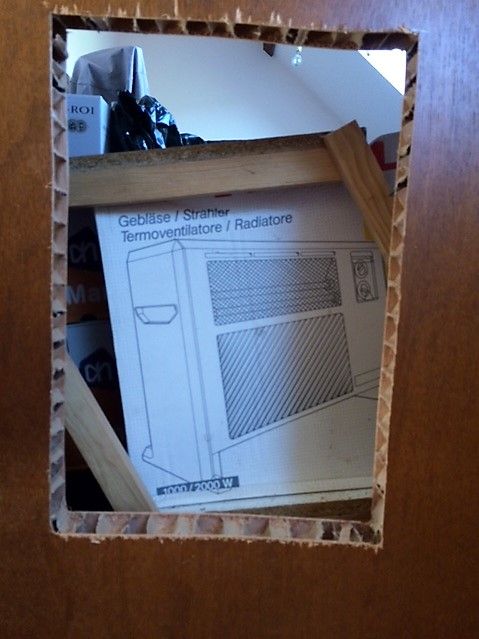 Machiel is very strong and he put his hand through the window he had made and tried to push the rack back slightly. I could slip through the door and hold the racks. The mess was huge.
Everything had fallen out and the floor was strewn with everything that was first in the rack. But we were inside !!!
We dragged everything to the hall and I was able to save paint pots just in time that started to leak.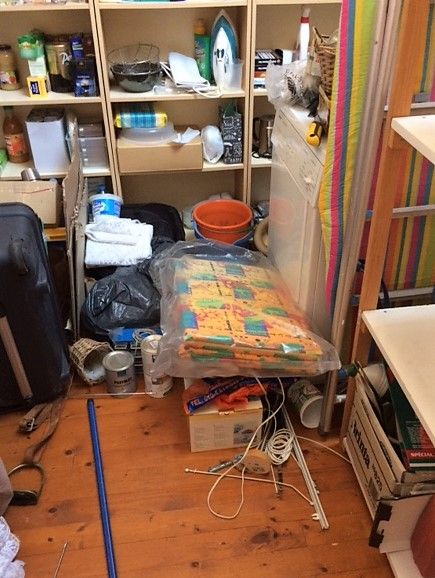 It was a perfect time to clean the rack, so I did so after Machiel put the rack in place and secured it for the moment. He will do better at another time.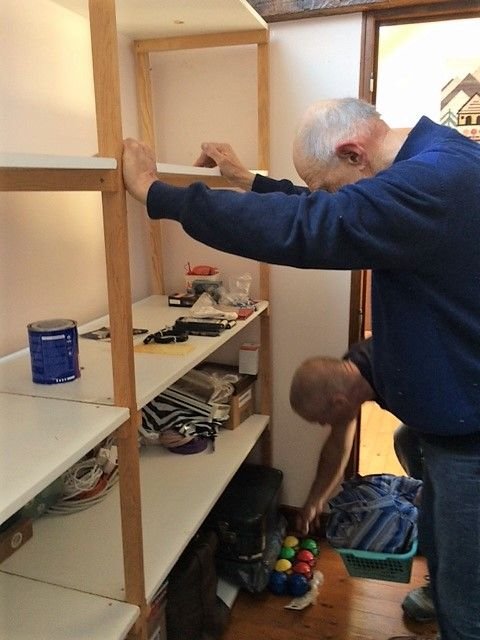 I said to my husband, "It is a perfect time to throw away things that we never use!" But he did not want to hear that. He prefers not to throw anything away, because you never know if you do not even need it for something.
I don't mind, we have space enough.
At the end, this is all that I may throw away!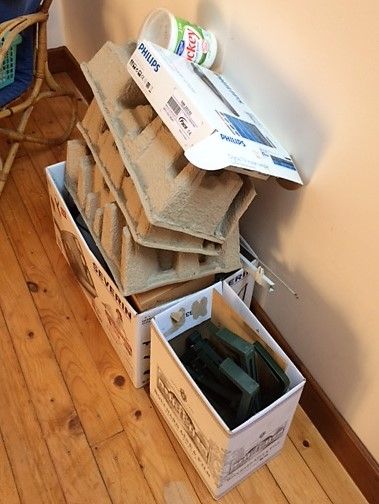 After an hour or two everything was fine and I was able to rearrange all items on the shelves again.
In the foreground you can see the beam that Machiel has used to reinforce the shelving unit.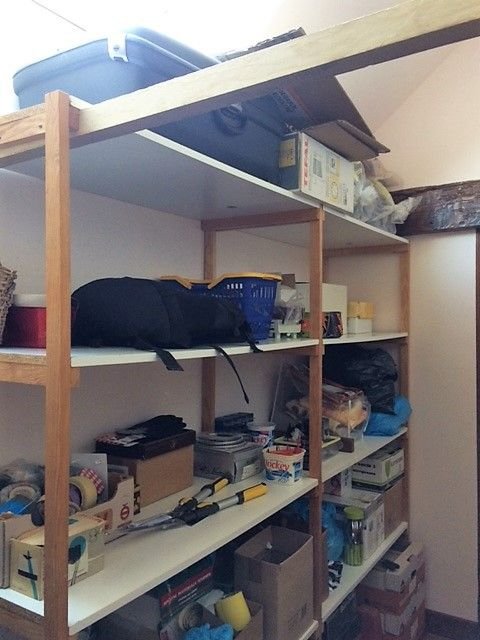 It was a warm day, so we were relieved when the work was finished. That is when we decided to go out for dinner that night, and that was, as you know, a great success.
The door looks like this now: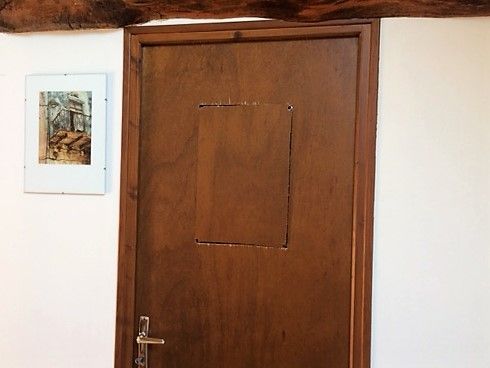 I hope to have a nice quiet day today.
I wish you all a nice day too.