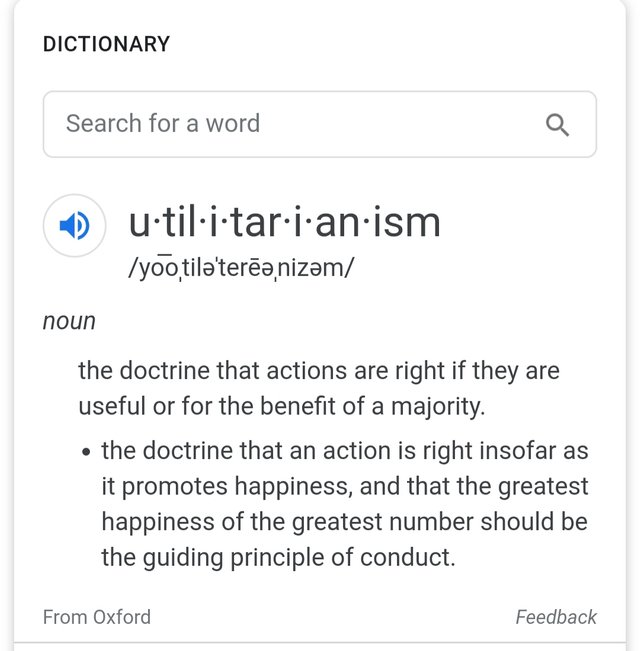 About 11-12 years back in my undergraduate days, I took chose a philosophy class to fill a requirement for my degree. The instructor primarily spoke on utilitarianism. As you can see, I've included that definition above, courtesy of Google dictionary. The way it was taught to me was, mankind should do whatever benefits the whole even if sacrifices have to be made to achieve this state.
We were presented a scenario that my logic really dislikes to this day because of all the "what ifs."
The scenario presented went like so:
Man in his 40's witnesses a boy in a lake who is going to drown and die without his help.
In this scenario, these are the ONLY people around.
The man is in his 40's and closer to mortality than the 8-12 y/o boy.
Saving the boy would KILL the man. Don't ask why, that's part of this scenario.
Utilitarianism would say for the greater good the man must save the boy. The boy has an entire lifetime ahead of him and more time to do "good" than the man in his 40's does.
Considering I went to school for a medical degree, my first thought is, what if that kid had a massive brain tumour and died a year later after being saved. Or turned into a menace to society?
What if the man that saved him was a doctor or lawyer and very helpful to society. In THAT case utilitarianism is USELESS.
I tried debating this in class but was shut down because the scenario was the scenario & the only two answers were, does the man save the boy or not? Also, the man doesn't know saving the boy would kill him.
Thoughts?