Hey Jessocially Awkward
I'm pretty content with shutting my mouth and sitting quietly for hours on end it could be reading or watching something or invested in my work. I really enjoy the silence and when it's taken away from me not by my own accord I can get seriously annoyed.
I really struggle to engage small talk and empty banter and while I understand the need for these meaningless social queues It doesn't mean I need to subscribe to it. Small talk has its place and I guess it's has its purpose with strangers or starting a conversation but when small talk is the only thing you have to say I usually have to cut you off.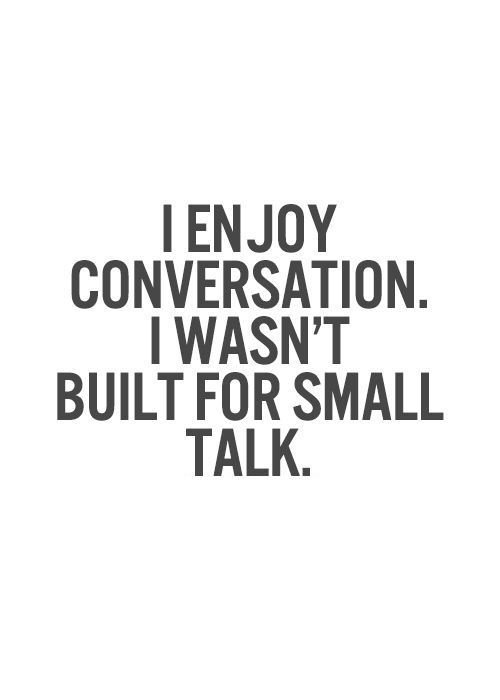 Image path - pinterest.com
People talking about people
I tend to enjoy exploring topics and debating different ideas, views, ideologies and this is where conversations really take on a mind of its own and can lead to interesting conclusions or even impasses. We all have different interests and when someone commits to a specific subject they become well versed in it and I can give a depth you would never teach in that topic and that's what I find enjoyable.
Yet here I am, sitting here having to entertain another batch of small talk about what this one is doing, or did. About this celebrity or this sports personality, about the weather or some frivolous topic. People love talking about other people for some reason. Giving their opinion on how others live or make decisions and I really couldn't get why that is such an enjoyable topic.
What I will normally do is provide a close-ended answer to the topic as to end it as soon as possible and see how the person reacts. Eventually, they'll give up and revert to their phones to find someone else to bother with their useless mouth flapping.
Sounding board of stupidity
There are Billions of people in the world and I am not by any means special so why not find someone else to be your sounding board for stupidity. Sometimes I feel like just listening to these conversions make me stupid like the information you forcing on me now is taking up valuable capacity I could use for something else.
Perhaps I'm being cynical but I wish more people would take the time to think before they speak. Not just flexing your jaw and making sounds come out for the sake of it.
Let's connect
If you liked this post sprinkle it with an upvote or resteem and if you don't already, consider following me @chekohler


---
| Buy & sell STEEM | Donate LikeCoin For Free | Earn Interest On Crypto |
| --- | --- | --- |
| | | |