Hi Steemians, how are you all?
I would like this post to continue writing about lost opportunities but this time I will tell you through a true story that happened to me for many years and this is one of the passages of my life that I believe was fundamental to keep me always alert for opportunities that could cross my path I didn't see them.
When I was around 22 years old I met a businessman who is 77 years old.
We were talking about business that we would do together and after we finished talking about the agreements that would involve our business we started a more informal conversation where he started to tell me stories of his life and between his stories he at the same time asked me questions about my journey and gave me some very important teachings.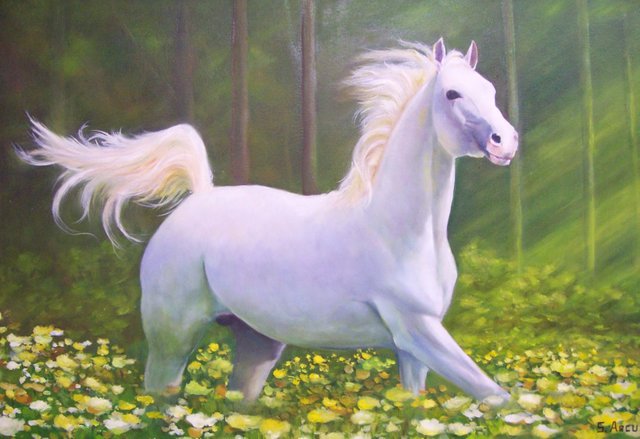 img src
At one point in the conversation he asked me if I had ever heard of the history of white horses. I said no and he began to tell me this story he had heard from his great-grandfather when he was still a boy.
He started to tell me the story. He told me that his great-grandfather one day came to him and said, Come here and I'll tell you something very important for you to never forget in your life and with the wisdom of a man of almost 100 years of age he told him the following:
He told many stories of his journey and began to prepare the mindset of the boy saying how life was made of ups and downs, good times and bad but that for him to be a successful person he would have to be very attentive to the 3 white horses that would pass through his life during his journey.
He asked the old man what the 3 white horses would be, and the old man replied that it would be the 3 greatest opportunities he would have in his life that he named white horses.
He told that in our lives we ​​have 3 great true opportunities and he compared to the white horses saying that these horses were very fast and so white that in a blink of an eye you would not see them and there would be an opportunity to ride on one of those horses which would make you gain time and enjoy a rare opportunity in life.
My conversation with the businessman for more than an hour on the white horses and he said to me: You are still very young and I don't know if you have already lost some white horse but from now on keep your eyes open and stay very attentive for what I taught you.
I understood exactly what he taught me, he was telling me that people are stifled in their daily lives and do not look sideways and no matter how much you are involved in a big business you can't fail to pay attention to the opportunities that arise.
"Then Stay Alert for the 3 White Horses"
I can tell you that I don't know if I've lost any white horses until today but two of them I've already ridden. If I lost the third or not the future will tell me!
Remember: I would be grateful if you understood the importance of resteem these posts to build a community with a positive mindset. This is my greatest goal here and you who accompany me know! This is my greatest truth and I do with my heart. Many of these information that are useful to you may be important to other people who need information for your personal growth and that is the most important thing to achieve any goal in your life and remember: Give a upvote between you who take the time to comment and discuss constructively. This has happened here and I am very glad to see you helping each other.
A BIG HUG