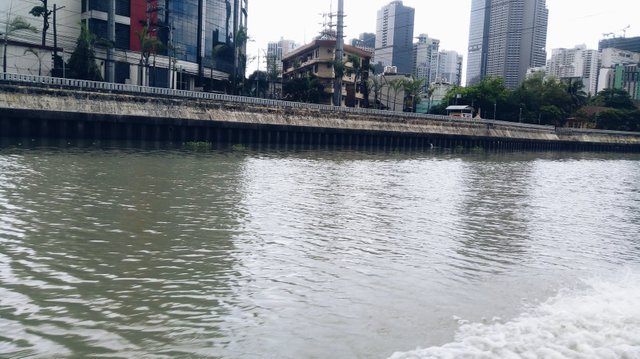 In my previous post, I wrote about how much Avril Lavigne's new song, Keep my head above water, has been the song I have been relating to lately. It reminded me that strong people still find themselves in a situation that is beyond them, and sometimes, this situation strikes so hard, that falling down is inevitable. And you can cry out, in desperation, so you can get back up again.
The song hits me hard, because literally, I have always been afraid of the ocean. And as someone who is afraid of the water, to be in the water, and to be thinking about the possibility of drowning, the song is such an accurate portrayal of how one feels to admit that he/she is drowning or on the verge of drowning.
I am thankful for people around me who, when I keep forgetting to fix my eyes on God, would point me back to His Word and remind me of who God has been, is, and will be in my life.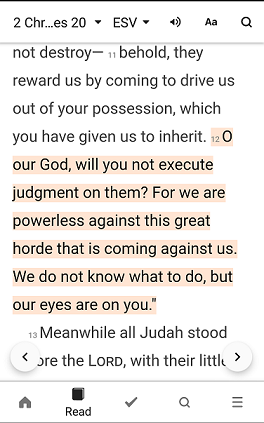 In particular, one of my friends reminded me to read 2 Chronicles 20. The chapter started with King Jehoshaphat (the then-king of Judah who was considered one of the greatest kings that time) discovering that they were to face a vast army which is composed of an alliance of nations, marching against Judah, King Jehoshaphat's kingdom. King Jehoshaphat, a wise, godly, brave king, who has already faced numerous challenges in the past, said what every mind was probably thinking but was too afraid to say out loud, that they do not know what to do.
Yep. You have read that right. In front of his army, the king said, "We do not know what to do".
One would gasp at this statement coming from no less than the king himself. But, interestingly, when one reads the succeeding verses, one will find that after that outrageous declaration, the king called for everyone to sing and praise (2 Chronicles 20:22) after seeking counsel from Jahaziel. Yes, they sang and they praised...while a mighty army was waiting to strike them. One would think this was a crazy thing to do, especially when the more sensible response is to go back to the drawing board, adjust their plans, and get back into training the army.
However, as one will read in the next verses (2 Chronicles 20:22 onward), King Jehoshaphat and his army emerged victorious over their enemies, and he continued to reign over Jerusalem for 25 more years.
Reading these, I personally realized that in the face of uncertainty or challenges, these two things are true:
1. We tend to overreact and overthink.
"You're supposed to be our king! Our commander! You should not NOT know what to do! That's insane!"
Although it wasn't explicitly stated in the Scriptures, I sort of tried imagining some of those lines uttered by some of the men in King Jehoshaphat's army in response to the king's shocking disclosure. Maybe, fortunately for them, it's a good thing they didn't have the time to air out their comments aloud, because they needed to obey orders, no matter how crazy the orders were. Now, I am quite certain that those silent musings may have sounded familiar. "You're an adult now, you're supposed to know what to do already! You graduated from THE University of the Philippines, you should know what to do! You have been doing this for years now, you should be able to figure something out! You're the only one capable to do this, so get on with it!"
Yep.
I may or may not be talking about myself. But, I know that in one way or another, we have magnified our problem more often than we want to admit. Sometimes, we don't just magnify, we improvise and we keep tossing in more stuff (i.e. overthink and exaggerate) that are unnecessary in resolving our situation. We think that other people are judging us when we admit that we don't know, or we're tired, or we're just winging it, or we don't have it together. While there are times that people are indeed judging us, remember that there are also times when we're just overthinking. For those times that other people are actually judging us, I pray that we will be like Jehoshaphat, that who he is in God and how God sees him are what matter more than what other people think. It will be difficult, but it will be worth it in the end. For those times that we know we're just overthinking, get a hold of ourselves and fix our eyes on the Promise and the Promise-Giver. If He promised that you will be a victor, no one and nothing can dispute that promise!
2. God is sovereign
Here's King Jehoshaphat, admitting that the situation is beyond him. He does not know what to do, which may be a response that is unbecoming of a king. But, the way I see it, Jehoshaphat's relationship with God mattered to him more than his reputation as king. He did not know what to do, but he knows Someone who DOES KNOW what to do. So, it was easy for Jehoshaphat to spew out a response that is "unbecoming", if it means acknowledging that apart from God, he is basically nothing.
"We do not know what to do, but we fix our eyes on You."
What a bold declaration of faith.
---
King Jehoshaphat's humility to submit to Someone higher and more able than him reminds me that I don't have to always keep things together, especially because sometimes, it's not even possible. But when I fix my eyes on Him who "is able to do far more abundantly than all that we ask or think, according to the power at work within us" (Ephesians 3:20-21), then, I would gladly and humbly admit: I am tired, and I can not do it on my own. Lord, please take over.