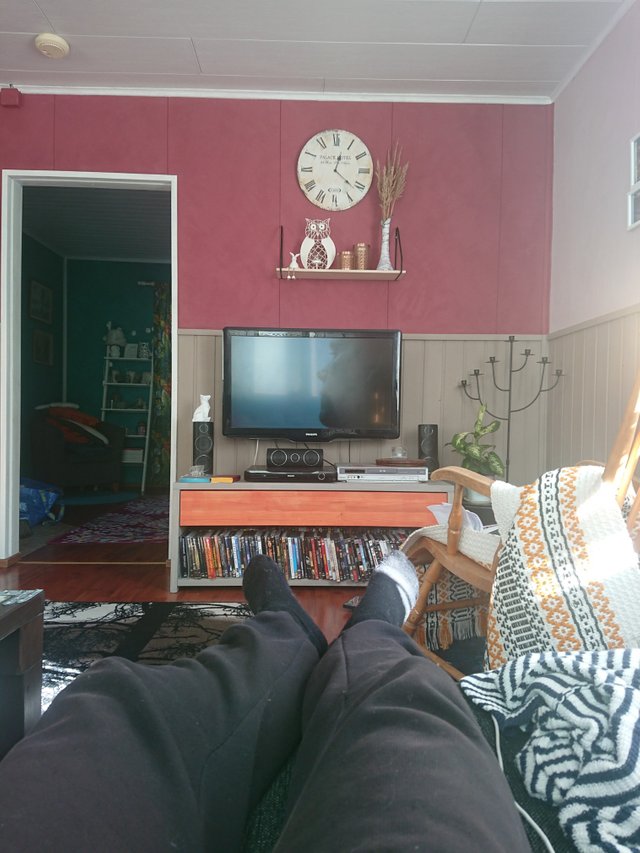 I'm not a big friend of TV, but I am a friend of a good movie, so whenever I'm at my uncle's, I like to eye through the shelf for any potential new films my uncle might've bought since the last visit. I really enjoy watching them with the 5.1 surround sound set up here, it definitely adds to the experience of some movies. One movie that utilized surround sound particularly well, was Gravity - the way how it created the sense of empty space around you, it really enhanced the atmosphere.
The Lord of the Rings movies were quite a good experience too with Sauron whispering "I see you!" behind your shoulder, though they weren't extended editions here which I really prefer.
So yeah, this is my way of taking it easy for a change from being on the move around the clock with the bicycle. Luckily I don't still have to feel completely unproductive because I can always keep Steeming (unless they fuck up hard forking) even if I was laying my ass on the sofa the whole day.
Like I've probably said, I have a lot of relatives here in Lieksa which I'll go through visiting, but don't mistake it as a burden - these relatives here I get along really well, and I'm always happy to meet them.
***
I just talked with my aunt today and catching with life and future plans (that I have little idea of), it came down to me mentioning that at least I have 'this webpage where I produce content and earn some cryptocurrency', She wanted to know more about all this 'cryptocurrency' and what's that all about, so I just explained the basic principle of Bitcoin being basically a 'distributed ledger with all the transaction history which are used to confirm legitimate transactions, making it essentially decentralized, meaning that no central power can control it'. Something along those lines, making it sensible to the best of my ability.
There's nothing really that has caught my eye in any academic line and I didn't really like much school, but my aunt said that it's good I've come to realize it this early, because lately she's also been thinking about what she actually wants and if she's been affected by the wishes of others, not necessarily on purpose but unconsciously. She's 42 now (I think) and is practically a single mother of two kids so her choices are obviously limited in some aspects.
It's nice to be able to talk about these things openly without the other party laying their own expectations and trying to give their own solutions unto you which just makes things extremely awkward - there's a good will in there perhaps, but good intentions alone don't make up for good results. Everyone's own life is ultimately to theirs only to solve. Giving perspective is always welcome, but trying to give solutions, I don't see that following those without consideration would result with the ideal outcome.