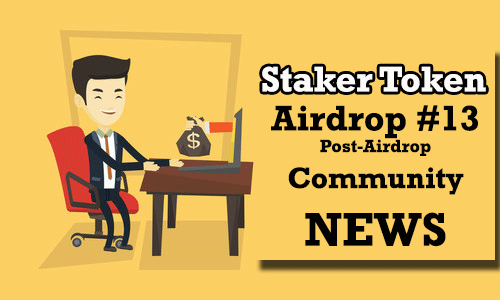 This article originally appeared on Bitnewsportal.com
http://bitnewsportal.com/staker-token-post-airdrop-community-news
Hello! Good Morning Everyone. Welcome again to Bitnewsportal Blog, The home of the best projects and airdrop opportunity. Today we will feature the airdrop results of Staker Token airdrop project.
Airdrop #13 has been successfully completed. 40,000 Staker tokens has been shared by a total of 210 active airdrop participants, This number was 53 Members lower compare to last airdrop rounds. One major reason for the low turn out of airdrop participants is some people are not paying attention to the weekly airdrop rules and for this airdrop round many people failed & forgot to register in staker official forum.
Reading the rules is essential for any cryptocurrency opportunity, Bounty or Airdrop we all have the responsibility to make ourselves informed and updated for all the rules and requirements to qualify for the airdrop. The Dev Team cannot always spoon fed us with information, Being active on discord should be your #1 priority since all upates are being made in realtime by the dev team and also other members are frequently remining everyone about the new rules and updates from time to time.
Airdrop #14 Rules & Requirements [http://bitnewsportal.com/staker-token-airdrop-14-rules-requirements]
If your still unaware of the new rules, Check out my other article featuring the new & updated rules for Airdrop round #14
Read More: Airdrop #14 Rules & Requirements
Help Staker Token win the Numex Voting Competition, Voting is easy and no registration is required.
Go to https://numex.exchange/vote
Look for Staker Token [STR]
Click Vote
You can vote 3 projects per day, so there's no reason not to vote for STR Tokens together with your other projects. This is a simple 5 secs job, Lets all help Staker Token get listed on more exchanges.
Anyway, That's all for today! i hope you find this useful and always make yourself informed by checking out the rules channel for any updates regarding the rules.
Thank you for reading…..
FOLLOW ME ON TWITTER!
https://twitter.com/BitNewsPortal
Disclaimer
This News Entry is a personal opinion and not directly from Staker developer team this is a community initiative news entry, for official news and updates check out #announcement channel via staker Discord.