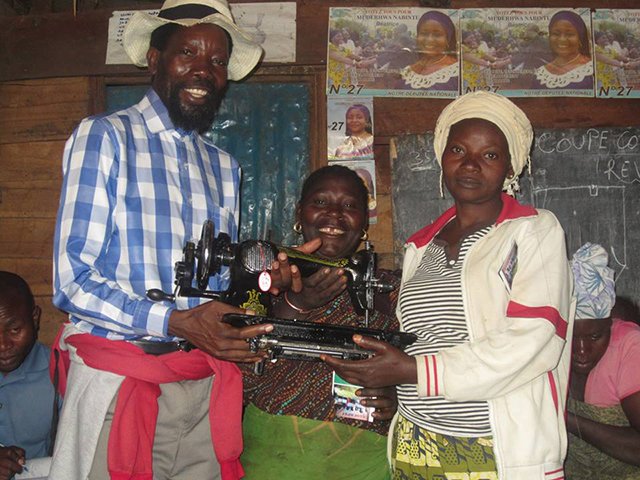 Locally-based grassroots organization in the rural villages of South Kivu, Eastern DR Congo. Robbed of their tools – needs your help.

Since 2009, COFAPRI works in 36 villages in the region of Eastern DR Congo. Whenever possible, involves local leaders and encourages the support of men and boys. Co-founded by husband and wife team, Mugisho Theophile and Valerie Bahati.
Organization's website: https://www.cofapri.org/
https://www.facebook.com/COFAPRI/
On the night of 7/8th July 2018, 13 sewing machines have been stolen from their Munya centre. As of 23.08.2018, 5 machines have been purchased thanks to an online campaign, through individual donations. COFAPRI URGENTLY needs to buy 8 more sewing machines (1600$ total), to continue the tailoring and sewing program for women at Munya. One machine costs 200$ (transport to the village included).
COFAPRI is also in need of other sewing supplies, such as:
10 tailor's scissors for 10 US$ each;
10 charcoal irons for 10 US$ each;
50 boxes of needles for 4 US$ each;
tables, chairs;
textiles.
Many of COFAPRI's beneficiaries are women and girls from poor families, who have been raped or who have been victims of domestic violence, and children born of rape. Many of them have been excluded and abandoned by the society.
COFAPRI brings together these women and children, and helps them create a better life, get education and start a small business to support themselves and their families.
COFAPRI teaches rural women about their rights, encourages them to participate in income-generating activities, shows ways of improving their living conditions. In addition, women and girls are given special attention: they get reusable FEMpads for improving their hygiene. They will soon be making such pads.
How can you help
We, authors of this post, do not work for COFAPRI. But we observe their work since a long time. We can see that they have made a big difference in life of many people. If you could help, we would like to ask you to donate money to them - you can find an option to donate on their website and FB page or use
this link
and/or to spread the word. You can also "like" this post, and all Steem, Steem Power and SBD accumulated will be donated by us to COFAPRI. Every cent counts.
Thank you in advance!