Where are you? Do you really have to move to somewhere else to become successful?!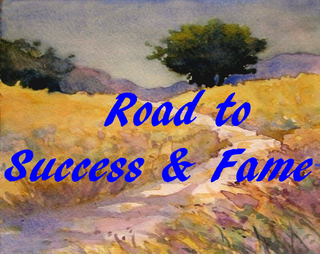 Feel like you are trapped…
Perhaps living in your small time town? Feel you are living far out, away from where you could possibly make it BIG time? 
Feel you could do better where everything is happening and where people are more likely to buy your 'product'? 
Or feel insignificant and lost in a huge city where everyone is strangers? Where there are so many trading laws and restrictions preventing you from operating your possible business?
 Whatever you're thinking, it could be very expensive, dramatically stressful and unnecessary to move. 
So… How can you get well known in your own community and sell your product or skills? 
Bloom where you are!
Like a flower, you need to nourish and water the plant to make it grow from seed. 
Look more carefully at what you already have and how you can use it. `Nourish and water' your possibilities. 
Use your skills to improve on it. Make it so beautiful and extraordinary, that people start to notice your talents. 
Don't wait for something to happen. Be your best right now, where you are. 
And shine where you are:
Make up your mind to enjoy what you do. Put energy and enthusiasm into it. This will brighten your countenance. 
Tidy up your act. Un-clutter your home. Give away what you don't need any more, that you're no longer using. A tidy space helps one to think more logically to organize your time. And simplicity makes things look more rich and dramatic.
Like a stage production, act and dress the part. You're the producer of the stage creation. Change the way you speak, put more enthusiasm into your speech. 
Build your own community:
That will be your stage to act upon. 
Put a poster up at the general store or library advertising your talents. Even do demonstrations at the library, flea-market or auction market, wherever people hang out most. 
Invite people to take lessons with you. The more people enjoy your lessons, the more likely you will become well known. 
Let your community blossom:
Because it's fun to be at your house, after a while it naturally turns into a club, where people feel they can come and express themselves.  
If there are open discussions about what they've learnt, they start to enjoy relating and sharing their experiences. When we share, unity is formed and bonds created. 
When people participate in something, they feel they own it and membership blossoms. 
Side note: This not only happens at your house or little town. This can happen when you blog on the internet too!