The best seller books were written with passion. And people reading those books naturally responded emotionally in return.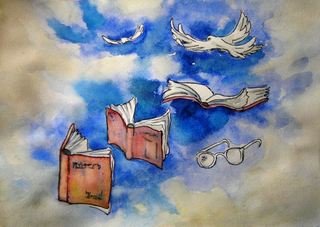 So emotion is a two-way street!
The author's emotional passion and the read's emotional response! Whatever we do, people respond likewise: 
For example: 
If I had to whisper, sure as nuts, those listening to what I say will start whispering too. 
If I raised my voice angrily, sure as anything, those conversing with me will get angry too. 
And if I smiled while speaking, people would recognize that they are allowed to laugh. 
So it is with writing books or blogs:
If the author writes with passion and emotion, people will sense that passion and emotion, in the way we word our sentences. How we say things and project ourselves in our work. 
People are very sensitive:
People use all their senses when buying into something. So we use emotional stuff to impact and affect peoples' senses and emotions. 
In art:
We use emotional techniques to affect people's senses and emotions.  · Such as contrasting warm and cool colours = to create happy warm fuzzy feelings. 
Blurred areas contrasting against detailed forms = creates mystery and stimulates emotion. 
Oblique action lines and wavy flowing motion lines = creates interaction. 
Confronting and conflicting inter-crossed lines = creates passionate interaction.  
Interplay and looped trailing arabesque lines = creates romantic involvement. 
When writing books:
We use emotional stuff and dramatic words to draw people into our stories. 
First with action, drama and descriptive dialog, first page. This helps to catch on quickly what the story is going to be possibly about. 
You may be drawn into the plot with all the drama of the moment, but there is a vague mystery clouding the circumstances, that makes people want to keep reading to know how the plot will play out. 
You warm up the readers with emotional stuff that appeal to their hearts. By creating and writing powerful heart breaking emotional things that people can relate too. 
Also you use conflicting, confronting and contrasting personalities and issues to build tension and create drama in relationships. Subconsciously people want to help out those in pain. So will read on to see how things turn out. 
From one situation to another, you interplay scenes, one drama to the next, to create emotional thrilling roller-caster ` loop-the-loop' trips through the story. 
So the writer,
Has to know, how people react and respond to emotional situations and circumstances, in order to write best sellers. 
And relying on your emotions to create all that exciting stuff, can be quite demanding while writing! So it's important that you personally enjoy what you are writing about.  
Live in the moment and feel the emotional power of the plot, as you write it.  Because `riding on the roller-caster' of the plot, will give you a better understanding of how people will feel reading the book or blog. 
The emotional impact:
If you enjoy the story as you write it, you're not only touching your heart, but also the hearts of the readers. If you enjoy it, possibly they will too.